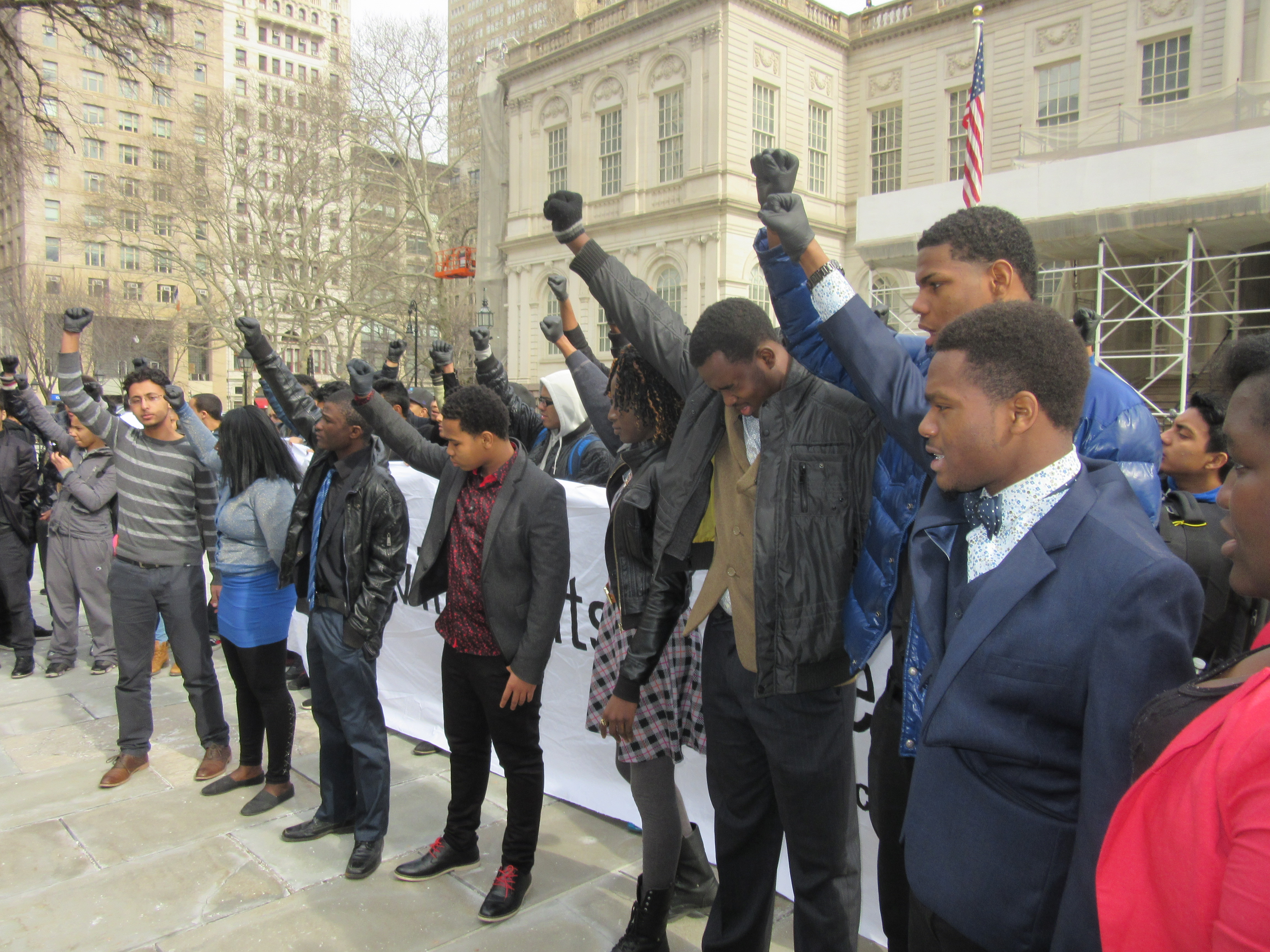 A group of city high school students disrupted a City Council hearing where Schools Chancellor Carmen Fariña was about to speak, chanting "civil rights matter" to protest a lack of sports programs at their schools.
The students entered the Council chambers just as the hearing, during which Ms. Farina will testify on the mayor's preliminary budget for the education department, was getting underway. They began chanting, unfurled a banner with the Twitter hashtag "#civilrightsmatter," and then continued to chant as they were escorting out, making reference to Rosa Parks, Cesar Chavez, and Martin Luther King Jr. and their struggles for civil rights.
The students were aligned with "NYC Let Them Play," an advocacy group that pushes for more sports programs in schools of color.
"How come schools with 82 percent white students have 44 teams," asked Bestabe Cordero, a 16 year-old senior at International Community High School in the Bronx, "And my school, which is almost 100 percent students of color, Latino and black students, we only have two teams. How is that fair?"
Her school was set to have no teams this year, she said, until the principal stepped up and funded a ping-pong and girl's basketball team out of her own principals budget, rather than coming from Department of Education central funds.
Mohamed Gueye, 18, said playing soccer had raised his grades at International Community High School.
"I think sport can really change a person's life, because it really changed mine," he said.
Betsabe said she had hoped Ms. Farina would be more willing to listen than prior chancellors—Mayor Bill de Blasio has vowed to give parents and communities more of a say in their schools—but it has not turned out that way.
"They didn't listen to us, like she always does. I don't want to offend her, but we've asked her many times to come to our school and see what's going on, and she always ignores us," Bestabe said.
After the council hearing, the group was set to hold a press conference and protest outside the education department's headquarters at the Tweed Courthouse, accusing the DOE and the Public Schools Athletic League (PSAL) or denying schools of color equal access to sports teams.
Ms. Fariña testified to the Council later that many of the students come from small schools co-located alongside several others inside a single building with limited facilities. She said she had already planned to meet with the students, her department was encouraging schools operating out of the same structure to form unified sports teams to make best use of their spaces.
Updated to include Ms. Fariña's testimony.