Showering him with cries of "slow it down, slow it down," liberal activists chanted at Mayor Bill de Blasio as he coincidentally ambled through the front entrance of City Hall this morning.
Mr. de Blasio, entering with his entourage a little before 11 a.m., gave the affordable housing activists a quick wave but no words, frustrating some in the crowd who wanted more from their liberal mayor. The mayor, a progressive Democrat, disappeared inside, leading some to grumble about the lack of dialogue.
"It's disappointing and not surprising that he doesn't want to engage with the people because, up to now, he's avoided it," said Grace Betts, a retired social worker from Prospect-Lefferts Gardens, Brooklyn who attended the City Hall rally. "I was hoping he did have a feeling for the regular people."
Several dozen members of various community groups organized under the coalition of "Real Affordability for All" gathered on the steps of City Hall to voice their concerns about Mr. de Blasio's housing program, which aims to build and preserve 200,000 units of affordable housing over the next decade. Many were glad the mayor was giving more attention to the affordable housing issue than his predecessor, Michael Bloomberg, but argued the de Blasio administration, particularly in East New York, Brooklyn, needs to slow down the rezoning process so residents in the area can have more of say in how their neighborhoods are reshaped. (Hence, the "slow it down" chants.)
Members of liberal organizations like Make the Road New York, New York Communities for Change, Faith in New York and Community Action for Safe Apartments (CASA) said the mayor's plan to rezone 15 neighborhoods was welcome but could displace longtime residents if too much market-rate housing is built. The labor-aligned organizations called for more unionized jobs in the neighborhoods targeted for rezoning–like a swath of land in the Bronx around Jerome Avenue and Flushing, Queens–and other community benefits, though their demands were not always concrete.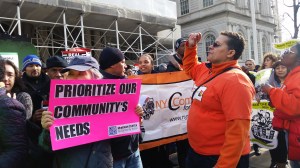 Many just did not want a replay of the Bloomberg years, when mass rezonings transformed working class hubs like Bushwick and Bedford-Stuyvesant into coveted, affluent neighborhoods, forcing poorer residents away. The Department of City Planning hopes to certify the rezoning application for East New York sometime in the spring, beginning a lengthy land-use review process that could extend through much of 2015.
But that pace is still too swift for many advocates, who otherwise align themselves with Mr. de Blasio.
"We are here to demand that the city slow down the rezoning plan for East New York, Cypress Hills and another 14 communities. The city needs time to make a plan for affordable housing that doesn't push our low-income residents from our neighborhoods," said Darma Diaz, a member of the Cypress Hills Local Development Corporation. "In the seven months of ongoing interaction with City Planning and HPD [Housing Preservation and Development] we have heard that there is no plan to prevent displacement of current residents and businesses."
"We want him to create a permanent affordable housing plan based on the average income brackets in our neighborhoods," she added.
Mr. de Blasio, who hopes to prevent displacement by allocating more public resources toward stopping landlords from harassing tenants, will not be able to satisfy all the demands of housing advocates while also goading real estate developers to build at the breakneck pace his plan requires. Many developers say the calls for a higher percentage of affordable housing–NYCC wants half of new developments to be affordable–will mean running deficits on new construction, especially as land costs surge.
A spokesman for Mr. de Blasio, Wiley Norvell, acknowledged the "tremendous anxiety" around the proposed rezonings, but said they would be an opportunity for residents to "write their own future."
"These rezonings are an opportunity for communities to write their own future, instead of waiting for the march of gentrification to sweep across our neighborhoods unabated," said Mr. Norvell. "Our goal here is to maximize every opportunity to lock in the affordability we have, and to ensure new affordable homes are built to meet each neighborhoods' needs.
"Every community will have its voice heard in an honest and open planning process, and affordability will be central to that discussion," he continued.