It was 8 a.m. and approximately 2 degrees when, standing on a Manhattan street corner, I broke a long-standing personal taboo of participating in "gotcha" journalism.
The doors of a Lincoln Town Car opened, and a small, tense woman jumped out of the car, parting the sea of cameras and cell phones belonging to myself and other, lesser, reporters. Behind her emerged the famous redhead … you'd recognize her anywhere.
I took a deep breath. "Charmaine!" I screeched with all the desperate self-righteousness of an Inside Access correspondent. "CHARMAINE! WHAT DID YOU DO WITH YOUR HUSBAND'S SPERM?"
At that exact moment, I realized three things:
1) I was holding my microphone upside down.
2) The top half of the mic had fallen off.
3) Law & Order: SVU cameos are not as easy or glamorous as they appear on TV.
Well, perhaps no one will ever be as glamorous as the Maleficent-cheekboned Marcia Cross, who played the sperm-stealing bandit with a Not-So-Desperate Housewives poise. In last week's episode, "December Solstice," in which my belligerent and elaborately-coiffed Reporter #2 debuted, she played a woman scheming to have an heir for her aging husband's fortune. So desirous indeed that (spoiler alert!) she used an "electro-probe anal erectile procedure" on the corpse of guest star Robert Vaughn to harvest his Man-From-U.N.C.L.E. sperm.
It was Ms. Cross' allegedly murderous character, Charmaine Briggs, that motivated mine ("Reporter #2) to stand outside in the freezing cold, jostling with a large scrum of tabloid types to get a quote. If you watch the episode, you can clearly see the moment I, among the lessers, accost the ostensibly grieving widow: "Why did you keep Walt from the kids?"
"Jackals!" Ms. Cross' character cried at us all. "You just want raw meat!" For the moment, I am diligently trying to get the one story of my career; in the next you can see the intensity leave my eyes as I waddle-wander out of frame like a miserable, freezing penguin woken too early. But I'm not gone yet: Two seconds later, you hear my disembodied voice interrupting Charmaine's lawyer (played by Susie Essman). "CHARMAINE!" I'm yelling questions through a TV inside the TV, as the Sex Crimes Unit watches the melee from their squad room. "WHAT DID YOU DO WITH YOUR HUSBAND'S SPERM?" "Hey, they are not bad questions," shrugs Detective Rollins (Kelli Giddish). With a shrug, someone mutes the TV report. And me.
Since then, "#GiveReporter2HerOwnShow!" has become a nationally trending hashtag and I am an overnight celebrity. (One Observer colleague who attended my editor's viewing party noted that she had been watching me play a reporter for years.)
But, here, some backstory may be helpful.
I first met Warren Leight a year after my first real TV trend story, called "Sickos on the Sofa," where I linked SVU's tenacious success—outlasting the rest of the franchise, it's the only Law & Order (stateside) that hasn't been canceled—to the counterintuitive demo the show attracts: Young adult women. In 2012, I wrote, "Since the show launched 13 years ago, females age 18 to 34 have been its most consistent viewers." (And it's most consistent victims.)
"Two-thirds of our audience are women," Pulitzer Prize-winning playwright and SVU showrunner Mr. Leight had said at the time. (This gender breakdown is pretty much unheard of for police procedural shows.) "I honestly don't understand why, completely. I don't get it when parents say they watch the show with their kids, either."
To give credit where it's due, the show serves as perhaps the best PSA on issues of consent, and the difficulty of getting sex crimes cases to court. But how can I LOVE a show that's about rape and child molestation? Every week? How is THIS what I crave, along with chicken soup and ginger ale, when I'm sick at home? It was nice to know that I wasn't alone in binging on hunk-with-anger-issues Elliot Stabler (the early years!) and gorgeous, moral, tragically lonely Olivia Benson's disgust over the depravity of New York's most heinous sex crimes. But the fate of SVU, in recent years, has been handed down notoriously late in the television season, a clear sign that NBC, like an SVU judge, was only going to allow the show to continue … for now.
My relationship with SVU, New York's most New York-y show, has always been colored by my (tempered) fandom. Usually I avoid press junkets, but when they invited me to the anniversary of the show's 16th season in September, I showed up with my iPhone camera already flipped into selfie mode. Come on, there's Mariska Hargitay photo-bombing Ice-T and me. If I had violated some ethical code of conduct about getting too close to my sources and had been fired the next day … it would have been worth it. There is no better feeling than watching the collective freak-out of all the Cool Kids from high school when you post a photo with the cast of SVU on Facebook.
This year, NBC renewed SVU earlier than usual, a sign that the network has clued in that they have the rare double-jackpot: A basic cable hit with the cultural cache of a  "prestige" program that one finds on network TV (FX), premium cable (HBO) or streaming outlets (Netflix). (Other "basics" that are getting it right: The Good Wife, ABC's Shondaland block, The Simpsons and Hannibal.) I can't claim my cameo had anything to do with the renewal.
So, does Reporter #2 get her own spin-off storyline next season, the show's 17th? Perhaps not. As it turns out, I hate acting and am very bad at it. You don't think someone can ruin a take if they only have two lines? I think the increasingly worried assistant director correcting me—"it's SPERM, not CUM"—would beg to differ. I also didn't realize that despite all the permits, filming SVU has a distinctly guerilla feel; you don't get any notes on what to do … you just get in front of the camera and keep doing it until they let you stop.
One time, Ms. Essman pushed me out of the way—as her character would do—and I spent an hour having to convince myself she wasn't being  aggressive because she was mad about me flubbing a line. ACTING! Also, JOURNALISM!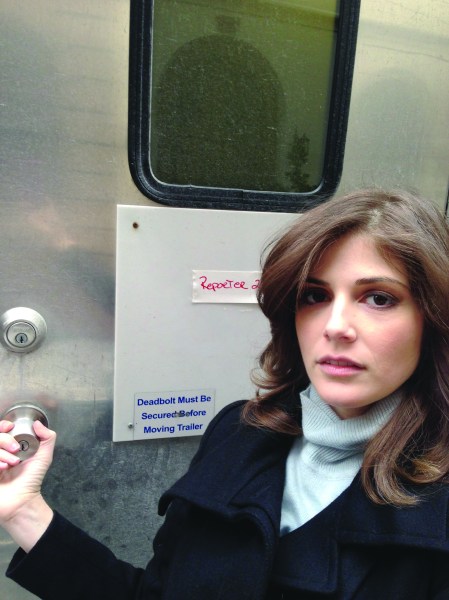 We had to reshoot the scene about seven times. Though the crowd was large, only myself and Reporter 1 (played by E! Online editor Chris Harnick) had any lines. Yet during the hour or two spent shooting the scene, no one besides myself seemed visibly distracted by, OR IN CRIPPLING PAIN from, the brutal cold. The crew did have one person assigned specifically to find different places on my body to put hand and feet warmers, draping a large coat over my shoulders between takes and ushering E! Online and I inside the brownstone doubling as the day's interiors whenever we had more than four seconds of down time.
Finally, "O.K., last take! Last take! We'll get it!" beamed a guy nearby, after the microphone fail.
"In your dreams," I hissed—but only in my head, because I was worried he might be an unrelated insane person ironically blending into a crowd scene of a cop procedural. Who else would seem that jazzed about just standing around, being very, very cold, having to remind the extras, "SPERM. Not cum. SPERM."
Eventually, the shoot did end, which meant that my actual job was starting. "So," I asked Ms. Essman once I had turned my (real) recorder on, "what did you do with YOUR husband's sperm?"
"Swallowed it," Ms. Essman barked, not missing a beat. "Next question."
We talked about her recent appearance on Broad City, as Ilana Glazer's mother, and how she "wouldn't be surprised" to see that character make a return appearance. I told her it was pretty remarkable that the Comedy Central series had managed, in the course of her one episode, to instantly render every Sex and the City and Fifty Shades of Grey reference obsolete when Abbi Jacobson ends up "pegging" on a first date.
"I'm sorry," said Ms. Cross, who had been sitting nearby (and mentioned she's looking for a new series; Hollywood take note, we'd watch it). "What is pegging?"
The look on my face was probably incredible. "I can always look it up on Google…" she feinted for her phone.
I finally sputtered, "It's a sex thing where a woman wears a strap-on dildo for anal intercourse with a man … for sex, like … in his butt…"
"Oh my," said Ms. Cross, mildly.
"You know, it's like … an Internet thing?" I said with a shrug, like I knew what the hell I was talking about. "Millennials these days…" I sighed.
And then, it gripped me. I had actually educated an actress on SVU—America's textbook on depravity—who was, mere moments ago, fielding questions about rectal probes used on the dead, about an alternative sexual practice.
Forget Reporter #2. I think I deserve a bigger role in the inevitable "pegging" episode.