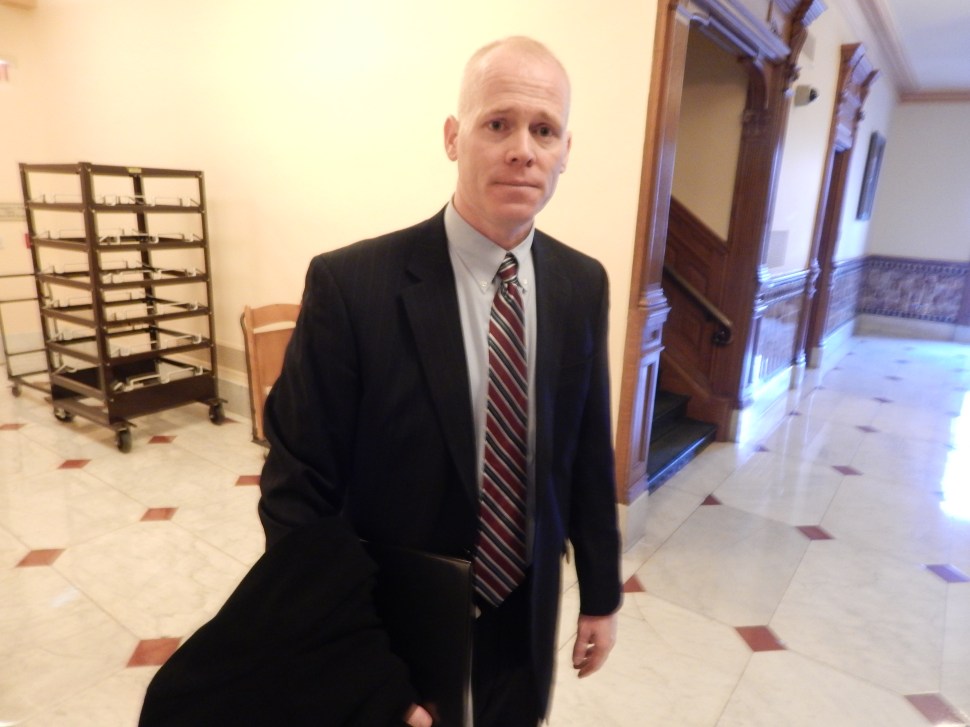 Apparently James "Jim" Keady of Spring Lake won't sit down and shut up.
The former local elected official who stood up to Gov. Chris Christie at a Hurricane Sandy press conference and incurred the Republican governor's wrath, will run for an Assembly seat in the 30th District with the backing of the Monmouth County Democratic Committee.
In part the showdown with Christie propelled him to run.
"It has been the ongoing work with Sandy families, my research and analysis of the state's RREM program, etc," he added, when prompted by PolitickerNJ on Facebook. "It is a mess.The people need a voice."
In a long-shot district for Democrats (23,000 registered D's compared to 39,000 registered R's), Keady is challenging in a district currently represented by Assemblyman Sean Kean (R-30) and Assemblyman Dave Rible (R-30).
"As I said tonight in my acceptance speech… if the voters want people who are going to 'sit down and shut up' than Dave Rible and Sean Kean are their guys," Keady added.
Due to get the backing of the Democrats this evening at the IBEW 400 Union Hall in Wall, Keady is set to run with fellow Democrat Jimmy Esposito, who ran unsuccessfully two years ago.
The Hurricane Sandy activist runs his family's small business; is the director of a non-profit organization; is a local youth soccer coach; and a former Asbury Park City Councilman. He drew the attention of PolitickerNJ reporter Chase Brush earlier this year when he attended the governor's State of the State Address.
"They are supportive," Keady said of the Monmouth Dems who backed him tonight, "but we are going to need a massive effort to win this. Brassknuckle, grassroots organizing.
"This will be no long-shot," he added.
This isn't the first time that a resident's much-publicized stare-down with the governor produced a challenge to Christie's Republican allies.
With the considerable financial backing of the New Jersey Education Association (NJEA), Hunterdon County teacher Marie Corfield, after confronting Christie at a town hall meeting over his stand on public employee pensions and benefits, three times turned LD16 into close contests while coming up short.