I tried on a $30 million diamond. So, what does it feel like? Is it transformative? Anxiety producing? After all, that's a lot of money for a diamond.
Last week, while attending the 2015 European Fine Art Fair in Maastricht, Holland, I met with some of the world's top jewelers: Graff Diamonds, Chopard, Buccellati and Alexandre Reza. TEFAF, as the event is called, is primarily known for selling art and antiques, but high-end jewelers have long held their own, and their offerings can range in price from the high six figures into the millions. The wares in their booths represent the luxury segment of the diamond and custom jewelry industry business.
And business is good. According to Antwerp World Diamond Centre (AWDC) and Bain and Company's annual report, sales of diamonds are running 3 percent over last year, with high demand from China and the U.S. And those buyers were out in full force at TEFAF.
I met with representatives from each company with the hope of learning more about the industry, and, let's be real here, getting to wear their wares. I really wanted to try that bling on.
Director of sales for Graff Diamonds, Eduard E. Van Der Geest, an elegant, eloquent gentleman, indulged me. Graff is a leader in the jewelry industry, and best known for doing everything in-house, from mining to cutting and polishing to setting. Everything is "proprietary," Mr. Van Der Geest stressed.
The first piece he so delicately adorned me with was a three-strand, asymmetrical 110-carat white and soft yellow diamond necklace, set in platinum. A large floral-shaped pendant was fastened to the right side; the weighty piece retails between $2 million and $3 million. (Graff was only willing to disclose prices "in a range.")
I was wearing a high-necked black dress, not ideal for such a piece, which Mr. Van Der Geest adjusted thoughtfully to sit higher on my neck, since it's ideally meant to be worn against the skin.
"Would you like to try an earring with that?"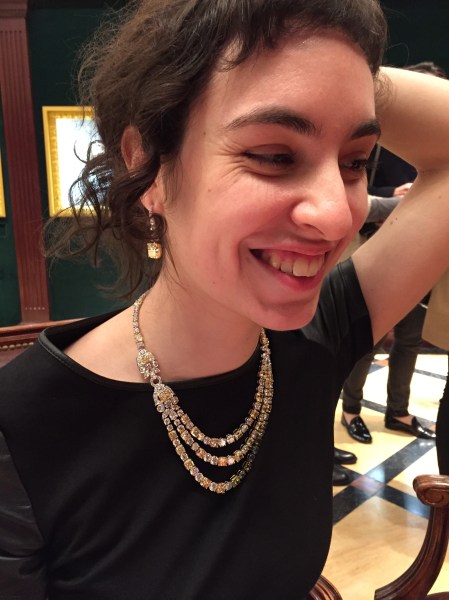 Why, yes I would. I let him choose which earrings he though would go best. I ended up with a pair of intense yellow-and-white diamond drop earrings, about seven carats each, and priced near $1 million.
"Push them all the way through, so that the diamonds flow out of the ear," he said, adjusting them for me. "That's the perfect earring to go with this sort of necklace. It's a simple design that compliments the necklace very well. You don't want to make it too heavy."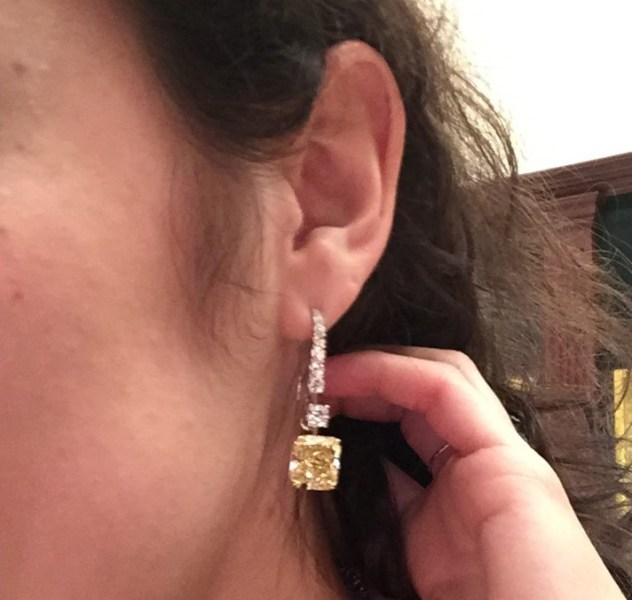 As if wearing close to $4 million worth of diamonds wasn't enough, we added a ring to the mix. Not just any ring. A 24-carat fancy intense yellow radiant-cut diamond, flanked by two small 1-carat white diamonds, set in 18-carat gold and platinum. The rock is valued between $2 million and $3 million.
The yellow was so intense it seemed to glow, and my host explained that Graff's precision cutting and polishing is meant to enhance the color of the natural stones.
"The color of a diamond is very difficult to manipulate if it's a white diamond," said Mr. Van Der Geest.  "In a white diamond you can manipulate the shape, but in a color diamond you can manipulate the color, depending on how well you cut it."
Several weeks ago, Sotheby's announced that it would sell a rare 100-carat flawless perfect diamond. What did Mr. Van Der Geest think about this?
He scoffed politely. "It's no different than a piece of art—how do you know what's a perfect painting?" he said. "There's no definition to what the perfect stone is, because it's so subjective."
The subject of the perfect diamond led him to the next piece I was going to try on.
"I'm going to show you the blue, because you should have that on your finger."
Oh, the blue. If there were a perfect diamond for me, this would be it. Though perhaps I'm biased—of all the pieces in Graff's booth in Holland this year, the ring I was about to try was by far the rarest and most valued stone of all. He placed on my finger a dark, vivid grey-blue, 5-carat emerald cut stone, framed by two long rectangular white diamonds and set in platinum.
"That is many, many, many, many millions," he told me. In the range of $20 million to $30 million, to be slightly more precise.
He added, "It's just about that stone. This is the most difficult thing for anyone to comprehend, that it's worth what it is. But it's no different than a $100 million painting. When you think about a painting being worth close to $150 million, this is actually much rarer, because you don't find these stones."
The company comes across stones like this one in its mines only every 5-8 years, he said, and while it's quite small, there are few like it in existence. But it's small size, he told me, also made it highly wearable—if you're comfortable wearing $30 million on your finger, that is.
He wasn't wrong. The ring had an unassuming beauty. If you weren't familiar with the range of colored diamonds on the market—and the range is vast—you might not even know this was a diamond at all. Dark and cold, like glassy lake water, I was seduced, and starting to understand why someone would spend millions on a diamond. (Any donations, anyone?)
I sent a text to my partner of four years back home. Just a photo, no message. His response: "Ha…don't get any ideas!!!" followed by, "But ya know, with the right dress…" He also wondered if he should expect future emails—"for reference."
I make no promises. My eyes have been opened.
On the flip side, my mother's response was full of positive re-enforcement. She avoided commenting on the price tag, and was a little confused.
"Jewels and you look beautiful. Where R u?"
But Mr. Van Der Geest wasn't done with me yet.
"I think you should try that ruby necklace on, because that's one of the most spectacular ruby necklaces you'll ever see in your life."
At this point, I'm a seasoned veteran. Show me your best. And the last piece was anything but a disappointment.
"It's totally over the top. Because why not—because we can do it. There's always someone that wants that," he said.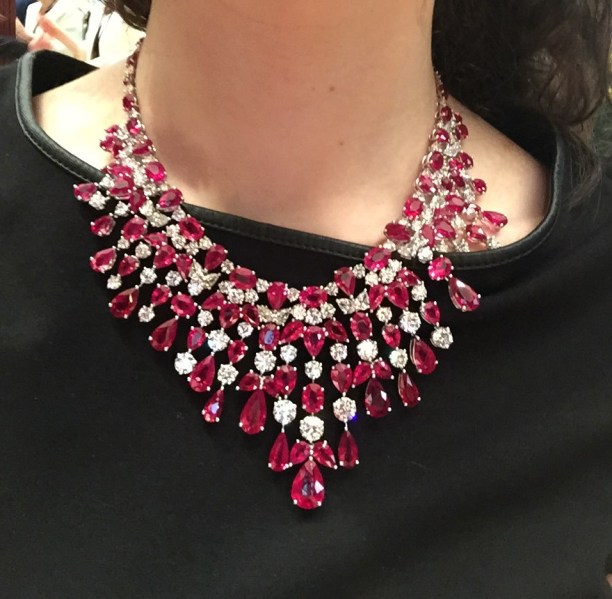 The necklace is, as he describes clasping it behind my neck, "a bib of rubies." It contains 100 rubies, weighing 160 carats, and 100 diamonds, weighing 50 carats—the precious stones took nearly five years to collect. The massive piece could fetch between $4 million and $5 million.
"This is so extraordinary, because you rarely ever see anything like it," he told me.
I also tried on the earrings from the same set, valued near $700,000.
A friend stopped by to say hello to Mr. Van Der Geest.
"Oh, that looks lovely, I tell you," he said, observing me decked in rubies and diamonds. "The jewelry comes alive when you put it on."
I extended an offer to model them for as long as they liked.
"Please do!" he replied.
If you worry that trying on a $30 million diamond is going to skew your expectations going forward, I don't agree. Having the chance to see some of the finest jewels in the world up close has left me with a newfound appreciation for the artistry required to harness their beauty. There's a reason that Graff and its peers exhibit at TEFAF, and it's not just so that art collectors can take advantage of one-stop-shopping while in Maastricht. There are plenty of ways a jeweler could ruin a stone, but only a few know how to make it into art.