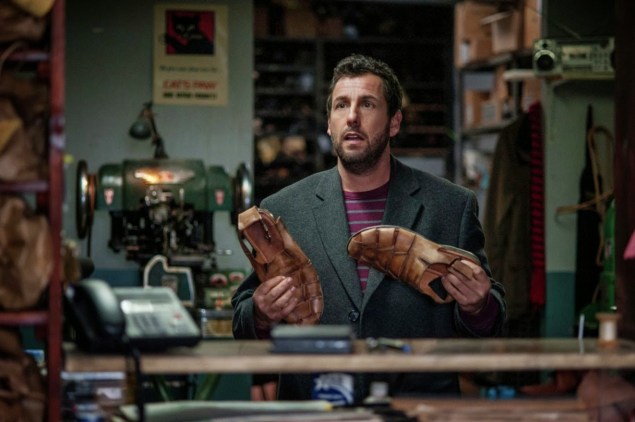 The Cobbler is the kind of fanciful New York fable Ben Hecht and Damon Runyon used to tell in books and syndicated newspaper columns back in the day. Written and directed with precision and sensitivity by Thomas McCarthy (The Station Agent), it revives the pleasant art of storytelling most of today's young filmmakers have all but abandoned, and cures (temporarily, anyway) my allergy to Adam Sandler. He's wasted too much time making lousy movies. His whole career is about mediocrity. This is his bid for respectability. Under the guidance of a real director for a change, it works, sort of.
---

THE COBBLER ★★½
(2.5/4 stars)

Written by: Thomas McCarthy and Paul Sado
Directed by: Thomas McCarthy
Starring: Dan Stevens, Adam Sandler and Steve Buscemi
Running time: 99 min.

---
Mr. Sandler plays Max Simkin, a diligent but solitary shoemaker whose nondescript repair shop has been part of his neighborhood on New York's Lower East Side for three generations. Max has never been involved in life. He's never even had a girlfriend. He spends his days toiling away as his own boss, then goes home every night to dinner in the microwave with his mother, who never recovered from his father's disappearance years ago and now shows early signs of Alzheimer's. For Mr. Sandler, the role of Max is a studied performance, dedicated to subtlety.
Max's sedentary existence changes dramatically one day when he discovers in the basement an ancient stitching machine his grandfather left behind that is covered with cobwebs. The shoes he mends on it suddenly transform him into the customers who left them for repair—black, elderly, Asian, female, even dead. When he tries them on, he becomes anyone he wants. Like The Red Shoes, the story also forces him to inherit the souls, spirits and personalities of people he used to ignore—including their prejudices.
And so Max achieves life at last, albeit secondhand, through the humor of human observation. As an overweight kid who suffers from cruel abuse, he now gives a bunch of neighborhood bullies a dose of their own medicine. In the shoes of a handsome man dropped off by his sexy girlfriend, Max becomes a babe magnet, unaware that the owner is gay. Imagine the possibilities—righting wrongs, getting even with your enemies, dispensing wisdom. Of course, this kind of magic also has its downside. After finding an old pair of his father's shoes, he gives his mother such a surprise that she drops dead from joy.
It's a Jim Carrey role, but Mr. Sandler plays it close to the vest and comes up with a few character shifts that are uniquely his own. When he runs afoul of a gang of crooks run by slum landlord Ellen Barkin, the movie turns into The Secret Life of Walter Mitty meets The Gang That Couldn't Shoot Straight. Working with a fine cast that includes Dustin Hoffman, Dan Stevens, Fritz Weaver and Steve Buscemi helps, but eventually the movie grows tiresome because, as Mr. Sandler's films always prove, his poker face and lethargy can't sustain a comic idea for the stretch of a full-length feature.
Up to a point, though, this old-fashioned comedy disguised as a contemporary parable cobbles together a message to savor: With the dizzying privilege of walking in another man's shoes comes a sobering responsibility.