On a recent winter's morning, Jeff Keil sat, sweatered and white-haired, sipping coffee in the fore of his enormously high-ceilinged living room at 3 Pierrepont Place, in Brooklyn Heights, just off the Columbia Heights Promenade. Sunlight streamed through windows roughly the size of industrial refrigerators, warming the parlor level of the owner's duplex where Mr. Keil, a retired banker and the former president of the Republic of New York Corporation, has lived with his wife, Danielle Pinet, for the last 24 years, renting the 17,354-square-foot town house's seven other units to tenants who have become their friends.
"We have been very, very lucky," Mr. Keil said. He'd purchased the brownstone, the former home of the entrepreneur and trader, Abiel Abbot Low, whose son, Seth, was the 92nd mayor of New York City, for a paltry $2.3 million. And lately, he'd mustered the services of Corcoran broker Vicki Negron to sell it, for $40 million—the highest listing price in the borough's history. He'd bought a place in Miami Beach and he'd bought a boat. He had hired a man to drive the boat. He also keeps a home in France, from whence Ms. Pinet hails.
Still, Mr. Keil said, "It is hard to give up New York."
Hard, especially, no doubt, given the particular New York that the owners occupy. While the duplex's lower level is serviceable and cozy, with ample accommodations for visits from the couple's adult children—four to five bedrooms, depending on needs and preferences—it's a decided departure from the parlor floor, which suggests the residency of highly cultured colonialists.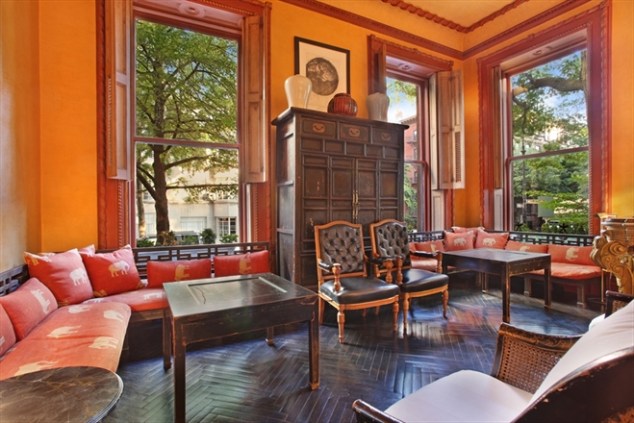 Here, Mr. Keil and Ms. Pinet have construed a master suite from what was once a reception space, deploying a canopied bed looking past the greenery of a sizable rear yard and onto the water, for idyllic morning views. The British decorator Mimmi O'Connell oversaw a restoration of the layout, and a Dutch builder of wooden sailboats was commissioned to restore floors, which are dark and hardwood and herringbone where they are not stone or black-and-white checkerboard marble. Bright yet soft yellows and reds adorn ceilings and walls. Open double doors beckon grandly from high, arched entryways embroidered with scrollwork.
Carved figures peer out from marble fireplace surrounds and from the heavy legs of wooden tables; copies of the Oxford American and The New Yorker lie in the study beside books of Margritte and Axel Vervoordt; on the wooden sectional sofa where Mr. Keil was seated, pale elephants troop over fabric pillows of sun-faded tangerine. Many of the home's thousands of square feet remain tenant-occupied for now, and were unavailable for viewing at the time of the Observer's visit. But we were given to understand that all remains in good condition.
"A very sweet use for the property would be to return it to a single-family home," Mr. Keil considered. He indicated a huge wooden mirror frame, carved with dragons, which rose above a fireplace. "Do you see that?" he said. "You can tell that the owners were China traders."