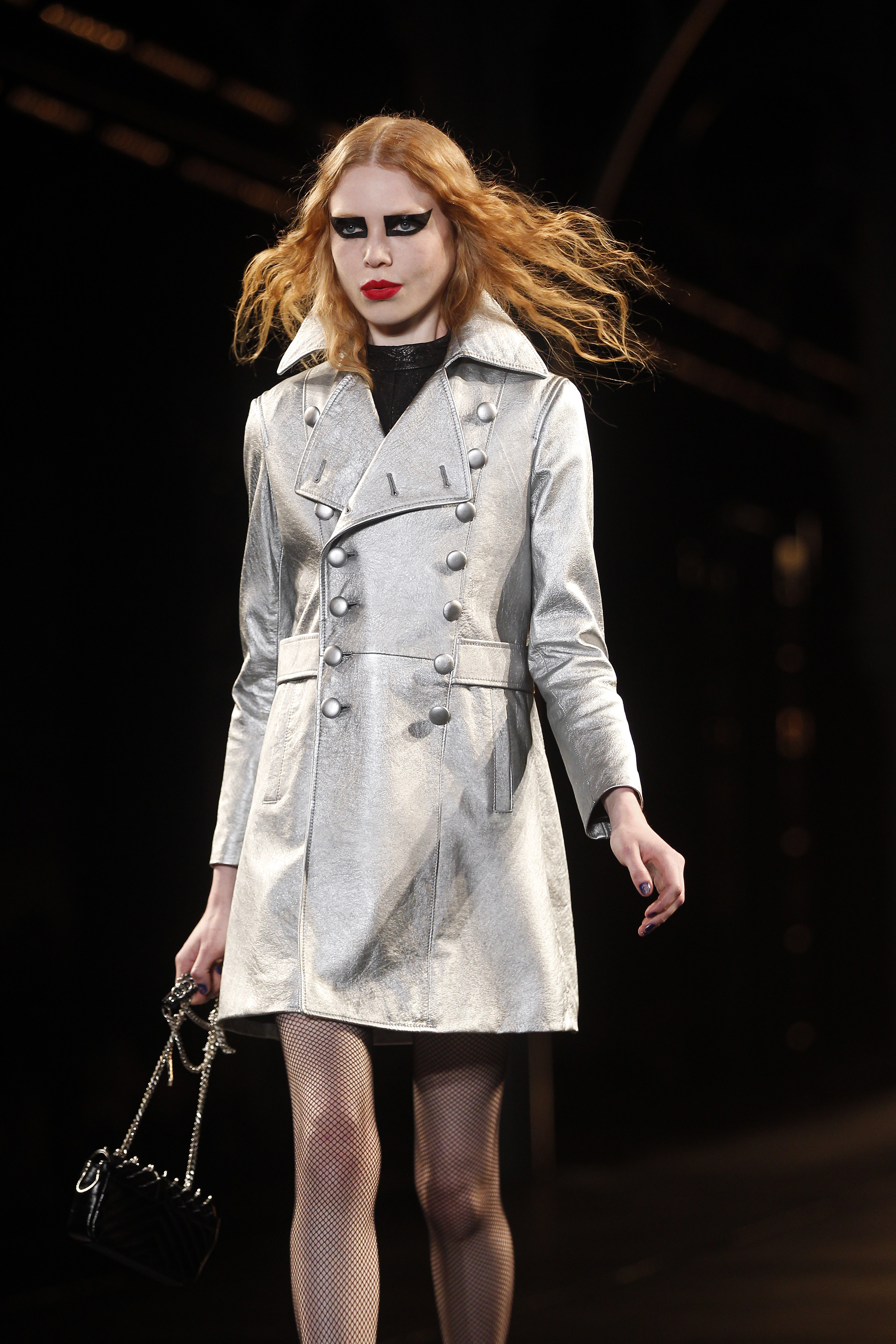 Hedi Slimane unleashed yet another rock-babe-worthy collection for Saint Laurent in Paris this morning, continuing to mix the aesthetics of LA and Paris as only he can.
The torn fishnets, bondage chokers, micromini hemlines and over-the-top makeup all screamed of the Sunset Strip's groupie glory days. Meanwhile, luxe fabrics, flat and rumpled hair, a menswear-inspired suit and even a plasticky raincoat ("what's rain?" – LA) helped the collection maintain the label's French roots.
There was even an asymmetric dress that left one breast exposed, à la the iconic symbol of the French Revolution, la Liberté.
Click here to read about iconic Frenchwoman Brigitte Bardot's style.
Also, it must be noted that this is just the latest Paris house to use way, way more makeup than its New York counterparts. Stateside this fashion month, makeup artists almost uniformly opted for an I-woke-up-like-this look. The beauty offerings were downright bland. In Paris, though, this is not the case. Models' faces were dipped in paint by Rick Owens and treated like paint canvases at Margiela. At Chanel, models wore augmented smokey eyes. And at Saint Laurent, they took the classic '60s cat-eye-and-red-lip to the extreme.
This flies in the face of everything we have taken as beauty truth: aren't the French supposed to be vehemently anti-makeup, while the Americans have more garish tastes? Perhaps the situation is reversing after one too many embarrassing "Here's How to Look Just Like a French Girl!" trend stories here in the USA.
Click here to read about French stylist Carlyne Cerf de Dudzeele's more-is-more philosophy.
Either way, runway shows are supposed to be at least a little entertaining, right? Ironic clown makeup is more fun to look at and analyze than a bare face any day.
Oh, and we'll also take one of everything in Saint Laurent's new collection, thanks.
More Paris Fashion Week coverage from the New York Observer:
Kanye, Sir Paul and Jared Leto: Gents Have More Fun at Paris Fashion Week
Lifelong Vegetarian Stella McCartney Debuts Faux Fur Coats, Refuses the Real Deal
What Does it Mean When the World's Most Famous Brunette Goes Platinum Blonde?