A bold graphic rug makes your space look bigger.
Make the most of your floor space by storing things vertically—use étagères liberally to display your collectibles and to divide your space.
B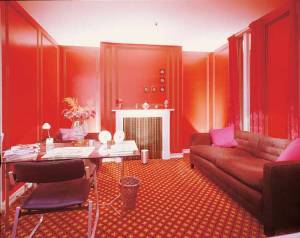 uy a chandelier that is bigger than you think you need and more expensive than you think you can afford—nothing adds drama like a large light.
Known for his love of bright, cheery patterns and uplifting concept stores (of which there are 26 worldwide), Jonathan Adler made his creative start as a potter selling his collection at Barneys. While ceramics are still very much a part of his business, the brand also creates and sells decorative objects, tabletop collections, bedding, bath accessories, furniture, rugs, pillows, lighting and even handbags. The author of three books, he has collaborated with Lacoste, Mattel (for Barbie's 50th anniversary Dream House), Uniqlo and Tumi. Mr. Adler also heads up a thriving interior design business.
---

5 JONATHAN ADLER TIPS FOR DESIGNING A NEW YORK CITY PAD. Hang art: It will distract from your view of a brick wall. Buy items that are multifunctional, like our leather poufs: They're seating; they're a cocktail table; they're fab.

---
What are some spring/summer interior design trends you're loving? One word: Wallpaper, wallpaper, wallpaper! We've added squillions of new patterns, and lots of textural motifs including our updated take on malachite and, my personal fave, the gold splatter. They're great gateway wallpapers for people who are afraid of wallpaper.
What is the most "out there" project you've worked on in New York City and what made it so unique? Fortunately, all of our clients have been totally normal and have been a dream to work with. I haven't had any requests for a Jonathan Adler-designed dungeon or anything.
Walk us through the design of your own home. What are the design mantras you live by? We combined two apartments in a
prewar Greenwich Village building. The living room and dining room have double-height ceilings, and the whole place is full of my stuff—I'm constantly road testing new pieces from our collection. My poor husband Simon never knows what he's going to come home to. But the one thing we'll never get rid of is our paisley Ping-Pong table. We play every night (and I win every night).
What new pieces are you loving for spring/summer from your own collection? I'm obsessed with our new Ultra Sectional. It has  a low, loungey, pearly glamour. It would be perfectly at home in Roy Halston's Paul Rudolph-designed party pad.
In general, what are some design do's and don'ts? DO put all your lighting on dimmers. Everyone will look thinner and more glamorous than they already are. DON'T worry about rules. If you love it, it will work.
What made you want to be an interior designer? Tell us a little bit about how you got interested in the craft. Was it a childhood interest or did it develop later on? It was a happy accident, like everything in my career. I started as a production potter, then expanded into pillows, lighting, furniture—it has been an unbelievable creative odyssey and I never want it to end.
Which artists, furniture designers or even fashion designers are you really inspired by? Bonnie Cashin, Alexander Girard and David Hicks are my holy trinity. And no one does irreverent British luxury like Paul Smith.
How would you define your design aesthetic to someone who isn't familiar with your work? Three words: Modern American glamour.
Are there any overriding themes or design messages you try to convey throughout all of your work? I want everything I make to add style, craft and joy to your life. My guiding motto is, "If your heirs won't fight over it, I won't make it."