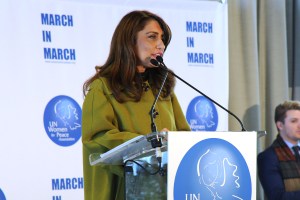 On Friday afternoon, the UN Women For Peace Association held their annual luncheon to celebrate International Women's Day, which is March 8th each year. "Men To End Violence Against Women" was this year's theme and in conjunction with the United Nations Alliance of Civilizations, the United Nations raised a glass to women worldwide. Long-time campaigner Muna Rihana Al-Nasser spoke eloquently on the cause.
The United Nations Secretary-General, Ban Ki Moon, spoke about the global issue of violence against women, "We have all the strong supporters for gender equality and that has been my main priority since day one." He later continued, "We should never let women and girls be left behind."
This year, Paul Bettany received the UNWFPA's Humanitarian Award, which was presented by his fellow colleague Ron Howard. Chairman and CEO of The Kraft Group, Robert Kraft, took home the UNWFPA's Achievement Award, and Laurice Rahmé accepted the UNWFPA Peace Award on behalf of Bond No. 9.
"'The Scent of Peace' is the number one selling fragrance in every country," said Laurice Rahmé. Rahmé created the fragrance after the September 11th tragedy as a way to give back to New York. Not only was it her gift back to the city, but she has always believed that 'Men made war; women made peace.' Being on the board of the United Nations Women for Peace Association, Rahmé is setting an example for women worldwide. In her acceptance speech she said, "I would like the dedicate this award to all the women in the world"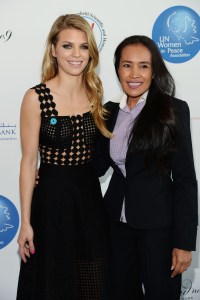 Paul Bettany has been known for his involvement in women's issues for years, with his newest film Shelter, which explores the plight of homeless women in New York City. The new film produced, written and directed by Bettany, stars his wife, Jennifer Connelly.
Bettany said, "Thank you to the UN Women for Peace Association. The work that you do has made the world a better place." He continued, "I believe that stories have great power and great power to change. They can make the numbers personal. They can instill compassion. They can foster caring and they can move us to action."
Jackie Wilson performed a riveting rendition of "Break the Chain" for the room and had the crowd clapping along. Jennifer Connelly, Richard Lui, AnnaLynne McCord, and Alexandra Richards were all in attendance.