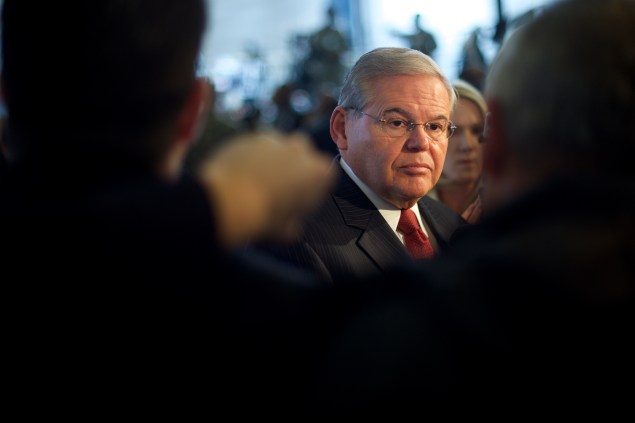 Social media is on fire right now with speculation about how reports that U.S. Senator Bob Menendez (D-NJ) could face federal corruption charges in the coming weeks might impact by proxy a whole host of other political issues—from who might Gov. Chris Christie tap to replace him in Washington if the news proves true, to how the 2017 New Jersey gubernatorial field changes because of it.It's all fair game, seeing as allegations of such weight and seriousness often do tend to derail the careers of otherwise seemingly reverent officials.But one particularly stimulating line of speculation is worth noting—if not because this kind of conjecture pretty much constitutes the stuff of political palace intrigue, then because it stand as a very real possibility.
News of Menendez's corruption charges is dropping just days after Israel Prime Minister Benjamin Netanyahu paid a visit to the House of Representatives to give a controversial speech on the inevitable failings of U.S.-led negations to disarm a nuclear Iran, much to the chagrin of the White House, who was neither consulted nor happy about the Middle East leader making the trip.Menendez, as one source pointed out, sat squarely in the middle of that controversy. Not only has Menendez, who sits on the Senate Foreign Affairs Committee, been openly critical of the Obama administration's position on talks with Iran over its nuclear infrastructure, the ranking Democrat and fiery Cuban-American pretty much gave the White House the figurative middle finger when he chose to escort Netanyahu onto the House floor Wednesday — as if "speaking publicly about Obama's Iran policy and threatening to put up [a] bill calling for more sanctions didn't piss them off enough," to put it in the source's own words.
---

'This absolutely came from Obama world. [That's] why CNN got it and not regional or local outlet,' a source noted.

---
Add to that Menendez's tendency to diverge—often strongly and publicly and vocally—from the front office on other matters of high-profile importance— such as on its decision to open up diplomatic relations with Cuba after 50 years of hostility, or on U.S. military intervention in places like Syria—and you have strong incentive for a rankled White House to retaliate.
"This absolutely came from Obama world. [That's] why CNN got it and not regional or local outlet," the source noted.
The evidence isn't unequivocal, of course. Menendez and Obama have had a productive relationship on other issues, specifically on domestic policies like immigration. But these are guys who some have labeled "frenemies", in recent weeks—could this be their latest blow-up, the two at their wits' end?
Also worth noting: An embattled Gov. Chris Christie once also faced the specter of oncoming criminal charges when NBC New York reported last year that indictments in the federal George Washington Bridge probe were imminent. Those charges have yet to materialize, though considering Menendez has been under investigation for some time longer, I suppose there's still time.
Chase Brush is a reporter at PolitickerNJ, where this article first appeared.