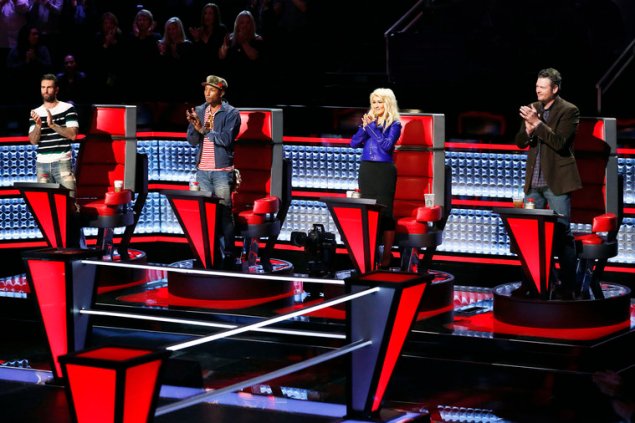 Tuesday night, for me at least, is the deadest night of the week for television. What are the heavy hitters? Agents of S.H.I.E.L.D?  Nope. Fresh off the Boat? More like fresh off the nope. Dance Moms?! Maybe. But probably nope. Which is why I usually spend Tuesdays not doing what I am actually paid to do, which is watch television, and if I do it's probably, like, old episodes of Batman: The Animated Series. 
But last night, oh, last night I managed to catch a segment of The Voice, a show I usually avoid like the plague, and by the plague I mean Adam Levine's music. And you know, it passed the time. Everyone had good singing voices, which I guess is the whole point of the show. But only a very, very small part of me actually wanted to keep watching until the end, to see who actually went on to win the whole shebang. And even then, it wasn't because I was particularly invested in the competition. I just didn't want to be left out of the cultural conversation, the one I assumed happens when someone wins The Voice. 
Then I turned The Voice off and went about living my life, because I realized that conversation does not matter. In fact, that conversation barely exists. Outside the hardcore fans, can anyone name one past winner of The Voice off the top of their head? I mean, okay, I'm sure plenty of people can name the past winners of The Voice. But can they name them because of any other reason than the fact they were on the show? What I'm trying to say is, it boggles my mind that The Voice is the most popular singing competition on TV right now, and it has not produced one star that remained one iota as relevant as they were on the show itself.
I'm not kidding about The Voice's popularity. I don't watch it, but so. many. other. people. do. It somehow rules both Monday and Tuesday nights with an iron microphone, and it does this while being two hours long each night. That is four hours of straight Voice. That is so much fucking Voice I can't even with that nonsense. But it kills it, week in and week for seven straight seasons. So, wouldn't you think it would act as some sort of launching pad? Let's take a season by season look at all the winners:
Season 1, Javier Colon: Javier won the inaugural season of the Voice and received $100,000 and a recording contract with Universal Republic Records. Woo! One year later, he left Universal Republic Records.
Season 2. Jermaine Paul: Hey, he was nominated for a Grammy…before The Voice. After The Voice, he peaked at number 32 on the Billboard charts with a cover of 'I Believe I Can Fly,' and uh, that's really it.
Season 3, Cassadee Pope: Okay, this one is weird because Cassadee did pretty well for herself, with a Top 40 hit and a documentary show on CMT, among other things. But, also, she was kind of already famous way before The Voice. A good friend of mine had a picture of her in his dorm in, like, 2010. Fun fact, I actually had no idea she was even on The Voice prior to this piece. This has been so informative for me!
Season 4, Danielle Bradbury: Danielle is the cream of the Voice crop, with five songs cracking the top ten Billboard charts in 2013, and then a spot in the Sochi 2014 Winter Olympics commercials.
Season 5, Tessanne Chin: Tessanne has the honor of selling 7,000 copies of her debut album in the first week, the lowest of ALL the Voice winners. She did, however, once co-headline the Shaggy and Friends benefit concert so she is, at the very minimum, friends with Shaggy.
Season 6, Josh Kaufman: Josh is perhaps best known as "First Caucasian Male to Win The Voice" and first "Stolen Artist to Win the Voice." I only know what one of those things mean.
Season 7, Craig Wayne Boyd: Alright, Craig just won last December, so let's give him some time to fade into obscurity. For now, his greatest accomplishment is having a name that makes me think of Unbreakable Kimmy Schmidt's Richard Wayne Gary Wayne.
So, no, The Voice is not really a launching pad. It's more like a Art Gallery Pedestal. A platform where something is looked over and marveled at for the time it's there, and then either bought by someone rich and admired for a short while or just immediately discarded.
But why? Well, first of all, everything about The Voice from it's promotional material to its format to the way they film the show itself is about the judges. Just Google news about The Voice and you'll find out the latest spat between Blake Shelton and Adam Levine, or what asinine, backwards compliment Christina Aguilera gave a contestant, and maybe that contestant's name in parenthesis.
Really, though, I think it says a lot more about the viewers than it does the show. It's just indicative of the way we watch TV as a whole. Between bingeing and streaming and live-tweeting and "reality" TV's dominance, we only care about what is in front of our eyeballs right that very second. All the substance of not only the Voice, but all "competition" reality shows has been sucked out, replaced season by season by a new cast of colorful characters that appear on screen, win or lose, and are thought about no more. But somehow The Voice is basically the only major competition show that has never, ever done anything notable for its contestants past a year or two after a season ends. And yet people, keep, watching. If The Voice suddenly became scripted — the singing competition version of Empire starring Pharrell — I don't know if anyone would notice, or care.
Ultimately, The Voice will get you more notoriety. It will get your name out there. But don't expect the audience to follow you when you're gone. The audience is already looking forward to the next season of The Voice, when they can cheer again for a face on a screen who, as the show itself reminds us over and over, will never be as famous as the coaches on The Voice.