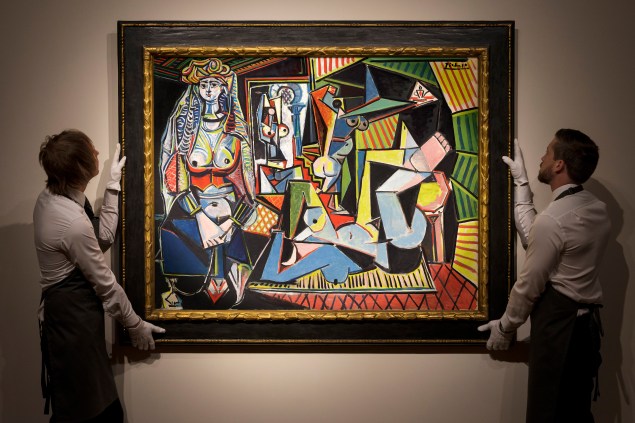 Christie's is making two bold moves this spring: it's adding a curated sale to its annual May roster, and it will be offering a historically significant work by Pablo Picasso with a stunning estimate of $140 million—one of the highest estimates for a work of art, ever.
"Looking Forward to the Past" will be held May 11 and is organized by Post-War and Contemporary Art specialist Loic Gouzer. The sale will compliment the house's Impressionist and Modern Art Evening Sale on May 4, and Post-War and Contemporary Art Evening Sale on May 13, and is Christie's second attempt at a curated, themed Spring sale. Last May's 35-lot sale "If I Live I'll See You Tuesday," also organized by Mr. Gouzer, raked in $135.6 million, and set 16 new sale records for artists like Dan Colen, Peter Doing, Glenn Ligon, and Richard Prince. "Looking Forward" will feature 25 lots, and focus on 20th century artists who gleaned inspiration from their artistic predecessors.
"We have deliberately curated this sale to mirror how our collectors are inspired by the dialogues and juxtapositions of art over the last century and a half, where an extraordinary Monet will speak to a seminal Picasso or a Rothko or a Warhol or a Kippenberger," said chairman and head of Post-War and Contemporary Art Brett Gorvy in a statement.
International director and head of Impressionist and Modern Art Brooke Lampley echoed Mr. Gorvy by saying, "This sale puts the spotlight on how interconnected the contemporary art category is with modern art—a truth that is sometimes overlooked in the current market."
The sale's undisputed highlight is Pablo Picasso's Les femmes d'Alger (Version "O") (1955), inspired by French Romantic painter Eugene Delacroix's masterpiece of the same name, and painted in a fusion of the Cubist, Fauvist, and Neo-Impressionist styles. The work was notably part of Christie's record-breaking 1997 sale of the Collection of Victor and Sally Ganz, and sold for more than twice its estimate at $31,902,500. According to a report from the New York Times, the work's consignor is a European collector who acquired it through that 1997 sale. The work is guaranteed, but the house would not confirm if it was by a third party.
If the estimate for this sale hits its mark, it could potentially set a new world auction record for the artist. Christie's currently holds the auction record for Picasso with the 2010 sale of Nude, Green Leaves and Bust (1932) for $106.5 million. (Just for reference, the auction record for Eugene Delcroix stands at about $7.8 million for Choc de cavaliers arabes (1833-34), sold in 1998 at Piasa, the French auction house).
But this is a very special Picasso. The painting is one of 15 versions (lettered A through 0) that the artist painted between 1954 and 1955, directly influenced by Delacroix's 1834 Orientalist composition of harem women smoking hookah. The work is also considered an homage to his friend and peer Henri Matisse, who died in the fall of 1954, and was also an ardent follower of Delcroix's Orientalist themes and distinctive palette.
"It's the most famous Picasso to have been in private hands—sort of a gesamtkunstwerk," said deputy chairman of Impressionist and Modern Art Olivier Camu to the Observer. Mr. Camu explained that the combination of art historical styles and Matisse-like lines, make it one of the great masterpieces by the artist, along with Les demoiselles d'Avignon (1907) and Guernica (1937).
"It exemplifies a man who has gotten to a certain age and is harkening back to masters—it is extremely moving." According to Mr. Camu, Picasso had a long obsession with Delacroix, and his drawings inspired by the French artist date to around 1940.
But, cutting through all of the marketing jargon, what's the real goal of this sale? Well, it's a surefire way to get collectors from one market to turn eyes on another, for one. And leading the sale with a historically influenced piece like Picasso's could prove a win-win considering how well works inspired by other artists have done in the past. Mr. Camu noted that no work as significant by the artist has been sold at auction since the sale of this very same painting in 1997. And let's not forget the power Lucian Freud lent to Francis Bacon's Three Studies of Lucian Freud triptych; one of the big factors in its $142.4 million total. Perhaps Delacroix will do the same for Picasso.
"Picasso literally changed the course of art history by 180 degrees." said Mr. Camu. "Could it break the Bacon record? Of course it could."