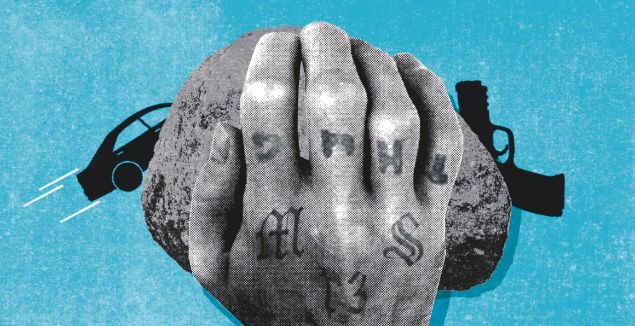 A benchmark of any genuinely brilliant social program is that it can accomplish two or three different goods at the same time. When the Hoover Dam was built in the 1930s, it tamed the Colorado River, ending a destructive cycle of drought and floods; but the massive amount of hydroelectric power generated by the project also sent energy to the defense plants in California that built the weaponry to help win World War II.
The G.I. Bill offered education, job training, cheap mortgages and low-cost loans that flowed to nearly 8 million World War II veterans. That, in turn, was a major factor in creating a broad-based American middle class, whose increased earning power and taxable income helped fuel a three-decade-long economic expansion. It is in this spirit that I proudly offer a groundbreaking policy proposal that will simultaneously ease, if not completely solve, two of New York City's most vexing dilemmas: Youth crime and our sclerotic, often dangerous traffic.
"How," I hear you asking, "can two such clearly disparate ills be met with the same idea?"
Very, very shrewdly.
---

Any unease about an army of Urban Privateers patrolling our streets is likely to be trumped by the prospect of actually moving from Eighth Avenue to Lexington in less than an hour and a half on any given day.

---
The key is to find some link between the lawless young and the lawless motorists. What do the latter have that the former might want? The answer to what young criminals want is obvious: Money. While the desire to "belong" is important, it is the allure of material gain that brings new recruits into the hundreds of street gangs that thrive even in the far-safer city that New York has become.
If only there were some way to channel the hunger for money into legal, socially useful work…
Now look at a very different class of lawbreakers: The subset of motorists who bring disorder and danger to city streets. They speed through red lights; they treat thoroughfares such as Queens Boulevard like Talladega. In 2013, the New York City Police Department tells us, 168 pedestrians and 10 cyclists were killed, and more than 12,000 pedestrians and 4,000 cyclists injured. The cars that jam intersections and illegally park on city streets exact a significant economic cost—some $13 billion a year, according to the Partnership for New York City. Fines are often ignored, or seen as a minor burden.
If only there were some way to impose genuinely meaningful economic sanctions on these lawbreakers…
My fellow citizens, let me introduce to you a concept that adapts a 700-year-old tradition to the needs of 21st century New York: The Urban Privateer.
The idea of the privateer is simple. The sovereign of one nation would issue a license, a letter of marque to the captain of a ship that plied the high seas. The license in effect legalized what would otherwise be piracy; it permitted the captain to commandeer the ship of a hostile nation, and bring it home. If an admiralty court found that the seizure was legal, the value of the ship's cargo would be shared between the ship's owners and crew and the sovereign. Just this week, two City Council members offered a bill that would enlist citizens into reporting traffic violations–but this is weak tea compared to my single-malt Scotch of an idea.
The privateer was a familiar figure for centuries. Sir Francis Drake, best known for defeating the Spanish Armada in 1588, was one. Our own Constitution authorizes Congress to issue such letters of marque. As Francis Upton's Maritime Warfare and Prize puts it: "Cruising for prizes with a letter of marque was considered an honorable calling combining patriotism and profit…" And it is a "magic bullet" for our time and place.
Here's how it would work: The mayor, police commissioner and transportation commissioner would summon the leaders of every significant street gang to a series of meetings; if necessary, local ministers and community leaders would act as guarantors of safe passage. They'd be offered the chance to become Urban Privateers, patrolling city streets and parks, officially authorized to seize any vehicle violating traffic or parking rules. Every Urban Privateer would be issued a lightweight video camera to record the offense, both to prove guilt and to prevent over-enthusiastic Privateers from inflicting violence on persons or property.
If the seizure were valid, the fine would be split between city and Privateer. But that's only the beginning. It's highly likely that a red-light runner or speedster or illegal parker may well have outstanding warrants for other offenses. In that case, the Urban Privateer would be authorized to seize other assets: Say, all the cash in the perpetrator's wallet, or a nice watch—or perhaps the vehicle itself (with proceeds from the sales split between city and Privateer).
It's hard to overstate the immense benefits of such a program. For the youthful offenders, it offers a chance to make serious money without suffering the legal consequences of illegal behavior. Given the entrepreneurial skills that many of these young people have shown—for example, in the highly organized realm of drug distribution—the money earned from Urban Privateering might become a form of Kickstarter, providing the resources for private economic development throughout the inner city.
For the always-resource-starved city government, it provides A) vastly increased revenues, and, B) the first real chance to see rapid, significant improvement in the flow of traffic—and with it, the chance to reap billions in increased economic efficiency. And, since a big proportion of those targeted are likely to be suburbanites and out-of-towners, there's less chance of a political backlash.
As for the mass of city dwellers, any unease about an army of Urban Privateers patrolling our streets is likely to be trumped by the prospect of actually moving from Eighth Avenue to Lexington in less than an hour and a half on any given day.
No doubt there are nitpickers; I'm sure there were those who scoffed at the notion of building a giant dam smack in the middle of the Colorado River. But New Yorkers have, just in recent times, seen the impossible come true. We have the lowest crime rate of any big city in America; subway cars are graffiti-free; the shad have returned to the Hudson River.
Unleash the Urban Privateers, and watch the traffic flow, the crime rate plummet further, the city coffers overflow.
As for my reward for so visionary an idea, I ask nothing more than the thanks of a grateful citizenry … and perhaps a regular table at Rao's.
Jeff Greenfield, author and five-time Emmy-winning network TV analyst, is a PBS "Newshour" contributor and Daily Beast columnist.