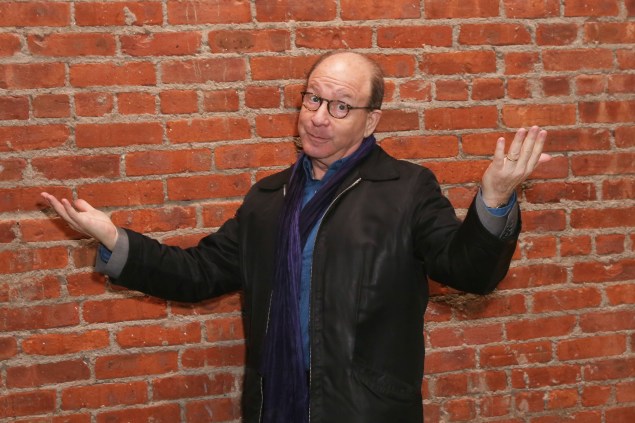 In a move that's slightly more punk rock than his previous extracurricular activities—such as guest-starring on Girls or live-tweeting a trip to the eye doctor—Jerry Saltz has gone rogue, and lit his MoMA press pass in a sea of flames. Burned the thing to a crisp. And while perhaps this fit of pyromania may simply be Jerry playing out his puerile tendencies, as he often does, maybe it's an empowering bit of protest art, an act of defiance against the recent celebrity-centric programming at the country's greatest stronghold of contemporary art. Let such rebellion ring forth through avenues of Instagram, let the transgression ride waves of retweets on Twitter! For this is a work of revolution. The Third of May 1808. Guernica. Jerry Saltz Burning His MoMA Press Pass.
And though the whole public incineration thing—coupled with not-too-kind words for a certain recent show put on by Chief Curator at Large (or, maybe, former Chief Curator at Large?) Klaus Biesenbach—probably made clear his current thoughts regarding MoMA at the moment, that didn't stop Laura Hoptman, a curator in the painting department, from cheerily inviting the critic to come see "One Way Ticket: Jacob Lawrence's Migration Series and other Works" on Tuesday.
"It's gonna be mind blowingly great," she wrote in the Instagram comments.
(Mr. Saltz on "The Forever Now," which was curated by Ms. Hoptman: "If MoMA is the Ferrari of Modernist museums, 'The Forever Now' is driving it like a Prius: something made to have minimum impact on the environment while making people feel okay about something troubling.")
What's more, he probably doesn't need the little piece of paper that is a press pass, because he's a former TV star and probably the most easily recognizable art critic in the country. As a MoMA reception employee mentioned, also in the Instagram comments, "Who are you kidding Jerry? We let you in with or without a pass. Xo."
And look, this is probably just another stunt from a guy who loves them, but on the off chance Jerry Saltz really is staying away from the Museum of Modern Art for a while, that's a bummer. We were looking forward to his review of the next Klaus Biesenbach show at MoMA: "Yoko Ono: One Woman Show: 1960-1971."