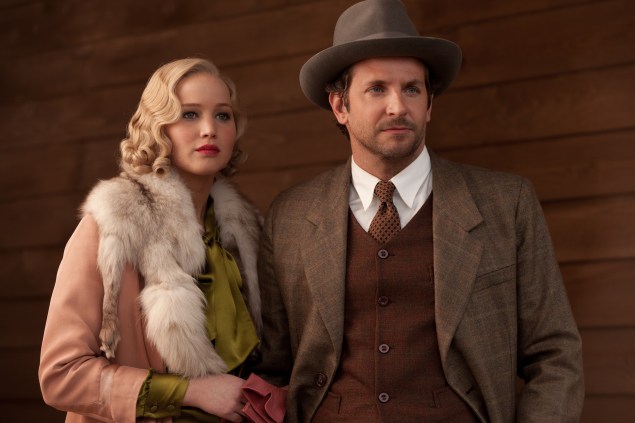 Into each life some rain eventually falls, and in a bomb called Serena, golden couple Bradley Cooper and Jennifer Lawrence, united for the third time onscreen, arrive soaking wet.
This is one of those "whatever were they thinking of?" mistakes where they should all have stayed in bed. Fresh on the heels of success from his Broadway triumph in The Elephant Man and his hit movie American Sniper, this is an unfortunate next step for Mr. Cooper, while Ms. Lawrence, who co-starred with him memorably in Silver Linings Playbook and American Hustle, finds the third time far from a charm, more like a curse.
---

SERENA ★
(1/4 stars)

Written by: Christopher Kyle
Directed by: Susanne Bier
Starring: Bradley Cooper, Jennifer Lawrence and Rhys Ifans
Running time: 109 min.

---
Set in the Smoky Mountains of North Carolina in 1929 but filmed in the gloomy woods of the Czech Republic, it's a disagreeable tale about the barren wife of a lumber baron who sets out to kill a woman from an old affair who bore him a child. Mr. Cooper plays George Pemberton, a rugged, self-made pioneer whose timber company faces ruin in the stock market crash. Enter Serena (Ms. Lawrence), as a spirited bottle-blonde firebrand with the experience (her father owned 40,000 acres of Colorado forest) to become a partner in bed and business. Instead of helping him expand his empire, she drives him wild with ecstasy writhing around in silk panties, clashes with conservationists, wrecks her husband's relationship with his business partner, bankrupts and ruins him, and turns the strapping frontier hero she married into a ruthless, scheming heel.
Between passionate sexual romps, the couple's lumber industry enrages the locals, who prefer to see the land turned into a government-sponsored national park. With no interest in needlepoint or serving tea to idle ladies, Serena spends her time training an eagle to kill off snakes, panthers and other predators, bossing the laborers around on horseback, corrupting the company's financial ledgers, and driving hard bargains. First evidence that Serena has more on her mind than just tossing flapjacks for a hearty breakfast comes when she explains the jagged scars on her back at the age of 12 in a terrible fire that mysteriously wiped out her siblings while she just kept running, ignoring their screams. A miscarriage turns her sour, and the sudden arrival of a woman with a baby who looks just like Pemberton turns her homicidal. When she saves the life of a morbid, sulking backwoods drifter named Galloway (creepy British scarecrow Rhys Ifans) who believes she's pre-ordained to be the woman of his dreams, the whole movie begins a slow, ponderous descent into madness that drags on interminably and barely manages to keep the audience from snoring.
The director is Denmark's Susanne Bier, who seems to be phoning it in from downtown Copenhagen. When was the last time you saw a Danish film with any energy? The terrible script by Christopher Kyle is more wooden than the tree stumps the lumberjacks leave behind. Call it half western costume epic in the Carpathian Mountains (think Cold Mountain), half Depression-era Macbeth, sandbagged by melodramatic hokum. Basic elements like motivation and plot development are replaced by myriad shots of fog-shrouded mountains and snow-covered trees to pad out the running time, proving that Jennifer Lawrence needs more than camera angles to pull off what passes for acting. Call Serena a bleak and mournful slice of Danish déjà vu—and head in the opposite direction.