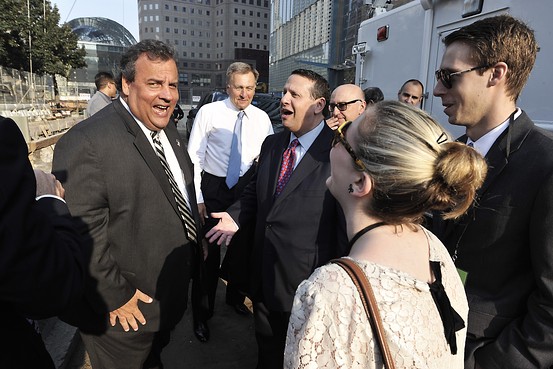 It's one of the vexing questions lingering from Bridgegate: exactly how close was the relationship between Governor Chris Christie and David Wildstein. Christie has portrayed Wildstein as someone he barely knew, both in high school and also after he appointed him to the Port Authority. But a blockbuster report yesterday morning by Matt Katz and Andrea Bernstein for NJSpotlight and WNYC casts doubt on Christie's version of the pair's relationship after Wildstein was appointed to the Port Authority. And PolitickerNJ has obtained a photo to back up their version of events.
After the scandal first emerged, Christie commented on their high school relationship during his epic two-hour press conference on Thursday, Jan 9, 2014. Memorably channeling Biff Tannen from Back to the Future, the governor stated, "We were not even acquaintances in high school … We didn't travel in the same circles in high school. I was class president and an athlete, I don't know what David was doing." A tough editorial in yesterday's Star-Ledger called that line "cringe-worthy" and pointed out that a $150,000 executive position at the Port Authority was a pretty sweet reward for some "anonymous nerd occupying another lunch table at Livingston High."
Later in the same press conference, the governor similarly characterized a distant professional relationship, this time addressing his first term as governor. He stated, "I don't even remember in the last four years even having a meeting in my office with David Wildstein. … I may have, but I don't remember it."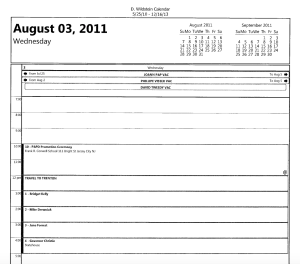 Yet, Katz and Bernstein maintain that documents including Wildstein's schedules from the Port Authority say otherwise. "The records and interviews indicate that during his tenure at the Port Authority, Wildstein met at least twice with Christie and others in the governor's office, joined Christie at seven public events and had regular meetings with Christie's closest confidantes." They write that "Wildstein's schedules list seven meetings at the statehouse, but his calendars are sometimes inconsistent with records maintained by the Christie Administration, and WNYC was not able to independently confirm the five other meetings took place."
So who's recalling correctly? See below. What you're looking at is a photograph of, from left to right, Wayne Hasenbalg, Michelle Brown, Jeff Chiesa, David Samson, Bill Baroni, Governor Christie and David Wildstein. The photo, taken before a toll and fare hike meeting in the Governor's office in August 3, 2011, is a bit blurry, but the identifications are easy. And the context is even more revealing.
Anyone reading this site will doubtless recognize the grand rotunda of the New Jersey State House, the second oldest American capitol in continuous use. But only serious history buffs (or devoted Boardwalk Empire fans) will surmise what lured this crew of Christie insiders and Port Authority appointees all the way up to the third floor.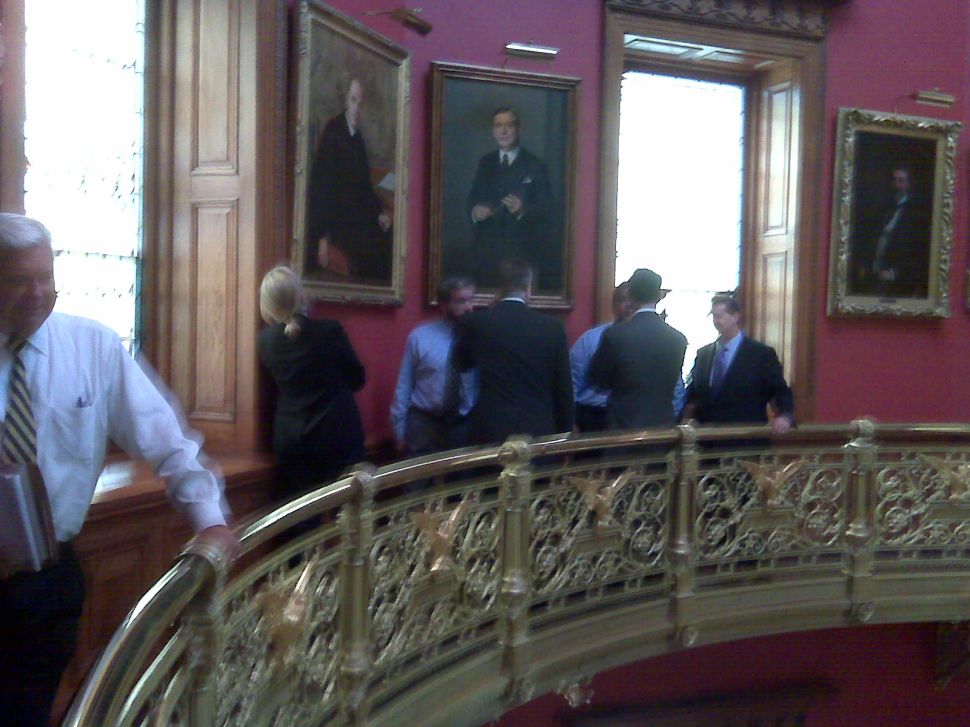 The fellow looking over Gov. Christie's shoulder is two-time Republican governor of New Jersey Walter Evans Edge. AKA Wally Edge. Longtime readers of this website will surely recall that its founder, David Wildstein, went by the pseudonym Wally Edge for the first ten years of the site's existence.
According to the source who supplied this photo to PolitickerNJ, "It was Christie's idea to bring the group up to show the portrait of the original Wally Edge." The source claims that Gov. Christie said that he liked the Wally Edge painting and planned to bring it downstairs and that in fact, within days, it was indeed delivered to the governor's office—there was a vacant space because Christie had removed the portrait of Governor Corzine that was generally considered to look more like Kramer from Seinfeld. The portrait of Edge was hung in the entry hallway leading to Christie's office, where it remains viewable by the public, and it replaced Corzine's portrait, which was moved toward the back near Bill Stepien's office.
---

Someone thought to snap a photo at the exact moment that Governor Christie was showing a portrait of Wally Edge to Wally Edge.

---
This blurry cel-phone photo, which was provided to PolitickerNJ by someone not in the photo and has never been published before, is hardly a "smoking gun." A busy chief executive cannot be expected to recall the attendees at every meeting he hosts. But a small-group field trip to see a blogger's namesake is at least arguably memorable. And Christie is widely known to be a reader of PolitickerNJ, dating back to his days as US Attorney, so this was no random "let's look at the portraits of governors of yore" stroll. It cannot be a coincidence that someone thought to snap a photo at the exact moment that the Governor was showing a portrait of Wally Edge to Wally Edge. A look at the relevant page from Wildstein's diary, and the people he met with, including Bridget Kelly, also sheds light on the degree to which politics intermingled with the goings on at the Port Authority.
Both David Wildstein and his attorney Alan Zegas declined to comment for this story. The governor's spokesperson, Kevin Roberts, also declined to comment.
What's clear, however, is that with reports of seven meetings, a photo of one inside the Capitol, pages from a diary supporting those meetings, it's getting harder to swallow the narrative of a near-stranger who happened to go to the same high school and land a plum position at the Port Authority and then was never heard from again in Trenton until traffic on the GWB was worse than usual.
Finally, some inside baseball on the journalism angles here. Two things.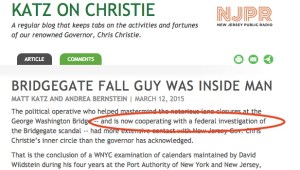 In the very first sentence of their great scoop, Katz and Bernstein describe Wildstein as "now cooperating with a federal investigation of the Bridgegate scandal." That is a major bombshell, as yet unmentioned anywhere else in the media. The writers do not elaborate on how they came to understand that Wildstein is "cooperating with a federal investigation," but if that turns out to be accurate, it is a significant turn of events.
Then there's this. This FOI request wasn't even filed by WNYC. FOI #14471 was filed by New York Times reporter William Rashbaum on December 16, 2013, seeking "Mr. Wildstein's appointment calendars/appointment schedules for the period since he joined the agency until the date of this letter." On April 7, 2014, the PANYNJ fulfilled the request, posting the calendar and datebook for all to see. And there it seems to have sat, unnoticed, for nearly a year until Katz and Bernstein discovered it this week.
Phil Graham, the former publisher of the Washington Post, called journalism the "first rough draft of history." It's fascinating that one reporter would file the FOI, others would stumble upon it, analyze it, report it, and then a photo confirming at least part of it emerges. Little by little, the story is told.