In Just Kids from the Bronx: Telling It the Way It Was: An Oral History, Arlene Alda, introduces readers to several notable Bronx natives, including Al Pacino, Colin Powell and Mary Higgins Clark, who tell their stories of growing up in the borough.
None of these stories were told from a perspective of living in the "lowest performing district in the whole city," as Jemina R. Bernard, born in 1975, an educator and CEO of ROADS Charter High Schools, describes it.
"You know how that saying goes, 'You don't know you're poor until you've seen rich.' right? I had no idea," she tells Ms. Alda.
Most of the people interviewed for the book felt that way. They came from tight families and grew up in a relatively peaceful environment.
Martin Bregman, the film producer, most notable for his Academy Award winning Dog Day Afternoon, grew up in a Jewish household in the Bronx and tells a hilarious tale about visiting an Italian girl's house for dinner at about the age of 15 in the early 1940s.
While trying to impress his girl's mob-boss-looking father by giving him a match for his cigarette, he accidentally whipped out a condom. "In those days everybody my age carried them—just in case. You never knew when lightening would come down and strike you and you'd get lucky… We didn't go to the movies that night. The girl got sick and I got sicker," Mr. Bregman recalled.
When Mr. Bregman was growing up, in the 1930s and '40s, much of the Bronx was divided between the Jewish, Irish and Italians. Throughout the book, readers can see how the cultural makeup of the borough changes as time goes on. In the late 1960s and '80s, for example, Dominicans and Puerto Ricans settled in the Bronx.
Environmentalist and MacArthur "Genius" grant recipient Majora Carter, born in 1966, recalls getting into the Bronx High School of Science and receiving a shock.
"I've never seen so many white people in my life. Wow, they're everywhere! We had only one white kid in my junior high. All the rest were either Hispanics or African Americans," Ms. Carter remembers.
She also said, despite what many think, she was not exposed to drugs, sex and alcohol until she started hanging out with the white kids.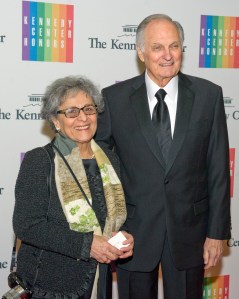 "There were drugs in the neighborhood. I didn't do drugs because my mother would've killed me. Actually this is what people don't quite understand. I didn't really try pot until I had gone out with white people … It also didn't occur to me to have sex early. Again, that was something that more of my white friends were doing than almost any of my black and Latino friends in high school," she confessed.
"My mother kept me off the streets on school nights. My friends weren't controlled that way. They had the kind of freedom and abandon that led to drugs and difficulty. I was so angry with my mother for keeping me home when I wanted to go out. It wasn't until later in life that I fully realized what she had done for me. What can I say? I hope my kids don't take that long," Mr. Pacino, born in 1940, said in his story.
Just how people deem the Bronx as poverty-stricken, even though the interviewees never felt poor while living there, none of Ms. Alda's subjects felt in danger, despite the borough being portrayed in the media as a high-crime area.
Hector "Nicer" Nazario, born in 1967, a graffiti artist and member of Tats Cru, recalled a time when his mother insisted on getting out of the Bronx, so they moved to a "better" neighborhood in Queens and after a few short months, his family was robbed.
"It was funny, 'cause I remember going to school in Queens and people were like, 'Where you guys from before?' 'Yeah, I grew up in the Bronx.' 'Oh the Bronx is dangerous.' You hear all this stuff. Oh, get out of here. And we move to this so-called fancy neighborhood and we get robbed," Nazario told Ms. Alda, who debunks many of the stereotypes plaguing the Bronx. As Ms. Alda's illuminating interviews show, no one really ever felt in danger, poor or pushed to do illegal drugs.