As the sidewalks in well-to-do areas of Manhattan and Brooklyn have become ever more an exercise in stroller and scooter dodging, public facilities geared toward the young occupants and users of said modes of transport have become increasingly sophisticated, with playgrounds sporting hi-tech water features and equipment that encourages collaborative and creative play.
Taking their cue at least in part from those public spaces, developers now are jockeying to win over families with lavish facilities at their private residences. If you bought into a building five years ago, assuming its tricked-out playroom was about as much as you could hope for in the way of kid-friendly on-site conveniences, think again.
These days, it's not hard to find playrooms blessed by child-development experts and designed not just for recreation but optimal enrichment; arts programs presented in partnership with children's museums; private playgrounds; karaoke rooms; bowling alleys; golf simulators where the little ones can practice in preparation for their first crack at a par-three course—nothing is considered over the top.
The amenities are so enticing that not only families are buying, but grandparents, divorced parents with partial custody and even some developers and sales managers. They've even coaxed buyers from the suburbs back to the city. After just six months in a rented house in Greenwich, Conn., Sam and Jennifer Marie Taylor switched gears in favor of a three-bedroom apartment at Carnegie Park, a 31-story condo conversion by Related Companies at 200 East 94th Street, where prices range from $695,000 to $3.19 million. Among the building's offerings is a half-acre gated park leading to a private playground, a playroom with a fanciful forest theme and an indoor swimming pool.
"With a toddler and a baby on the way, the in-house play areas are invaluable," said Ms. Taylor, 34, founder of the Taylor Real Estate Group. "The indoor play space will help us salvage a rainy day, and the gated outdoor green space allows them to safely run and play."
Before giving Greenwich a whirl, the couple spent four years on the Upper West Side and six on the Upper East Side, which finally sold them on its great combination of schools, restaurants and proximity to Central Park.
"It's easier to be in a building that has everything you need instead of having to hop in a car to go to the park, the playground or the gym," said Mr. Taylor, 35, an orthopedic surgeon.
The same care is going into the children's amenities and programming at luxury rentals. In Battery Park City, the Albanese Organization's The Solaire and The Verdesian are rentals with waiting lists, offer a rotating schedule of yoga, swimming, music, art and tae kwon do classes. The Modern, a new rental in Fort Lee, N.J., by SJP Residential Properties, has a tween karaoke room with gaming stations.
On the condo front, Extell's One Riverside Park—part of the 16-building Riverside South development that spans West 59th to 72nd Streets—will connect, via an underground passageway, to a private 40,000-square-foot recreation center, La Palestra, where kids can swim, bowl, shoot hoops and scale a climbing wall. Two duplex apartments in the 35-story building come with their own swimming pools, and a price tag of around $26 million each. A kindergarten through eighth-grade private school is planned for the development.
The Grand at Sky View Parc, a three-building, 13-story condo complex by Onex in Flushing, Queens, will have a four-acre rooftop space with a children's play area, a putting green, two tennis courts, a basketball court and a pool.
And consultants are being brought in to fine-tune some of the more esoteric offerings.
Flank, a development and architecture firm, turned to the Soho-based Children's Museum of the Arts to design the kids' playroom and run art classes at The Boerum, the developer's new 128-unit, 19-story condo building in Boerum Hill, Brooklyn. The playroom will connect to a roof deck with more play space. After three months on the market, 50 percent of the units have sold.
Francis Greenburger hired the Little Red School House, a private school in Greenwich Village, to help design the children's programming at his new 50 West Street condo project. "They suggested activities that children won't have the ability to do in their own apartment," said Javier Lattanzio, sales manager for the 64-story, curved glass tower, which will top out in fall 2016.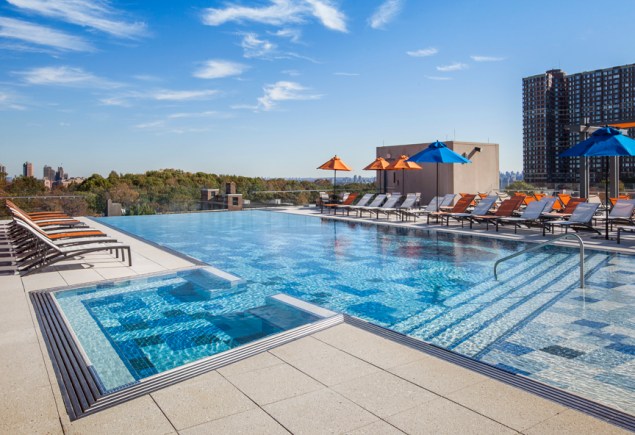 Plans for the playroom include trampolines and slides, and there are dedicated studios for ballet and art classes. Other amusements: a swimming pool, a climbing wall, a theater with stadium seating, a library with children's books and a game room with pool, ping-pong and foosball tables. Forty-five percent of the units, which range from $1.4 million to $22 million, have sold since last July.
Mr. Lattanzio says his 10-year-old son was so taken with the amenities when he saw the model building that he convinced his parents to buy a three-bedroom unit. "I was not planning to move to this building," said Mr. Lattanzio, who owns an Upper West Side condo. "But my wife and I said, 'Let's make this dream happen for him.' In the winter in New York City, it's difficult to keep a kid occupied all the time. This building brings the ability not to be bored at all."
Roger Fortune, vice president of the Stahl Organization, was also swayed by his two daughters, ages 8 and 11, in deciding to move to the company's new 388 Bridge Street condo project. At 53 stories, it is now Brooklyn's tallest building.
"My kids love the playground," Mr. Fortune said. It is situated on a 5,000-square-foot terrace with two natural-gas barbecues where families can have cookouts and throw birthday parties. The Fortune family was living at a nearby rental building that Mr. Fortune's wife, Susi Yu of Forest City Ratner, had developed, but along with the amenities at 388 Bridge Street, they were won over by the larger units.
One John Street, a 12-story condo building inside Dumbo's Brooklyn Bridge Park, represents a "conscious effort to prevent people from moving to the 'burbs," said architect and developer Jared Della Valle, president of Alloy. "You walk out of the lobby into the park—that's kind of an unheard-of amenity." The 42 units, 60 percent of which have sold, average 2,100 square feet.
In addition to the 85-acre public park—which boasts a roller-skating rink and an antique carousel—children who live at One John Street will have use of a recently announced, 1,850-square-foot Brooklyn Children's Museum annex on the building's ground floor. The annex will offer "play-based learning" and art classes inspired by the park, according to Stephanie Hill Wilchfort, the museum's president.
The park and annex were big selling points for John Schuch, a corporate lawyer, and his wife, Rebecca, who have two toddler sons. "They'll have various art programs right in the building, and the building will literally be right in the park," said Mr. Schuch, 40, who bought a two-bedroom apartment with a home office. "It's almost like having a backyard in the city." Although in this case, at least, the kids will have to share with the rest of us.