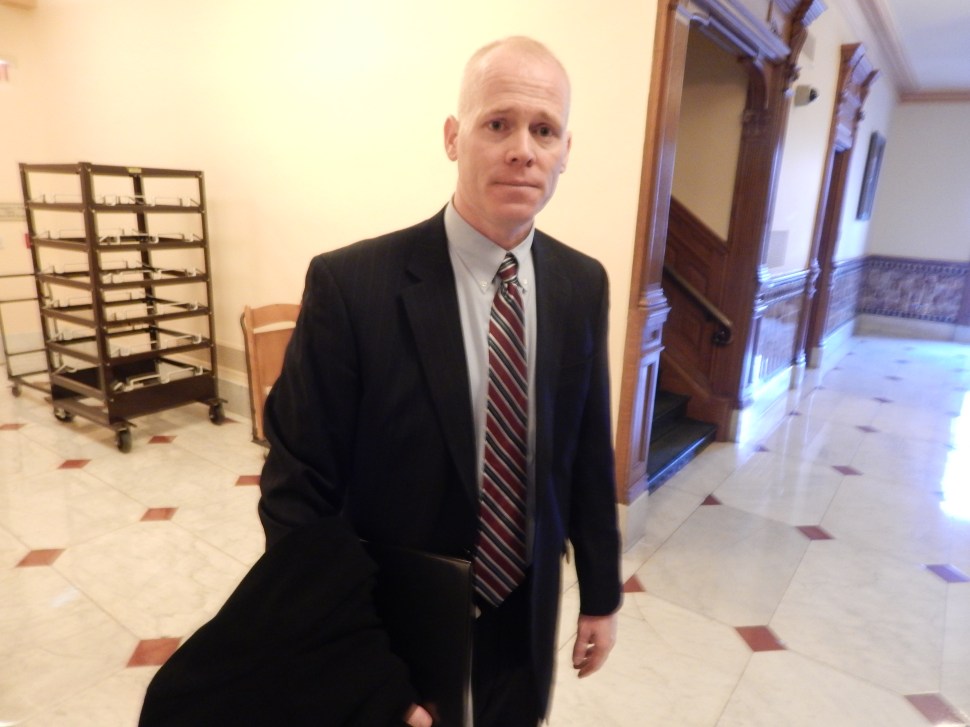 TRENTON — Former Asbury Park Councilman-turned-small business owner Jim Keady challenged anyone skeptical of his intentions in running for an Assembly seat in the 30th legislative district — including his Republican opponent, incumbent Assemblyman Sean Kean (R-30) — to head to Monmouth County and ask the residents there "about Jim."
"I would encourage any reporter to go to Belmar and ask the residents there about Jim Keady," the candidate told PolitickerNJ today. "I firmly believe they would say even if they don't believe in my politics, that Jim loves the town that he grew up in and that certainly during Hurricane Sandy I did what I needed to do to give to my town that gave so much to me when I was a kid."
Keady — best known as the Hurricane Sandy activist who Gov. Chris Christie once told to "sit down and shut up" at a press conference — was at the Division of Elections today to file petition signatures for his bid in LD30. The South Jersey district includes storm-battered towns like Belmar and Point Pleasant, and is currently represented by Kean and his fellow Republican Assemblyman Dave Rible (R-30).
While Keady and his running-mate, former Assembly candidate Jim Esposito, are running with the support of the county's Democratic Committee, they're expected to face an uphill battle. LD30, with 23,000 registered D's compared to 39,000 registered R's, has in the past favored Republican candidates, including Kean and Rible, who are both well-liked there.
Kean, upon hearing hearing of the Democrat's challenge, questioned Keady's commitment to the district last week, saying he "doesn't care about Belmar as much as his own press and his own notoriety."
But Keady said today he's confident. A Belmar native, he spent 14 years running and raising money for a nonprofit that helped advocate for sweat shop workers in Indonesia — an experience he said would help him with grassroots fundraising and relationship building in the district.
He's called Christie's handling of Hurricane Sandy recovery in the state a "disaster."
"A lot of people are saying this is a very Republican district," Keady said. "I think there are 39 thousand Republicans and 23 thousand Democrats. But the large chunk of voters in the 30th district are independents. And most of the Republicans that I know, that I grew up with — I grew up in the 30th district — are pretty level-headed, common-sense voters. These aren't party ideologues. They want people who are intelligent, professional, committed to the job, and are going to do what they said they are going to do when they get to Trenton."
Ostensibly because of his encounter with Christie — a Youtube moment that's since amassed tens of thousands of hits — news of Keady's candidacy is creating somewhat of a stir, making headlines in national publications like Huffington Post and Rueters.