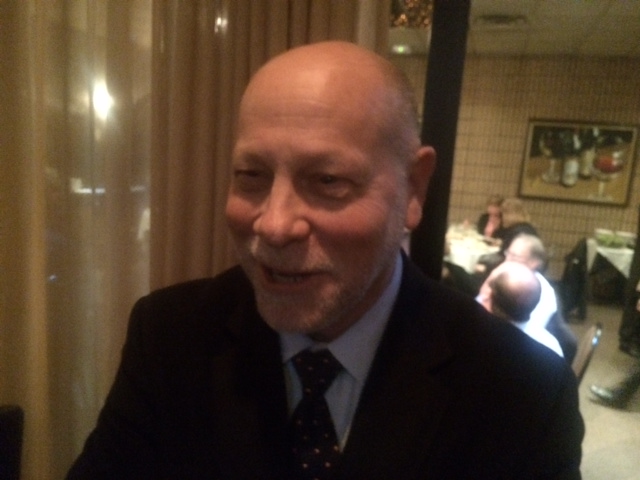 PLAINFIELD – After a back room meeting on Wednesday night at Giovanna's restaurant in Plainfield, former Rahway Mayor Jim Kennedy got the majority of the votes of the seven Democratic municipal chairs who decided who would get the Union County Democratic line to replace state Assemblywoman Linda Stender (D-22) in her soon-to-be-vacated seat in the Legislature.
Tonight's 4-3 vote in favor of Kennedy concluded at least one part of the turmoil generated by events tied to Stender that began almost two weeks ago.
Stender has faced intense scrutiny recently stemming from her husband seeking help from the non-profit group Habitat for Humanity in rebuilding a nearly half a million dollar shore home badly damaged by Hurricane Sandy.
Union County Democratic Chairman Jerry Green announced on Thursday that he has terminated his support for Stender, followed by a similar statement shortly thereafter by the embattled legislator. These developments led to an ongoing phone calling and back room meeting blitz involving the two people reportedly most interested in the job – Kennedy, a lobbyist who was Rahway's mayor from 1991 to 2011, and Fanwood Mayor Colleen Mahr.
The Democratic chairs of the seven Union County municipalities within LD 22 will potentially play the most critical role regarding Stender's successor. The majority of tonight's votes gives the Union County line, the most populated part of the district, to Kennedy.
There are four other votes in the final LD 22 municipal chair tally: there are two municipalities in the district each from Middlesex and Somerset counties, respectively.
The actual voting took place in a sound-proof room at Giovanna's behind an almost opaque drawn curtain. Both Kennedy and Mahr, gesticulating as they spoke, made their case before the votes came in. Kennedy spoke before the assembled Union County Democratic officials for five minutes, while Mahr, evidencing extra passion as several family members waited outside, spoke for closer to ten minutes.
The Democratic chairs of Clark, Fanwood and Winfield voted for Mahr; the chairs of Linden, Rahway, Plainfield and Scotch Plains voted for Kennedy.
Stender, the Democratic chair of Scotch Plains, did not attend the Wednesday night meeting. She voted by proxy through state Sen. Nick Scutari (D-22).
Kennedy felt invigorated after his narrow Union Democratic screening meeting victory.
"It's a lot more fun when you're running against an opposition candidate," Kennedy said. "I think many people understand the district. With the larger Union County piece – Linden, Rahway and Plainfield – I think for a candidate running that's important."
Mahr said that she wishes to speak with family and friends before making a final decision about a potential Democratic primary run off the line against Kennedy for the available LD 22 seat.
"I had a feeling going into the room that it was already predetermined. I'm extremely disappointed by my party," Mahr, the vice-chair of the Union County Democrats under Green, told PolitickerNJ. "I have been a three-term mayor, and I have been standing shoulder to shoulder with Jerry Green for the last year and a half. I honestly believe that I am the best candidate to fulfill Linda Stender's legacy. I believe that 55 percent of the voters [in the district] have been disenfranchised tonight by [the Union County Democratic chairs in LD 22] not selecting a woman. Tonight, they basically ignored that fact."
Mahr also expressed disappointment that Stender did not show up in person for the candidate screening meeting.
"Linda Stender was a mentor to me. She's the one who convinced me to run for mayor [of Fanwood]," said Mahr, referring to the woman who preceded her as mayor of the Union County borough. "Senator Scutari has served well with Linda. But would I have liked to have seen an actual representative of the Scotch Plains Democratic Committee actually standing up to cast the vote? Of course I would."
Although many female politicos might grumble statewide about the results of Wednesday night's candidate screening meeting, Kennedy did not seem worried about any female political backlash.
"My wife was the first elected official in my family," Kennedy said. "I've worked well with women at all levels in government, and I think women that know me realize that. If there is a primary challenge, I'm absolutely prepared for that."
Green seemed confident about any potential future challenges.
"Former Mayor Kennedy is now going to be my running mate in this year's primary," said Green, who also serves as a LD 22 Assemblyman and who voted at the candidate screening meeting in his capacity as the Plainfield Democratic chair. "There might be not only a challenge in the 22nd district, but there might be a challenge county-wide. I won't know that until all the [ballot] petitions are handed in."
Green added that he was comfortable with Kennedy.
"I need someone who is committed to working full time with me," said Green, alluding to Mahr's job with a division of the Union County government as well as Kennedy's work on housing issues. "At this point now, [the female issue] could have been a problem maybe 20 years ago. In this day and age, people look at the quality of the candidates, no matter what color they are or if they are male or female. Colleen Mahr has done a lot for Fanwood. But I don't want to have to campaign between now and November defending a situation where I'm not going to ask Linda Stender to step down [from her Union County government job] and I would not ask Colleen Mahr to step down. That's a personal decision that they have to make."