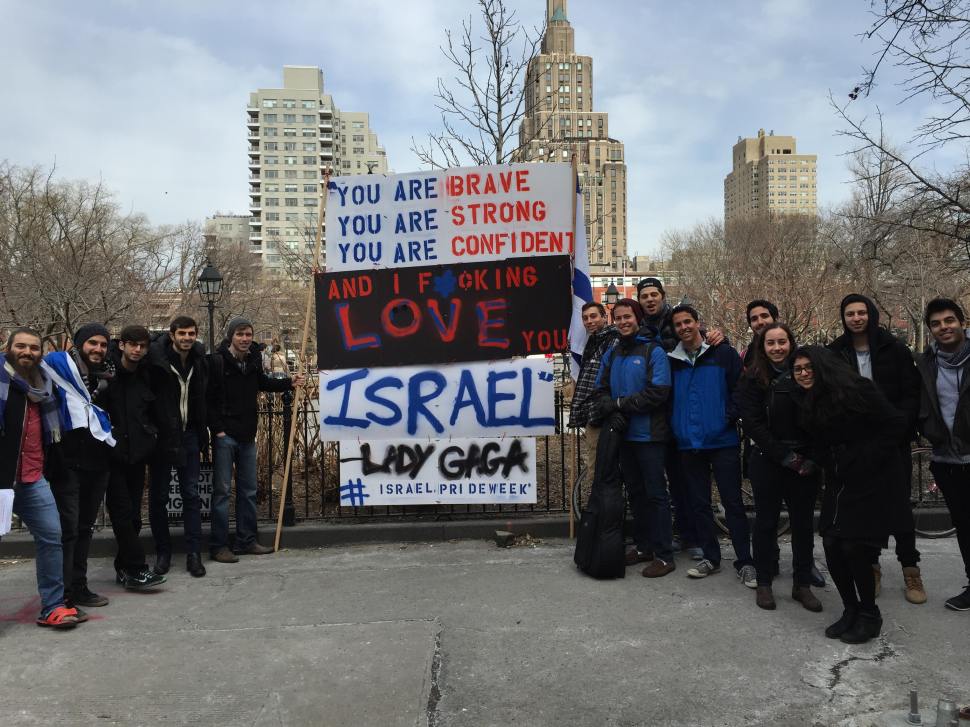 New York University students are rallying in opposition against Israeli Apartheid Week that began on Monday. Supported by The World Values Network Partners and inspired by the words of Lady Gaga, Mendy Boteach, along with fellow NYU students Daniel Greenblum, Yaniv Hoffman and Jacob Sternberg, have countered the most recent attack against the Jewish state, and will promote Israel Pride Week until Thursday.
"It is a big display of Jewish Pride and I think that is the most important thing, that Jews feel proud on campus," said Mr. Boteach, 21. "We want to make sure they feel represented, that they don't need to be afraid."
The students are positioned just a few feet away from the Israel Apartheid Wall in Washington Square Park. While they have strength in numbers, roughly 20 students, their most visible attraction is a 10 foot sign quoting Lady Gaga from her tour in Israel in 2014.
"You are strong, you are brave, you are confident. I f*cking love you, Israel!" The quote from the pop superstar and NYU alumna is followed by the student group's hashtag – #Israelprideweek.
Mr. Boteach's father, Observer columnist Rabbi Shmuley Boteach, said in an email, "I congratulate Mendy and all his friends for standing up for Israel in its great hour of need. And while I might have expressed it slightly different to Lady Gaga, let me concur: 'I ABSOLUTELY love you, Israel.'"