In person, Julie Martin isn't terribly outspoken in any way. In fact, her semi-quiet, jovial demeanor seems to be in direct contrast to an underlying powerful voice, one that many may not be aware has permeated the television landscape for years, keenly addressing pressing societal issues and examining intricate emotions.
If you don't recognize her name, you clearly have not watched enough crime time television. Martin has worked on the critically acclaimed drama Homicide: Life on the Street as well as LA Law, the original Law & Order, Law & Order: Criminal Intent, as well as several other shows, and now serves as Executive Producer of the longest running prime time drama on television, Law & Order: Special Victims Unit.
Martin's writing career began at UCLA, but not as one would expect as she originally enrolled at the university as a medical student. "It was pretty much during my first biology class that I thought, 'this isn't working,'" admits Martin. "So I started writing for the school paper and unfortunately I soon realized that wasn't really the kind of writing that I wanted to do."
Having fallen in love with the show Hill Street Blues, Martin set out to get a job on the show and nearly missed out on amazing opportunity in her quest to do so. "I applied for a job at MGM Enterprises and I said 'I want to work on Hill Street' and they offered me a job on St. Elsewhere. I was so naïve that I just flat out said, 'I don't want to work on St. Elsewhere, I want to work on Hill Street Blues,'" Martin says with a laugh. "But at least in the end I was smart enough to know to take the job."
On St. Elsewhere, Martin worked with two men who would become television legends – Bruce Paltrow (The White Shadow) and Tom Fontana (Oz).
In her role as a researcher, Martin did use a little of her med school background as she worked closely with the show's medical advisor. She read articles and pitched story ideas and recalled reading about a new condition that was confounding doctors and killing patients at an alarming rate. "It was a little tiny article about something called GRID," explained Martin, "GRID is what they used to call AIDS. At that time, it was a very misunderstood condition and we knew we wanted to tell a story, or several stories, about it, but we wanted to get it right. I think we did a really good job with a really tough subject. That's when I realized the true power of storytelling. "
But even then Martin wasn't completely sold on being a television writer. "I knew I wanted to be involved in television it in some way, but I wasn't exactly sure how – in what role really. I thought maybe I'd want to direct, but at that time it just seemed to me like actually getting to that position was so extremely difficult that I might never get there. So, my thoughts about that were sort of short-lived.  I felt like I was really at a crossroad with which direction my life was going to go. So I decided to really commit to writing and I wrote a spec script."
When Martin gave the script to Paltrow he questioned her a bit about the piece, asking if she wrote it herself. "He asked me how long it took me and I said a couple of weeks. Because, as we know, people will work on a spec script for years and you can't do that in TV.  My sample showed that I could really write and could do it as quickly as needed."
Having proven herself,  Paltrow and Fontana hired Martin on their next show, Home Fires, and following that she went on to write for the hit legal series, LA Law.
In the midst of working on LA Law, Fontana asked Martin to join him in his new venture, a series called Homicide: Life on the Street. "The bad part was that it was only picked up for six episodes," Martin explained. "Here I was on a show that had a full season order of 22 episodes, so…you can't fake those numbers. I needed to take the job that was 22 episodes."
After staying with LA Law through its final season, Martin did end up with Fontana working on Homicide when it got picked up for a full season. "At that point the show had gotten a lot of critical acclaim. They did an episode with Robin Williams that blew everyone away and we got more episodes and the network was really behind us then."
When Homicide ended, Martin moved on to work on a show for HBO called Baseball Wives. It was during that time she met a writer who would become a frequent and trusted collaborator, Warren Leight, the Tony award winning writer currently working with Martin as SVU showrunner.
"He'd just won the Tony and he'd written articles for a women's magazine. His agent said, 'just meet him and you'll hire him.' So we went to lunch and we had wine and talked about baseball and women," Martin recalls. "I told him to write a script for me and he did, and it was great. I was ready to hire him and then, as these things go, the show didn't make it to air."
The two went their separate ways with Martin landing on a show called The Bedford Diaries. "We were working away and it was picked up by the then network The WB,  but then in the same breath we were told 'oh the WB is over.'"
Martin smiles, shakes her head and adds, "I've had a lot of shows canceled on me but I'd never killed a network before!"
Having just had her second child, Martin considered stepping back from television writing for a bit. Then she got a call from Leight, asking her to join him on Law & Order: Criminal Intent.
Within the Law & Order family, Martin also spent time on both the original incarnation of the franchise and the shortest branch of the family tree, "Law & Order: Los Angeles (aka LOLA), both of which were subsequently canceled; LOLA rather quickly and the original quite unceremoniously.
Ruminating on why LOLA didn't make it, Martin offered this. "I feel like the storytelling was really good, but some people said that the Law & Order brand was so firmly rooted in New York that the show didn't translate to Los Angeles. I don't know that that was true."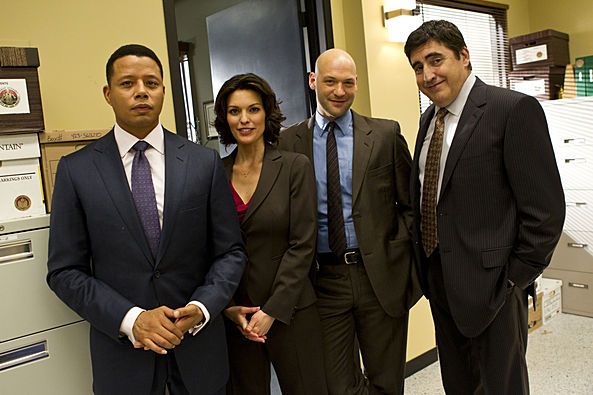 It was even harder for Martin when the mothership was so brusquely axed from network air. "There was a deal in place, everyone was prepared to move forward and then I get this call at the eleventh hour. It was just such a shame that it had to end that way because it was an iconic show. I wish they'd been able to work it out for a final at least 13 episodes or something and then promote it as the farewell season.
Recalling the moment, Martin added, "I was out with friends celebrating the show when I got that call. So I was literally in the bar toasting and then…ring, ring, and what?," says Martin as she chuckles just a bit with an accompanying sigh at the loss.  "So yeah, you never know. There are those ups and downs and stuff like that just never gets any easier."
Having worked in the industry for such a long time, Martin does have an opinion as to why some shows are successful and others aren't. "I think it's an alchemy of magic and chemistry – with the writing, the directing, and the actors. Sometimes all of that comes together and sometimes some part of it just falls short. Also, I think that a lot of the time it take shows a little while to gel and for whatever reason, the show just isn't given that time. I remember when I worked on St. Elsewhere, which I think has gone down as a dynamic successful show, Bruce had framed a ratings chart in his office and on it St. Elsewhere was dead last in the ratings."
Laughing a bit yet again, Martin says, "Of course when you're at the bottom, there's nowhere to go but up."
Coming into her current gig on SVU, Martin had mixed emotions about the endeavor.
"My first thought was, 'I don't know if I can write for SVU,' it's so dark and complicated and there's this loyal audience and I didn't want to mess any of that up. But then I thought, well, I know [Christopher] Meloni from Oz and I was excited to come on a show that he was on,  and…. then he was gone.  That was kind of shocking, but in the end, losing him sort of forced this reinvention of the show and I think that with that in mind we found our way. "
To move the show to a new level, Martin and Leight decided to shake things up a bit. "On this show there is such a formula and there has to be to some extent because it's a procedural, but every once in awhile you have to break from the standard somewhat to elevate the storytelling and keep people engaged."
As an example she points to the recent continuing storyline of Sergeant Benson's battle with serial criminal William Lewis. "We realized that people are so invested in these characters that they want to see how they handle things personally. That's how real life is – people are concerned about their friends and what's happening to them — so we're just trying to mirror that on the show."
Martin points to an early episode that she and Leight produced in their first season of SVU entitled "Missing Pieces" as one of her favorites. "It's about a couple and their missing child.  It was not the old style in that we didn't do a wacky reveal or a crazy twist at the end. It was just these two people whose child died. We got some push back because there was no twist. I heard, 'oh the audience is going to be bored.' But I know that there's this trust from the viewer that we're going to take them on a journey and that in the end they'll feel something. We take that responsibility very seriously.
To achieve that level of satisfaction with the finished product, Martin says that a lot of collaboration is needed, an affection for which came as a bit of surprise to her. "When I was working as a journalist I realized that it's a very singular pursuit – you interview your subjects and then you write your piece.  You're very much in your own head. When I started in TV writing I'd never had a writing partner or anything like that and so it was surprising to me how much I liked working with other writers in crafting a story.  I thought I was happiest alone and now I really enjoy writing as a part of a group."
Another aspect of television that appeals to Martin is the pace of the medium.
"Unlike a novel or a play, in TV you really just have to keep moving. I love the fact that you write it, you shoot it,  it airs and it's done. it's such a constant forward motion that even if you feel disappointment about something, you don't have time to dwell on it, you just have to move on and take on the next thing.'
Martin laughs at what she's said, with a realization, "That's actually a good guideline for how one should live their life, right?"
Giving her own assessment of her career path Martin says, "Even though I didn't really know it at the time, I really feel like I chose TV particularly because it's a medium that through storytelling you can get a message out to a huge amount of people.  I've always chosen projects that are interesting to me and characters that captivate me.  Right now on SVU I feel really proud of what we've done. We've taken this to another level while staying true to the Law & Order formula. We've really worked to find the humanity in people's inhumanity and we haven't done it in a salacious or exploitive way. We're always trying to say that no matter what happens there's hope.
While she's experienced her fair share of hits and misses, Martin asserts that she truly has no regrets about the route her career has taken. "In my mind, because television still reaches so many people there's a power there to do good and when all is said and done, I'm glad I'm able to have been and continue to be a part of that."
Incorporating some of the very things that she likes about television into her life, Martin has undoubtedly come in and quietly, yet successfully, made her distinctive voice heard while quickly moving past any setbacks and is assuredly ready for her next move – whatever that may be. She's found her guiding principle, and she's clearly sticking to it.
Law & Order: SVU airs Wednesday nights at 9/8c on NBC and in syndication.
You can follow Julie Martin on Twitter via @JulieMartinSVU