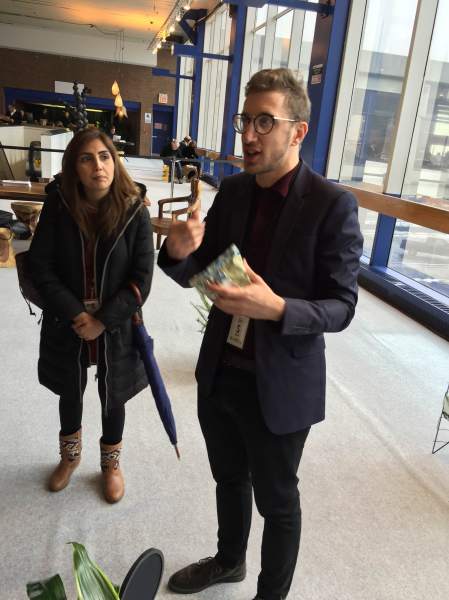 The most prevalent items circulating around here at the Armory Show—even more than plastic champagne flutes with $25 bubbly, or art advisers whispering in the ears of collectors, or Europeans sucking down cigarettes in immaculate scarves—are tiny silver bags of potato chips. There are potato chips on stools, potato chips on racks, potato chips on tables. The people selling art are eating potato chips and the people buying art are eating potato chips. I am eating potato chips while I write this dispatch. But why, exactly, have these snacks proliferated New York's premiere art fair? Surely it's some crass marketing promotion? A peace offering from the Armory higher ups to starving, exhausted reporters? Poison?
No, the potato chips are art. The snack packets are part of an installation by Lawrence Abu Hamdan, the commissioned artist for the 2015 fair, that investigates the vanguard of surveillance. A group of professors at the Massachusetts Institute of Technology have discovered that if you use expensive machines to track the vibrations that occur when your voice enters the air, you can translate the vibrations back to the sound that was used to make them, and pay back the thing that was originally said. It's all a bunch of complicated science, but hypothetically, you could recover the vibrations that shoot off the potato chip bag using high-speed video, turning these bags of potato chips into little spy gadgets. Or something like that.
Anyway, to that end, Mr. Abu Hamdan decided to place the following statement on each of the 5,000 bags of potato chips circulating through the fair: "You have the right to remain silent, anything you do or say in the vicinity of this object may be recorded for training and monitoring purposes." (This is set above the label for the brand of potato chips, which reads, "Your search for the perfect chip is over…start snacking!")
All of this exciting news came at the end of a tour of Focus: Middle East, North Africa and the Mediterranean (MENAM) by its curator Omar Kholeif, who works at Whitechapel Gallery in London. He turned out to be an adept guide, breezing through the dozen or so booths at a quick clip without making it all feel slight.
"New York is a gateway to America, and here we are on a pier, with the waterways behind us," he said, New York harbor indeed at our backs. "Historically, artists have moved across these piers."
And so from there we began to look at the artists who embody the way transatlantic disruption has manifested itself in the Middle East and its neighboring areas, and how that translates to daring, exciting works. The Lawrie Shabibi booth was showing works by Wafaa Bilal inspired by the monuments to Saddam Hussein in Baghdad. Alexander and Bonin had an installation by Mona Hatoum, "Turbulence Black," which was a brutal work made of black marbles. And Ahmen Mater presented his massive "Cowboy Code (Hadith)," which listed a bunch of rules for saloon-dwelling gunslingers like "A cowboy always tells the truth." It's made of plastic gun caps.
And then Mr. Abu Hamdan walked up. He's young, not yet 30, and has the fresh face of a chipper and precocious Ph.D candidate, which incidentally he is. He's got an entire floor devoted to his work at the New Museum Triennial. And he's also got a burgeoning career as a DJ—he's on the decks tonight at The Armory Party at MoMA, alongside slightly more experienced guys from Vampire Weekend and Ratatat. He goes by the name DJ name DJ Business Class.
"Yeah, I need like ten minutes to get my set ready," he told me as we walked to Pier 92 to see his installation.
"I mean, it must be the furthest thing from your mind," I said.
"It's moving up!" he said.
We arrived at the installation, A Convention of Tiny Movements, which consists of microphones placed near plants, where they could ostensibly pick up the vibrations. He then explained the odd choice of the potato chip bag as the implement that girds the surveillance interface.
"Currently, the best object, in terms of design, for picking up vibrations, is the potato chip bag—that most ubiquitous of snacks!" he said, and he sounded like an expert, so, sure, that makes sense.
"So… this is recording us?" asked a woman on the tour.
"Well, in a way, yes, it could be," Mr. Abu Hamdan replied.
"It's recording your every thought!" exclaimed another woman.
The first woman went white, shocked, and then realized it was a joke.
"But also," said Mr. Abu Hamdan, clearing the air. "You can also just eat the potato chips."