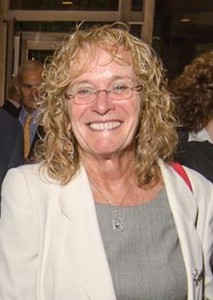 As the New Jersey political world focuses on the Wednesday night candidate screening meeting that will determine who will get the key Union County line for the newly-available 22nd Legislative District Assembly seat, one county Democratic chair who will ultimately have an impact said she will also watch with interest.
"I think we're going to be guided to some extent by what Union County does," said Somerset County Democratic Chair Peg Schaffer, whose county has two municipalities in the Union-dominated LD 22. Middlesex County also has two municipalities in the district. "I think everybody is waiting to see what happens in Union County first."
The recent turmoil was put in motion because of events tied to state Assemblywoman Linda Stender (D-22).
Stender has faced intense scrutiny recently stemming from her husband seeking help from the non-profit group Habitat for Humanity in rebuilding a nearly half a million dollar shore home badly damaged by Hurricane Sandy.
Union County Democratic Chairman Jerry Green announced on Thursday that he has terminated his support for Stender, followed by a similar statement shortly thereafter by the embattled legislator. These developments led to an ongoing phone calling and back room meeting blitz involving the two people reportedly most interested in the job – Jim Kennedy, a lobbyist who was Rahway's mayor from 1991 to 2011, and Fanwood Mayor Colleen Mahr.
The Democratic chairs of the seven Union County municipalities within LD 22 will potentially play the most critical role regarding Stender's successor. A majority of four votes out of seven at a candidate screening meeting scheduled for tonight will give the Union County line, the most populated part of the district, to either Kennedy or Mahr, according to a Union County Democratic official who requested anonymity.
Schaffer, one of only three female Democratic county chairs out of New Jersey's 21 counties, told PolitickerNJ last week that her "natural inclination would be to hopefully replace a woman with a woman."
This week, Schaffer said that she has been in close contact with the municipal chairs of the two Somerset LD 22 municipalities, Green Brook and North Plainfield, who the Somerset Democratic chair said have been contacted by both Kennedy and Mahr.
"I'm going to look to my chairs and committee people in those two towns to see what they want to do, but I don't know that either one of them has made a decision yet," Schaffer said. "Again, we're waiting to see what Union County does."