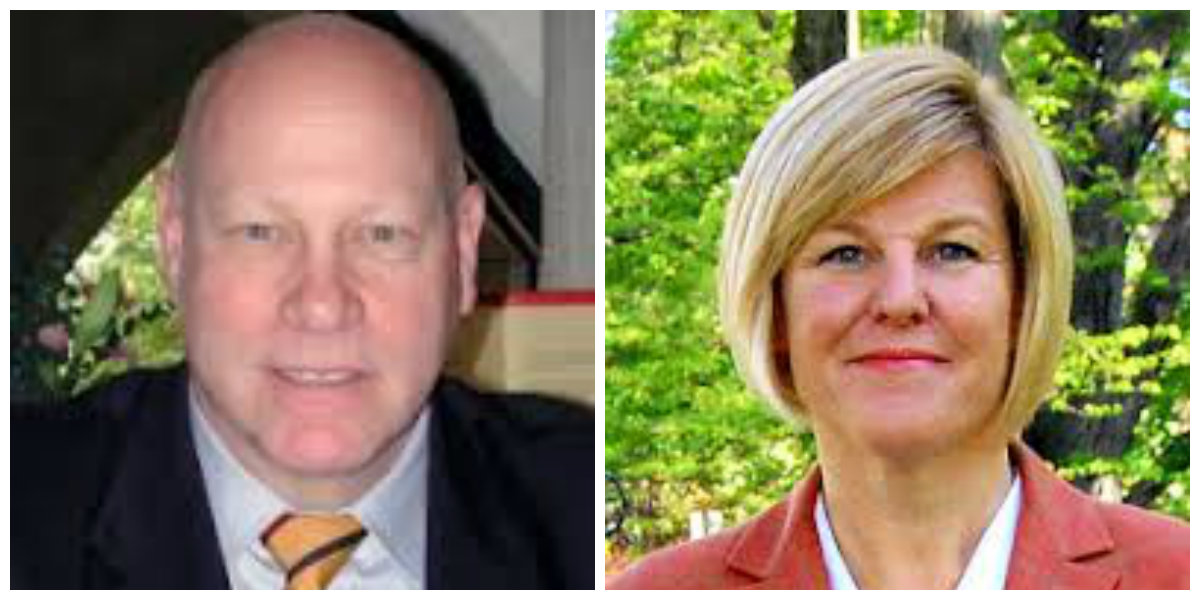 The question of who will take the spot of state Assemblywoman Linda Stender (D-22) is still uncertain as supporters of the two prime potential Stender successors continue to campaign for their candidate in the midst of a murky situation.
Stender has faced intense scrutiny recently stemming from her husband seeking help from the non-profit group Habitat for Humanity in rebuilding a nearly half a million dollar shore home badly damaged by Hurricane Sandy.
Union County Democratic Chairman Jerry Green announced on Thursday that he has terminated his support for Stender, followed by a similar statement shortly thereafter by the embattled legislator. These developments led to an ongoing phone calling and back room meeting blitz involving the two people reportedly most interested in the job – Jim Kennedy, a lobbyist who was Rahway's mayor from 1991 to 2011, and Fanwood Mayor Colleen Mahr.
Kennedy and Mahr have both button-holed and had sit-downs with prominent Democratic officials from the 11 municipalities in the 22nd Legislative District since Thursday, sources say.
Two longstanding rivals for control of the Union County Democrats, state Senator Ray Lesniak (D-20) and Union County Union County Sheriff and former LD20 Assemblyman Joe Cryan are likely supporters of Kennedy and Mahr, respectively, sources say.
But according to the by-laws of the Union County Democratic Committee, officials such as Cryan and Lesniak will not decide who gets the party line in LD 22 going forward.
The Democratic chairs of the seven Union County municipalities within LD 22 will potentially play the most critical role regarding Stender's successor. A majority of four votes out of seven at a candidate screening meeting scheduled for this week will give the Union County line, the most populated part of the district, to either Kennedy or Mahr, according to a Union County Democratic official who requested anonymity.
In this case, however, size doesn't matter. It is conceivable that the smaller municipalities of Clark, Fanwood, Scotch Plains and Winfield could vote together decisively for one candidate, their combined votes having more sway in this instance than a voting bloc of the larger municipalities of Linden, Plainfield and Rahway.
One Union County Democratic operative described a state of flux among LD 22 Democrats.
"Jim Kennedy has dug in, and he has made some calls. Colleen Mahr has come out swinging, and she's doing everything she can to get this thing to swing her way," the source said. "People are choosing between butter and syrup while they waffle, and they are both tasty condiments."
PolitickerNJ spoke to several of the seven Democratic chairs in question.
Clark Democratic Chairwoman Nancy Sheridan, Linden Democratic Chairman and Union County Freeholder Chris Hudak and Rahway Mayor and Democratic Chairman Samson Steinman all declined to indicate if they had made a choice between Kennedy and Mahr.
Neither Winfield Mayor and Democratic Chairman Margaret McManus, Mahr, who is also the Democratic chairwoman for Fanwood, nor Stender, who is also the Democratic Chairwoman of Scotch Plains, could immediately be reached for comment.
A chairperson can designate a proxy if for any reason they know they will not be present at the screening meeting vote, according to the Union County Democratic official.
Another person who will be voting at this week's LD 22 Assembly candidate screening meeting is Union County Democratic Chairman Jerry Green, who also serves as a LD 20 Assemblyman and as Plainfield's Democratic chairman.
The Union County Democratic operative indicated that few close to the situation can read what Green is going to do.
"I understand that he's got a 'maybe' into Jim, and an 'I don't know' into Colleen,'" the operative said. "He hasn't said definitely said who he's with yet."
Green himself was noncommittal regarding the LD 22 situation.
"I'm talking to all my municipal chairs," Green told PolitickerNJ on Monday. "As chairman of the county party, I feel like I have to talk to some of the mayors to see what they feel about the candidates who have shown some interest. I haven't yet told anybody, including my chairs, exactly how I'm going to be voting."
Green confirmed that the candidate screening meeting for prospective LD 22 Assembly candidates is scheduled for Wednesday, March 4.