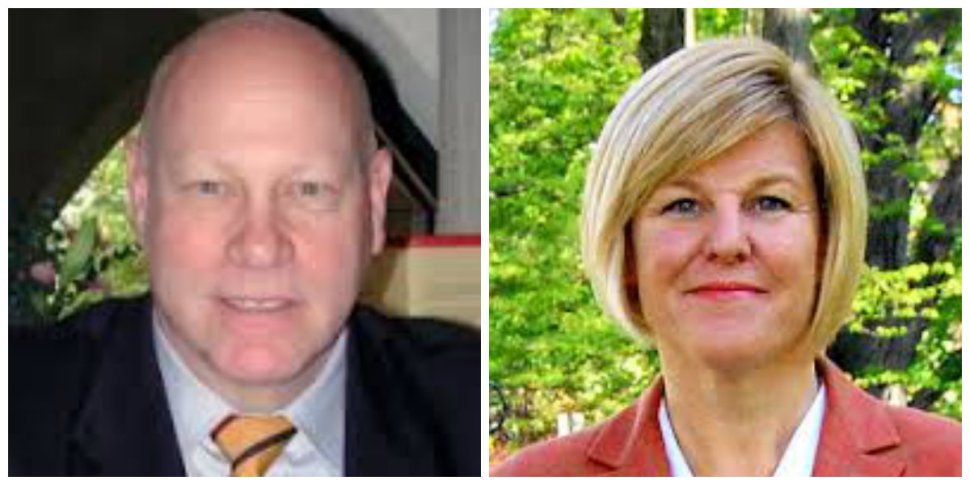 So it goes down Wednesday in Union County, a demolition derby pre-primary between former Rahway Mayor Jim Kennedy and Fanwood Mayor Colleen Mahr.
Standing in the middle of that sawdust covered circus maximus, Union County Democratic Chairman Jerry Green has a double interest in supplanting shore house-hamstrung Assemblywoman Linda Stender (D-22).
He's the other half of District 22.
After all the colliding phone calls and last minute plugs on either side of the divide, Democrats will decide whom they're going to back Wednesday evening at a district convention.
Both Middlesex County Democratic Chairman Kevin McCabe (two towns in the Union County-dominate district) and Somerset County Democratic Chair Peg Schaffer (two towns) got yanked into talks Tuesday.
Kennedy offers the argument of entrenched party pooh-bah branding in a town with almost 7,000 Democratic voters.
Mahr?
Stender's a woman.
Mahr's a woman.
In a party whip-lashed as recently as Monday by the charge that it's run by males in backrooms, the Fanwood mayor can make the case that if the Democratic Party ever has a shot at breaking out of old white male mold, now's the time.
A deft political player who cut her teeth in Hudson politics, Mahr is making an aggressive push heading into tomorrow's convention, but it's a tough play.
Her opponents dismiss her because she comes out of 1,500-Democratic-vote Fanwood.
A source tonight told PolitickerNJ that the mayor – who's also vice chair of the Democratic Party – is confident that she has at least three of the seven chairs in question on her side.
The main players weren't talking on Tuesday.
But a second source sized the fluid situation up thus:Green (Plainfield), Steinman (Rahway), Hudak (Linden) with Kennedy.
Mahr (Fanwood), McManus (Winfield), Sheridan (Clark) with Mahr.
Stender is the Scotch Plains chair and the expectation is she will forfeit her vote to state Senator Nick Scutari (D-22).
Scotch Plains is with Kennedy at last count, but a second source said Mahr playing hard there.
A source said Somerset and Middlesex are expected to give the nod to the Union choice.
Again, it's fluid. Sources agree it's a tough climb for Mahr against Kennedy, who has deep establishment contacts in the committee.
Plainfield Mayor Adrian Mapp – a fierce Green opponent – is waiting in the wings with the promise of a primary and the possible play of planting the loser of the Wednesday night primary on his own ticket.
One source called a Mapp alliance with the loser for a Democratic Primary run unlikely: Kennedy's a lobbyist and Mahr works for the county.