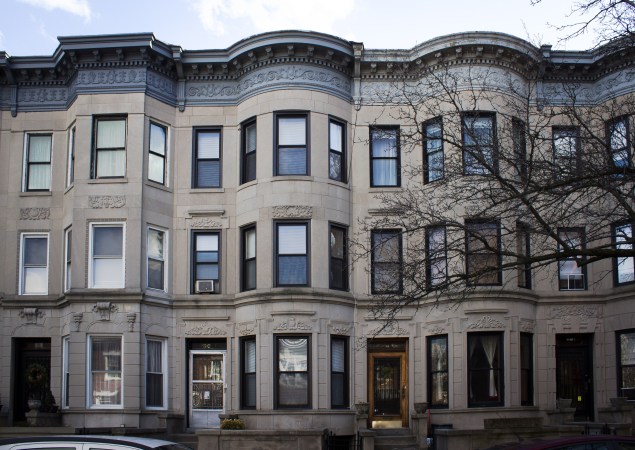 About nine years ago, near the dawn of their 30s, Jessica Stander, an architect, and her husband, Daniel Kristjansson, a computer programmer, were living in a small one-bedroom apartment on Manhattan's Lower East Side and yearning, like many of their neighbors, for more space. Brooklyn beckoned from beyond nearby bridges, but where to, exactly?
Loath to move to one of the colonies favored reflexively by ex-Manhattanites roughly sharing their social set—Park Slope, Brooklyn Heights, Carroll Gardens, et. al.—the couple, like good, earnest Kings County residents-to-be, took to their bicycles. For months, they pedaled the streets of the city's largest borough.
"We looked at many, many neighborhoods," Ms. Stander recently told the Observer, chuckling in a way that seemed to suggest memories of sore quad muscles. Lately bustling Williamsburg's new residents struck them somewhat wet-behind-the-ears. "Prospect Heights seemed a little too … Well, I'm trying to think of the right word…" Ms. Stander trailed off diplomatically.
It was not until they discovered Prospect-Lefferts Gardens—a diminutive neighborhood tucked against Prospect Park's eastern edge, with Crown Heights and Flatbush to the north and south, and Brownsville to the east—that the couple felt they'd found a place they wanted to make a home. "When we finally saw it, we found a vibrancy that wasn't quite present in other neighborhoods," Ms. Stander said of the area, which has a prominent Caribbean community. "People seemed to really settle in and grow roots—there were families who had been living there for three and four generations. It had a small-town feel, but there was a diversity we weren't seeing in a lot of other places."
It did not hurt, either, that Prospect-Lefferts Gardens had wide, quiet streets, leafy with tall old trees and lined with beautiful late 19th and early 20th century townhomes in Neo-Renaissance, Neo-Georgian, Neo-Federal and Romanesque and Tudor Revival styles. Or, that somehow, such houses could be had for a fraction of what they might have cost had they been transplanted to the other side of Prospect Park.
But the city's larger real estate brokerages and listing services hadn't made much headway in the neighborhood and purchasable homes could be hard to identify. "It took eight months to find a place," Ms. Stander recalled. "We had to just walk through the neighborhood, seeing what was available. The realtor we ultimately worked with basically operated by going to church on Sunday, and sort of schmoozing."
In 2007, she and her husband closed on a two-family house near the center of the neighborhood, about five blocks from the 2 and 5 trains and 10 blocks or so from the B and the Q, for $685,000, nearly $300,000 more than its seller paid for it six months earlier. Ms. Stander and Mr. Kristjansson, who now have two young children, live in one half of the property, leasing the other to tenants. With luck, they can be in downtown Manhattan, where both adults work and where their daughter attends kindergarten, in 20 minutes.
They are glad for the convenience and, as time goes on, perhaps increasingly for the purchase price, apparent premium notwithstanding. For a decade, press accounts have dubbed Prospect-Lefferts Gardens Brooklyn's "best-kept secret," a ripe destination for Manhattan's savviest exiles with a taste for fine townhome architecture. By all accounts, though, the neighborhood has been slower to catch on than other late-blooming brownstone competitors, like Fort Greene or Bedford-Stuyvesant.
Conjectures vary about Prospect-Lefferts' development delay. Some say that it might have to do with the way trafficky Empire Boulevard—dotted with nightclubs, automotive shops and storage facilities—divides it from Crown Heights and, by extension, from the great southwesterly scroll of tony brownstone blocks that begins in Prospect Heights and rolls all the way to the Columbia Heights waterfront promenade. There are also the facts of its relative distance to Manhattan and of its adjacency to thoroughly un-gentrified Brownsville and East Flatbush. But name-brand brokers who have lately descended on the area say that in the last 12 months or so, a kind of critical mass has been reached, producing a flood of would-be buyers requesting the neighborhood by name, and without need of educating about its attractions.
"You don't need to explain things as much to people anymore," said Keith Mack, a broker with Corcoran who has lived in Prospect-Lefferts Gardens since the late 1990s, when he bought a Federal-style townhouse with his wife, a native of small-town Pennsylvania who judged Park Slope too long on big city crime and clamor. "I've recently placed folks here from the Broadway and movie industries," he continued. "I'm getting calls from neighbors saying, 'My friend is looking for a place.' "
In December, Mr. Mack set a neighborhood record, selling a grand, eight-bedroom townhouse on Rutland Road in the Lefferts Manor Historic District, which stands at the core of the neighborhood, for $2.4 million. Prospect-Lefferts Gardens currently boasts a half-dozen other townhome listings that exceed $2 million, a threshold that not long ago would have elicited gasped charges of presumptuousness.
Sources for the neighborhood's surging prices and popularity are both historical and emergent. Occupying about a dozen blocks and bounded roughly by Lincoln Road, Flatbush Avenue, Fenimore Street and Rogers Avenue—and containing most of the area's premium townhouse stock—the Lefferts Manor Historic District stands on the former farming estate of Lefferts Pietersen van Haughwout, a Dutch immigrant who held the title of constable in the village of Old Flatbush in the late 17th century. The land passed through a succession of increasingly politically influential generations and eventually to James Lefferts, a gentleman farmer, who divided the property in 1893 into 600 building lots, anticipating the advent of Lefferts Manor, a "high-grade" development designed to meet rising residential demand following improvements to local transportation and the construction of Prospect Park.
Lefferts had definite ideas about the development's character, and to ensure that it would first flourish and then be preserved he established a restrictive covenant, punctilious with prescriptions and prohibitions, affecting each lot. Pigpens, iron foundries, breweries and ink, glue and gunpowder factories were right out. Ditto hospitals, theaters "or any noxious, offensive, dangerous, unwholesome … business whatsoever." Houses had to be single-family residences worth $5,000 or more (those were the days!), and rising at least two stories high in brick or stone. Cellars were mandatory.
Declared a landmarked district by the city in 1979 and added to the National Register of Historic Places in 1992, Lefferts Manor, which had by then long-since grown to attract a solid middle-class population, retains its covenant, preventing the breakup of townhouses into multi-family homes often observed in other brownstone communities. We are pleased to report, too, that on a recent stroll through the neighborhood, the Observer scented neither pigpen nor gunpowder on the breeze.
James Lefferts hoped his rules would foster uniformity, but Lefferts Manor's homes vary in their aesthetic character from block to block, even as they heed the covenant's parameters. Portions of Lincoln Road and Fenimore Street, along the district's northern and southern edges, offer frame houses that would not be out of place in Westchester, with small, neat lawns, front porches and garages tucked in back, Volvo station wagons in driveways. Yet other sections of Lincoln resemble Park Slope: Townhouses in brown and limestone, with handsome roofline trim in colorful shades.
One block of Maple Street has rows of tidy brick single-families, many with white pillars and arched windows and a few that qualify as modest mansions—including one currently on the market for just shy of $3 million. But the next block is all bow-front townhouses in cool light stone, many of them crowned, pagoda-style, with imbricated red shingles. On Rutland Road, near its intersection with Bedford Avenue, stands a strip of pretty brick townhouses with fetching bay windows that appears transplanted from Old City, Philadelphia, or the West Village.
Throughout, the historic district is quiet and serene and of a decidedly humane scale, its townhouses rarely rising more than three stories high. But if it lacks the imposing homes that represent the crown jewels of brownstone Brooklyn's more fashionable precincts, its proffer of value is very likely second to none—at least for the time being.
"All I can say is that when someone buys there, they get a lot of house for their money," opined Karen Heyman, a broker with Sotheby's International Realty—who works primarily in Manhattan and in pricier parts of Brooklyn—with evident disbelief. "You can buy a home there that's priced like a two-bedroom condo!" Ms. Heyman recently found a buyer for a limestone townhouse in the historic district, on Midwood Street, priced at $2.35 million, which, she estimated, would have fetched several times as much in other neighborhoods.
Still, just five years ago, most homes in the historic district hovered in the vicinity of $1 million, and demand has substantially driven up prices even outside the landmarked portion of the neighborhood, where, in some areas—as on sections of Hawthorne Street, Sterling Street and Lefferts Avenue—comparable townhouse stock is on offer.
"You can still get a decent house for between $800,000 and $1.2 million," said Keith Mack, of Corcoran. "But it certainly won't be in the historic district. And it's going to need a total renovation."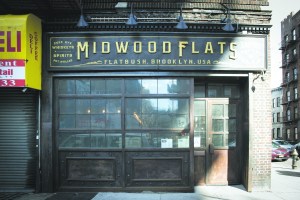 In part behind the price hikes is one of the neighborhood's greatest attractions: The extent to which residents are rooted in the community. "There is not a tremendous amount of turnover," Mr. Mack said. "In a really good year, in the historic district, you might have 12 houses turning over. People come here and they don't leave." Often, a home hits the market only after the death of a longtime owner, which might partially explain the fondness of some brokers for drumming up listings at church.
When Ms. Stander and her husband moved to the neighborhood, she said in an email, other new homeowners were mostly creative types—artists, freelancers and filmmakers—who embarked on DIY renovations to bring their houses up to date. Increasingly, fresh arrivals work in law and finance, and leave gut renovations to architects and contractors. She does not begrudge the homesteading young professionals, but she worries, nonetheless, that the raucous steel drum summer barbecues, the roti and jerk chicken joints and the late-night band practices for the Caribbean Labor Day parade that have long characterized local life might not be able to persist alongside them.
It's a familiar pattern, of course. And it has its strong points. Flatbush Avenue, the neighborhood's main commercial strip, remains practical and unglamorous, offering bodegas, wireless stores, fast food and an astonishing number of hair extension merchants. It doesn't recall the retail-as-recreation model of Smith Street, in Cobble Hill, or Bedford Avenue, in Williamsburg. But that, too, is changing. Recent years have seen the arrival of Sushi Tatsu, the Tugboat Tea Company—complete with bespectacled 20-somethings pecking at Macbooks—the Cinnamon Girl bakery, which serves tofu cream cheese, and an outlet of the Planet Fitness chain, among a handful of other bars and restaurants. The Gratitude Cafe, a locally beloved organic coffee house, opened last year on the otherwise-somewhat-desolate Rogers Avenue, as did Ramagi, a purveyor of brick oven pizza.
Education options, long a point of concern for families considering the neighborhood, have improved, too, with the opening of P.S. 770, which runs from kindergarten through fifth grade, in 2010, P.S. 705, which goes up to third grade and opened in 2012, and the Lefferts Garden Montessori School, which recently expanded to encompass the elementary years.
And Prospect Park, naturally, is right where James Lefferts left it.