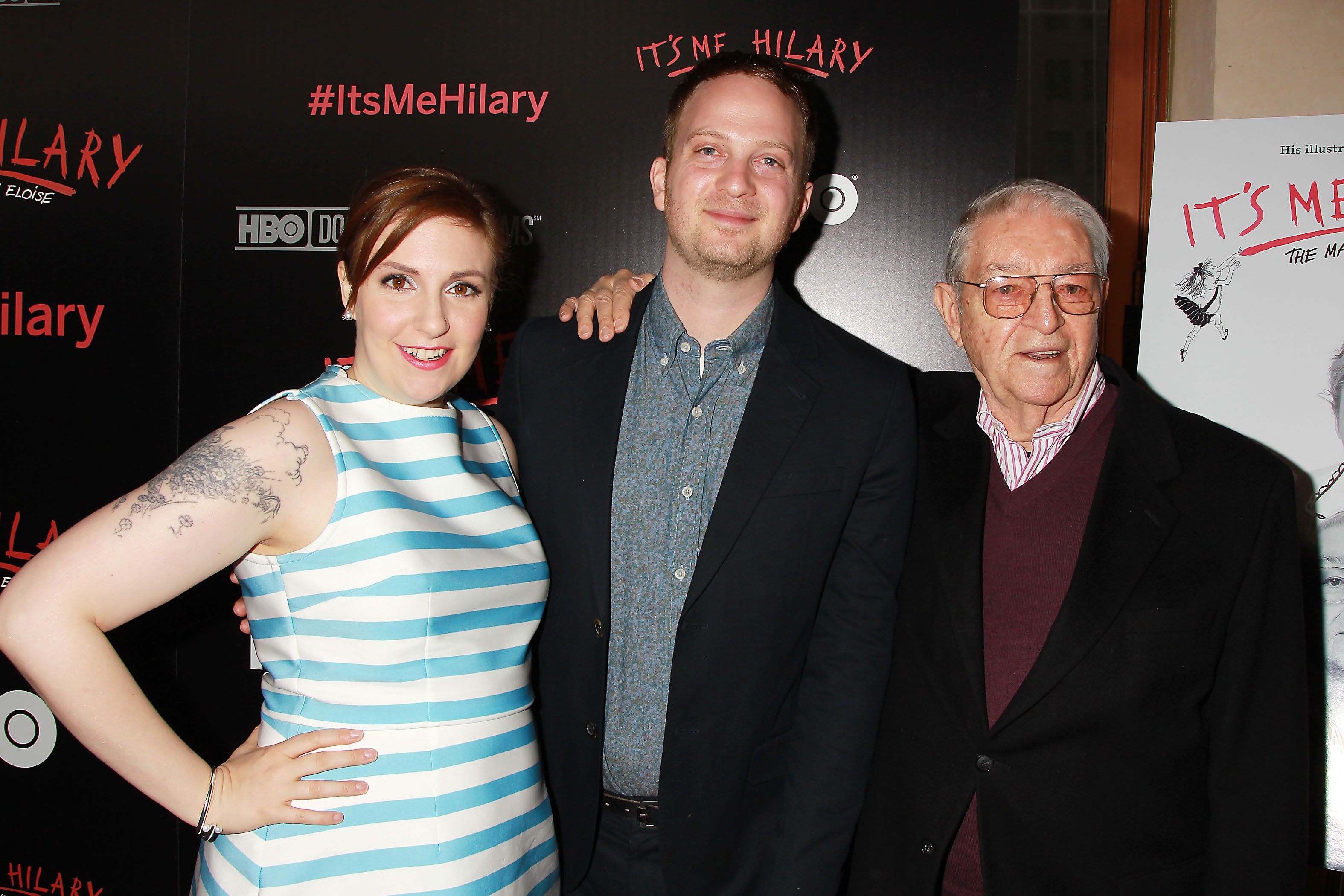 Zac Posen
How did Lena Dunham meet Hilary Knight, the atypically named man famous for illustrating the classic 1955 book Eloise at the Plaza?
As with all things Dunham, the answer is eccentric. A friend of Mr. Knight's, while watching Ms. Dunham on television, noticed something many have overlooked: an Eloise tattoo, which adorns Ms. Dunham's lower back.
Mr. Knight knew he had to meet the inked-up über-fan, and they quickly became friends. But Ms. Dunham, ever the overachiever, could not rest at a friendship with the iconic illustrator. She decided to seal the deal by making a documentary for HBO about him.
That documentary, It's Me, Hilary: The Man Who Drew Eloise, premiered at the Plaza Hotel yesterday (and will screen on HBO on Monday, March 23 at 9 p.m.). Viewers—including BJ Novak, Bernadette Peters, Zac Posen and Alan Cumming—took in the half-hour doc before moving to the hotel's Palm Court for a tea luncheon, complete with Earl Grey poured from Eloise-stamped china.
It was difficult to tell which was more star-studded, the audience or the movie. Executive producers Jenni Konner and Ms. Dunham, along with director Matt Wolf, called on famous friends such as Fran Lebowitz and Tavi Gevinson to talk about Mr. Knight's most famous creation, Eloise, the little girl who lived at the Plaza.
"Eloise should be played by Paul Giamatti," Mindy Kaling memorably declares in the movie. "The spirit of Eloise is not a blonde little girl."
This sets the stage for the biography of a man whose work is well-known, although his own story isn't. We learn how Mr. Knight met his more famous collaborator, Kay Thompson, the bombastic actress and singer who originated the character of Eloise. She wrote the book's memorable lines—"I put a cabbage leaf on my head when I have a headache." "Most of the time I'm on the telephone." "Here's what I like to do: make things up."
The film's editing, which juggles archival footage, animation, interviews and playful footage of Ms. Dunham and Mr. Knight together, is masterful, with the movie anticipating viewers' thoughts. For example, just as archival footage of the magnetic Ms. Thompson threatens to steal the show, Mr. Knight admits this in a confessional interview: "I had to accept that Kay was the star. You could not really put us in a room together, because I would just dissolve." And we are instantly sympathetic to the shy illustrator again.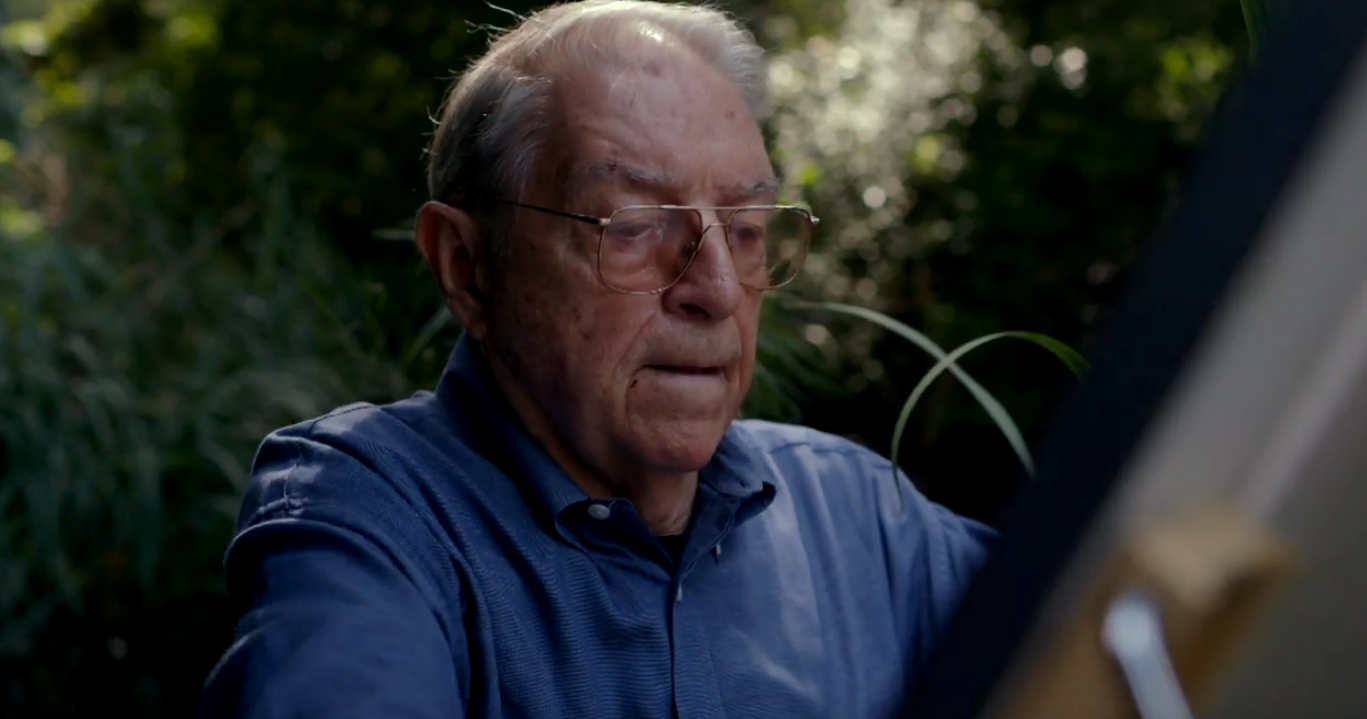 After the screening, director Matt Wolf told the Observer that he grounded the documentary's decades-spanning moving parts by looking at the film as a chat between friends.
"The conversation Lena and Hilary were having was a great frame for us, going from past to present," he said. "I like these films to feel like a conversation."
Although Mr. Knight and Ms. Thompson's partnership appeared to be an artistic match made in heaven and spawned one of the most beloved characters of the 20th century, the film makes it clear that they did not always see eye to eye. It seems the introverted and artistic-minded Mr. Knight often struggled to get a fair shake when it came to recognition. Ms. Dunham told us afterward that all creatives can learn a lesson from this.
"Don't sign anything you haven't read," she said of her own takeaway from working on the film and befriending Mr. Knight. "There are so many shades and shadows to Hilary's story, but in terms of practical advice, look at what you're signing and think about how it affects your career in the long term. Don't be so excited that you devalue yourself just because you feel lucky to have a job."
Meanwhile, Mr. Knight's longtime friend, Bernadette Peters, also took a break from the afternoon's macarons and tea sandwiches to profess her appreciation for the illustrator and his charming, curated world.
"He's 88 years old, he's still here and still interested in life," the Broadway dynamo said. "How important the fantasy life is. How important it is, for all of our imaginations to keep flowing."