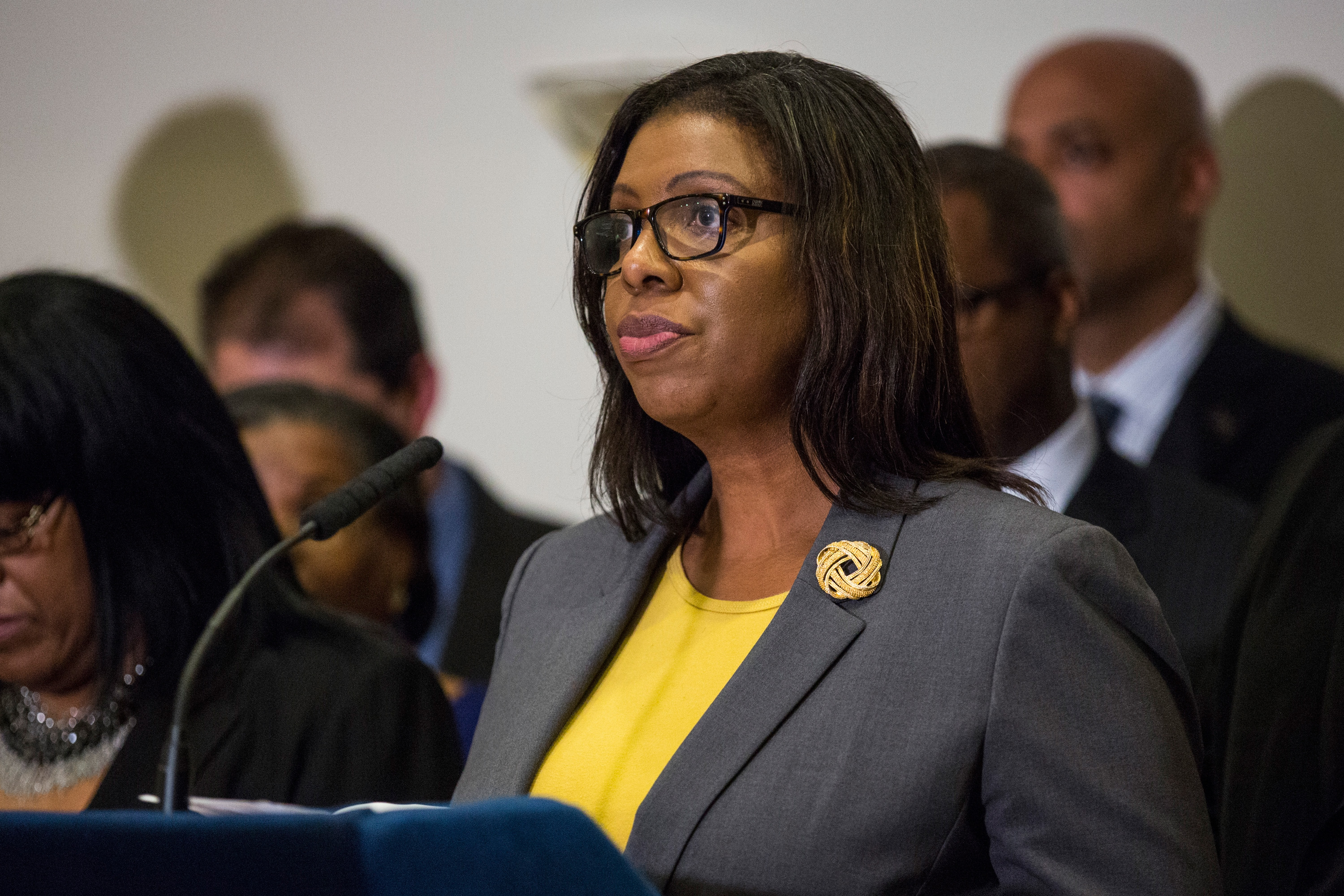 Public Advocate Letitia James spent her morning advocating for one person in particular in court today—a 16-year-old undocumented immigrant who fled gang violence in Honduras.
Ms. James appeared before Family Court Judge Adam Silvera and successfully argued that Keybi, who came to the United States about a year ago without his parents or a guardian, ought to be granted "special immigrant juvenile status" and that the teen's uncle should be his legal guardian.
The turn in court comes after Ms. James had previously called on the city's lawyers represent, pro bono, children facing deportation cases in the federal government's surge docket, and had promised to do so herself after a refresher on family and immigration law. She has not argued a case in some time, she said, though she did represent some juveniles in criminal court while serving in the City Council.
"It's been a while, but this wasn't really an argument," Ms. James said after the hearing. "This was a sympathetic judge, and a case where the facts basically are consistent with the law, and we didn't really think we would meet any objection."
Seeking to escape gang and drug violence in Central and Latin America, minors have been flooding into the United States without their parents—leaving the government to figure out where to place the children and whether to deport them. Most of the unaccompanied minors in New York have been reunited with family members already here, and must appear in family court to determine guardianship and in immigration court to argue they should be allowed to stay in the country due to the circumstance they fled. As the surge docket first got underway, many did not have lawyers—though Speaker Melissa Mark-Viverito announced last year funding to ensure all of them had legal representation.
Keybi came to the country about a year ago, according to his uncle, Francisco Avilla, 51, and was detained after crossing the border into the United States from Mexico. It was his second attempt to reach the United States. Immigration officials called his uncle and asked if he would take Keybi in—the government places unaccompanied minors with family when possible or must otherwise house them in facilities. The teen has been living with Mr. Avilla in East New York for about a year.
"There was a lot of really bad gang violence in Honduras," Keybi told reporters after the hearing. "I was really afraid."
In the courtroom, Ms. James told the judge that Keybi's father had died, and before his death did not want to care for him. His mother was also unable to care for him, and had sent him to live with an aunt when he was 12 years old.
"While he was in Honduras, no one cared for him. There were often days he went hungry. Gangs threatened his life and his safety," Ms. James said after the hearing. "So to protect him and provide him a better future, I think it's in the court's best interest and in the interest of individuals who care about these children to have him stay with his cousin."
Judge Silvera granted Keybi "special immigrant juvenile status," which will allow him to seek a green card. It will also pave the way for a deportation order in immigration court to be dismissed, Ms. James said, at another hearing she'll attend in May.
In awarding the status today, Judge Silvera said it was not in anyone's best interest to send Keybi back to Honduras. "One could say it would be cruel and unjust," he added.
The judge urged Keybi, who is a tenth grader at Progress High School, to stay in school and learn English, but not to forget his Spanish. He asked what three professions Keybi might like to pursue, and through a translator he responded: lawyer, engineer, or mechanic.
"Keybi, I just have one word of wisdom: you follow your dreams, you work as hard as you can, and you don't accept no as an answer," Judge Silvera said.
The teenager has been doing well since he arrived at this home, his uncle said.
"He plays soccer at his school, and we go to church, too, together, every Sunday," Mr. Avilla said.
He was pleased Ms. James' appearance would put more of a spotlight on the plight of Keybi and other children like him—and was especially pleased with the judge's ruling.
"It's important, because otherwise he would be like homeless," Mr. Avilla said.