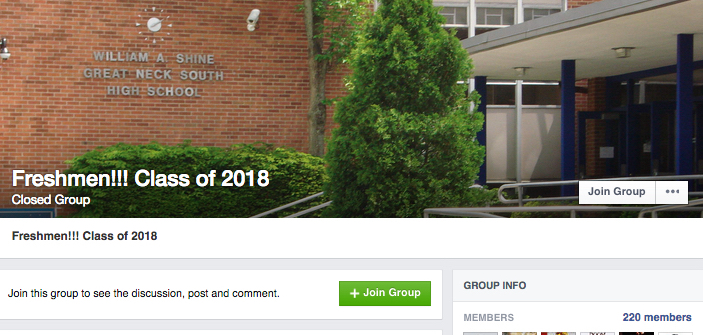 Just when you think freshman year can't get any more adorable, a bunch of kids at a tony Long Island high school find a way to take it to the next level. With the uproar over a video of Oklahoma frat boys singing a racist chant still in the air, a freshman at Great Neck South High School on the North Shore of Long Island saw fit to post an inflammatory image on the class Facebook page.
The image below was posted by a student at the school. It depicts a kid with a photoshopped Hitler mustache and swastika, and the caption reads, "I'D RATHER BE GASSING JEWS RIGHT NOW."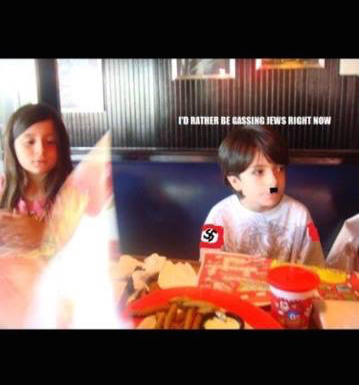 The administrators of the group—all of whom seem to be young women eagerly awaiting the return of bikini season—have thus far declined to identify the poster of the offensive image, which was removed from the page Sunday evening after being posted Friday. Parents at one of the most highly regarded public schools in the country are taking the matter seriously.
Alan Mindel, the owner of the Great Gatsby-ish Inn at Great Neck and other Long Island hotels, has a daughter in the freshman class at Great Neck South. He's also on the board of the Holocaust Memorial and Tolerance Center of Nassau County.
"I'm the child of two Holocaust survivors. And this is disgusting. Now that this came out, the kids have mentioned previous incidents. They never mentioned it, but now this post has made them bring up others. I think a lot is going to come out this week. The kid should not be in the school, whoever he is. Schools should take strong disciplinary action—a suspension or expulsion is in order. We're talking about someone saying they want to gas the Jewish students in the school. And now they're walking through the halls with those same Jewish students. The safety of students is paramount. If someone says they'd 'rather be gassing Jews,' what does that tell you about their intentions? They need to find out who the kid is and that kid should not be returning to school."
Reached by phone this morning, Dean of Students Sally Passarella declined to comment. Dean Passarella's web page includes a vertical on "Bullying/Harassing" that mentions cyberbullying. Also Monday morning, a secretary in the administrator's office said that School Superintendent Dr. Thomas P. Dolan would be releasing a statement shortly. That statement arrived at about 2 p.m. and shed additional light on the matter.
The strongly worded statement, signed by Dr. Dolan and three local principals, begins by noting "the Facebook page in question was not a school-sponsored or supported page." It then reveals that "early Monday morning, we determined the name of the individual who made this posting and determined that this individual is not a student in our schools" and notes that the police were notified, as was the student's current school. The statement goes on to discuss the twin evils of cyberbullying and quite eloquently addresses the resurgence of "anti-Semitism and other forms of racism that one would have hoped had been eradicated by now."
This is not the first time Great Neck has struggled to address anti-Semitism. The Observer has learned of an incident last May that remains unaddressed to this day, despite strenuous efforts by parents. In that episode, art students at a middle school in the Great Neck North portion of the district were asked to paint a portrait for a high school level class. Wouldn't you know it, one of these hilarious little mischief makers chose for his subject Adolph Hitler in full uniform, including swastika. Several girls brought this to the teacher's attention. The teacher told them there's nothing she could do. Bernie Davidovics, whose children are in the Great Neck North school system (but were not in that class) wrote a letter asking about the policy and was invited to a meeting, but at that meeting he was essentially told, "it was just a German soldier, and so what if it was Hitler."
Mr. Davidovics then wrote to the superintendent and never heard back. By the next September, he still hadn't heard back and complained about the lack of response; he finally got a letter basically denying the events. He makes the point that the school has full discretion on what discipline to mete out. "These kids get suspended for chewing a cookie into the form of a gun. And if someone says 'that's gay,' it's up to the LGBQ kids to say that's offensive to them, it's not up to the teacher to decide that the person meant no offense."
Jeffrey Wiesenfeld, a principal at Bernstein Private Wealth Management, lives in Great Neck. His children do not go to the public school but he felt aggrieved as a member of the Jewish community. "When this came out on Friday, nobody did anything. I sent a threatening email saying you're going to identify the student, publicize the student and suspend the student. They didn't care. They simply deleted it late Sunday night and pretended it didn't exist. If this happened to any other minority we would have certainly seen a suspension."
That begs the question: Does a 14- or 15-year-old even understand the seriousness of what he or she wrote?
Mr. Mindel said, "You can't go into the mind of a student. But an apology … whenever there's a disaster in the schools, everyone says 'What were the signs?' I don't know how you get a bigger sign than this. And if it is a question of education, it begs the question what kind of education they're getting. This isn't elementary school or even junior high, this is high school. On my own daughter's exams, it's not been covered. These are ninth graders and they haven't done it yet."
Mr. Wiesenfeld agreed. "We have a very disturbed warped mind in a student that is going unpunished and unrecognized. When these events target Jews, they're not taken seriously."
UPDATE (3-16-15, 2 p.m.): This story has been updated to reflect comment from the school administrators.
UPDATE 2 (3-16-15, 4 p.m.): After school let out, the Observer began receiving many emails asking—and in some cases demanding—that we remove the photo that included the names of the administrators of the Facebook group "because they are minors." That is, of course, ridiculous—many names are even at this moment publicly viewable by anyone who enters "Freshman Great Neck South High School" into Facebook, though the group seems to have hidden the profiles of the administrators. Matthew Dienstag, father of one of the girls, applauded the Observer's story, but made a compelling case that inclusion of the girls' photos made it seem as though they were somehow involved in the posting of the offensive image. In fact, they seem to have acted responsibly in removing it quickly. So the image is now cropped to avoid creating the wrong impression. Furthermore, the Observer received a tip from someone claiming to be Vanessa [last name redacted; h/t Great Neck South's Freshman class], another of the page's administrators. The tipster claims that the poster was not a Great Neck student but was instead "a freshman FROM PORT WASHINGTON (who will not be named)" who had gotten his or her hands on images of students from Great Neck South High. Like many of the people who have gotten in touch with the Observer about this story, Ms. Fazzini, or whoever is writing to us in her name (we cannot reach her by phone and she declined to share her email address; efforts to reach her via Instagram have so far been unsuccessful) is under the mistaken impression that a newspaper needs the permission of those about whom it writes. We are also informed that "pictures of minors is COMPLETELY UNACCEPTABLE." How that all caps conclusion was reached is not known but of course, that is also incorrect—photos that are viewable by the public are news and need no permission to be shared. Still, it's exciting to see young people taking this incident seriously and engaging in a meaningful way. The Observer welcomes further comment.