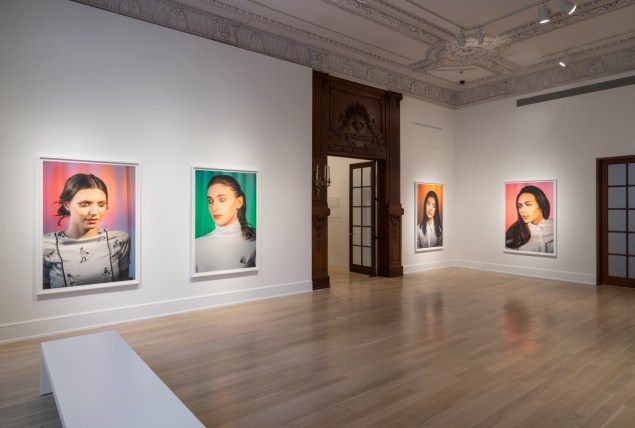 Working primarily in photography and film, Laurie Simmons, born in Far Rockaway in 1949, first became known in the mid-1970s for her series of moody black-and-white photographs of dollhouse interiors that dreamily undermine those supposedly archetypal play toys.
Focusing on the strangling consumer stereotypes of American identity put Ms. Simmons squarely within an innovative group of post-modern artists that was formally labeled "The Pictures Generation" after a group exhibition of that name at the Metropolitan Museum of Art in 2009. They came to prominence in the '70s and '80s by staking their claim on borrowed consumer or media images. This group includes Ms. Simmons' fellow groundbreaking feminist artists Barbara Kruger and Cindy Sherman, as well as other luminaries such as Robert Longo, Richard Prince and Ms. Simmons' husband, painter Carroll Dunham. (These days, the couple finds themselves more commonly referred to as the parents of the award-winning screenwriter and star of the hit HBO series Girls, Lena Dunham.)
Suddenly, this 60-something Pictures Generation has belatedly discovered social media—with disastrous results. First we were force-fed Richard Prince's libido, in the form of racy Instagram pics—complete with the artist's cornball trite remarks in the comments section—that he enlarged into sleek wall-sized trophies for one of the branches of Gagosian Gallery. The move effectively trivialized his groundbreaking use of appropriation. Now we must reckon with proto-feminist artist Ms. Simmons' supposed exploration of subculture personae via social media in the form of a wan oversized fashion spread. It is on view at the Jewish Museum until Aug. 9.
Ms. Simmons is clearly at ease with the realm of social media, boasting an Instagram account of more than 68,000 followers, but older media artists like Ms. Simmons and Mr. Prince, dazzled by follower counts and virality, only seem to view platforms like Instagram and Twitter as awesome new media stages; a place where anyone can create Ziggy Stardust-like personalities for themselves. What Ms. Simmons and Mr. Prince fail to communicate is that social media is simultaneously an ordinary communication tool—like the fax machine or the telephone—that has a rather banal side, also rife for exploration.
Upon entering Ms. Simmons' latest one-room exhibition, which is nestled into the museum's tony 2nd floor gallery, one finds a restrained one-room installation of six large portrait photographs of beautiful young women, each consistently adorned with makeup, colored lighting and fashionable frocks. (In theme, the show is something of a counterpoint to the stronger "Helena Rubinstein: Beauty is Power" exhibition, on view at the Jewish Museum through March 22, highlighting the life and art collection of the cosmetics mogul.) The framed prints, all of which measure 70-by-48 inches, are serially titled with the names of their girls and the colors of their backdrops, like Ajak/Violet or Lindsay/Gold. The models run the gamut of skin color while all being gorgeous, giving the room a stilted United Colors of Benetton feel.
The fact that the sitters have pseudo eyeballs painted onto their eyelids is fairly noticeable but frankly no more unsettling or edgy than the work of contemporary fashion photographers such as Steven Klein. The "small, surprising details" within these photographs that curator Kelly Taxter's essay alleges these photographs offer are minimal, such as a drawing of a cigarette embroidered onto a collar, and are not particularly uncommon in the fashion world either. (Ms. Taxter is perhaps best known in the art world for founding the gallery Taxter & Spengemann, which closed in 2011 after showing such artists as Kalup Linzy and Andrew Kuo.)
Furthermore, the museum tells us that these images reference "the eerie artificiality of social media" (as well as "Doll Girls" cosplay and yearbook portraits). Yet in actuality they only seem to reflect the genre of fashion photography inhabited by Ms. Simmons' collaborators for this project: makeup artists Landy Dean and James Kaliardos and fashion designer Rachel Antonoff. One might even wonder if the series is supposed to be a critique of fashion stereotypes. But when is an artwork a comment on a style versus merely epitomizing that style? It's a fine line, and Ms. Simmons finds herself on the wrong side of it this time.
Like Richard Prince, who as recently as 2013 constructed a gorgeous suite of cubist-inspired photo/painting mashups for a stunning exhibition in London, Ms. Simmons should not have her stellar career redefined by one recent misstep. She has made exceptionally successful work in the past, either by deconstructing cultural clichés or by investigating subcultures as a symptom of predominant power structures.
Her series "Walking & Lying Objects" from the late '80s, a noirish group of photos and videos of culturally loaded icons that dance around on sexy showgirl legs, is one of the strongest feminist expressions of its era; an uncanny aesthetic mix of David Lynch and René Magritte that offers a poetic feminine perspective from within America's patriarchy.
More recently, her much-discussed 2009-11 series titled "The Love Doll" captures a realistic Japanese sex doll in a variety of intimate and mundane scenarios (taking a bath, walking in the snow) which bizarrely humanizes these creations of lust.
Unfortunately, the current show, dubbed "How We See," neither adequately explores cliché nor does it significantly allude to subculture (the artist's painted eyelids are a feeble and neutered allusion to cosplay). Ms. Simmons described her process for this series in a recent interview as such: "Invite the makeup artist, invite the model, pick a color, paint the eyes, put the blouse on and you're good to go. I feel like this formula is failure-free."
The photographs in "How We See" are in fact created with a formula, but they are far from failure-free. Risk-free is not the same thing as failure-free, and an artist like Ms. Simmons should realize that the comfortable aesthetic of fashion photography is discordant with the originality and bravery of subculture—even though its cheap appeal will probably get you a few more "likes."
Meanwhile, Ms. Simmons appears to have caught the Hollywood bug from her daughter, Ms. Dunham, and will soon begin shooting on her first feature film My Art. The semi-autobiographical film focuses on the art career of an established female artist looking to push her work to new artistic and professional levels. It's a natural move for an artist who has always been attracted to new forms of media and the unexpected fallout of image dissemination. Let's hope this experiment is fresher and more compelling.