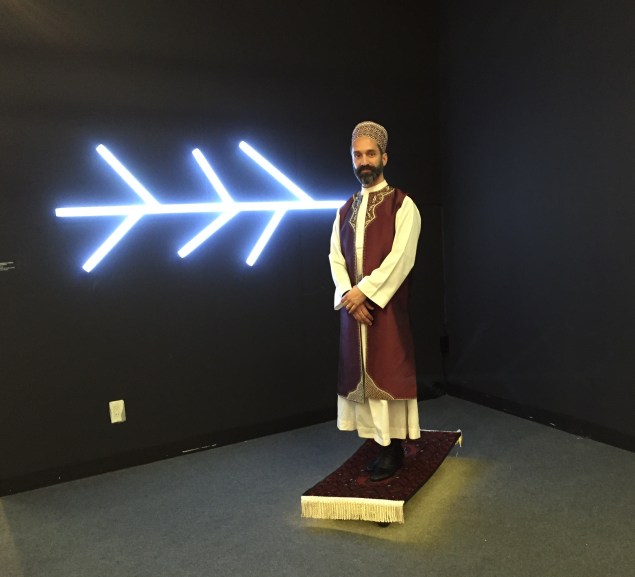 If you're moseying around the Armory Show today, you might just see Darvish Fakhr ride by on his Flying Carpet. The U.K.-based artist has retrofitted a longboard with a rechargeable battery-powered motor and a wooden platform covered in red carpet. Wearing a white tunic and an ornate long red vest, he's riding the board around the floor of the fair, weaving between visitors. The motorized carpet can reach up to 20 mph, and so he's had to stick to the lowest setting while skating indoors.
"The project is meant to infuse a sense of lightness to the space I'm moving through," he told the Observer. "Lightness in terms of the space around the board, but also in terms of humor." The underside of the board is illuminated with white LEDs, which make the artist's illusion of levitation all the more real.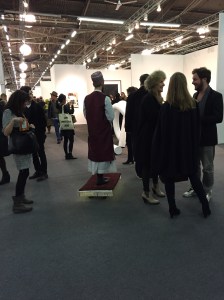 The project plays with two facets of Mr.Fakr's background: his Iranian heritage and his American upbringing.
The Flying Carpet is part of Art Jameel and Edge of Arabia's Culturunners project and part of Focus: MENAM, a section of the fair dedicated to artists and galleries from the Middle East, North Africa, and the Mediterranean region.
Originally, Mr. Fakhr was supposed to perform The Flying Carpet with Edge of Arabia's Culturunners mobile RV in Harlem and Lower Manhattan's Little Syria. But the snowy, slushy weather isn't ideal for skating on New York City sidewalks.
Mr. Fakhr is primarily a painter, but he's an avid skateboarder in his free time. The skateboarding, he says, is the American skater kid in him. He's currently based in Brighton, a seaside British town. "Great for longboarding," he told us, before zipping off again.