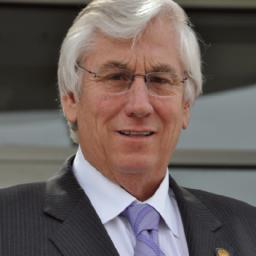 MAHWAH – Mahwah Mayor Bill Laforet stood by a controversial decision to move to terminate the Bergen County township's Department of Public Works director, days after the official was reinstated during an explosive township council meeting.
"I'm shocked by the actions of my colleagues on the council," Laforet told PolitickerNJ on Tuesday in response to questions about a video that emerged from last Thursday's Mahwah council meeting which depicts the volatile atmosphere following the council's 6-0 vote to overturn Laforet's decision to fire Mahwah D.P.W. Director Ed Sinclair because of alleged inappropriate material found on a D.P.W. computer. "Based on facts that were clear and evident to me, that was the basis of my decision."
Laforet and Sinclair have opposed each other before. Laforet, an independent, defeated Sinclair, a Republican, in the non-partisan 2012 Mahwah mayoral election. Yet Laforet named Sinclair to be the township's D.P.W. director in 2014.
Laforet explained how the road to making his decision to try to terminate Sinclair began.
"We received an anonymous letter that indicated that there was pornography on a township computer in [the D.P.W.'s] office," Laforet said, adding that the Bergen County Prosecutor's Office examined the computer specifically for child pornography, which is illegal. "I have absolutely no idea who wrote the letter. But my opinion is that it was someone within the D.P.W. because what the letter described was so specific in detail."
While child pornography was not found, Laforet said that the prosecutor's office told him that "a significant amount of hard-core pornography" was found on the D.P.W. computer.
"It was determined that pornography was viewed on the D.P.W. computer on the township's time and on the township's dime," Laforet said. "That's what led me to my conclusion that [Sinclair] be terminated."
But after a closed-door discussion before the March 19 Mahwah township council meeting, the council voted 6-0 to reinstate Sinclair.
Laforet noted that in Mahwah, the mayor does not vote at council meetings.
"Obviously, this was political," Laforet said. "I can't account for why they voted the way they did. But Mr. Sinclair had a right to be heard, and he was."
Mahwah's politics proved explosive when Councilwoman Lisa DiGiulio stepped to the front of the dais after the vote, holding a 2012 campaign poster that depicted her and fellow Republicans Steve Sbarra, Council President John Roth, and Sinclair.
After claiming that Laforet brought the poster to the closed session meeting in a bid to keep the Republican council members from voting because of a conflict of interest since they ran with Sinclair, DiGiulio lashed out at Laforet.
"I have been on this council for 28 years, and I have never experienced the low life of this mayor," DiGuilio said.
DiGiulio proceeded to curse Laforet, followed by a double single-fingered salute to Laforet when she returned to the dias [see video below].
The council soon thereafter voted in favor of a motion of no confidence by a 4-2 margin, with one abstention. Laforet noted that Mahwah's governing statute does not include a British parliamentary-style no confidence vote that is binding. As for demands made at the meeting for a recall vote, Laforet looked to the future.
"What [the meeting] provided was more political fodder. A vote of no confidence is a distraction from the facts that were presented," Laforet said. "I have no way to know [about a recall attempt]. [The council] have to be accountable for their own actions. I have no idea how that poster got there. I can't explain what fueled that fire. I sat there with all of the dignity I could muster. I have an obligation to the taxpayers of my community. I stand by my decision. I don't know what the next council meeting will bring. But possibly this is the new norm. It's tough being mayor sometimes. It's not just about kissing babies."
Sinclair did not immediately return a phone call seeking comment.
[ustream id=60128745 hwaccel=1 version=3 width=480 height=296]