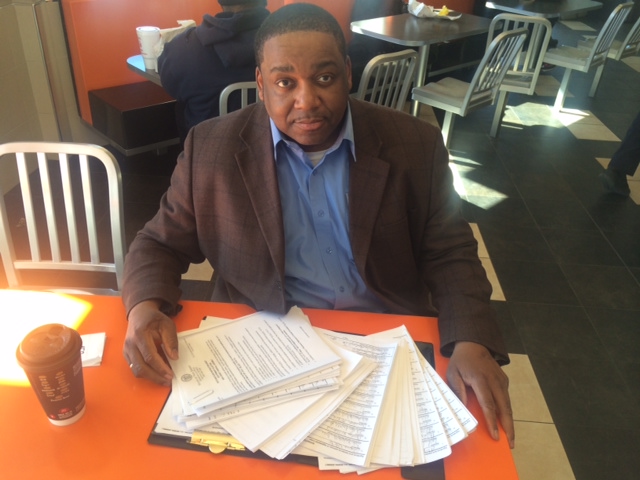 JERSEY CITY – State Assemblyman Charles Mainor (D-31) killed any suspense on Sunday as to whether he will run for reelection this year.
"I'm in. I will be running ,"said Mainor, 48, a retired Jersey City police detective, sitting strapped with was he claimed were 350 signed ballot petitions, far more than the 100 petitions needed to be filed on Monday, in a local McDonald's that looked more and more like a war room as his crew gathered. "I want my constituents in Bayonne and Jersey City to continue to get the same type of service that they deserve. And I don't see anyone looking to run that can give them that type of service."
Manor's definitive entry into the 31st Legislative District Assembly race injects more mayhem into what is already a chaotic contest.
The district includes all of Bayonne and parts of Jersey City. The mayors of the two Hudson County cities traditionally choose one state Assembly candidate each. Bayonne Mayor Jimmy Davis coalesced relatively early behind the candidacy of Nicholas Chairavalloti instead of incumbent Jason O'Donnell, who was a strong ally of Davis' opponent in last year's mayoral election, former Bayonne Mayor Mark Smith. O'Donnell, a potential 2018 Bayonne mayoral candidate, told PolitickerNJ earlier this week that he would not seek reelection.
Jersey City Mayor Steve Fulop has had a more difficult time finding another candidate to replace Mainor on the line, the most recent candidate named being Angela McKnight. Fulop has had these difficulties even thought he is working together with his sometime rival in Hudson County politics, state Senator Sandra Cunningham (D-31), to unify behind a Jersey City-based Assembly candidate.
Fresh posters for the Hudson County Democratic Organization (HCDO)-backed ticket of Chiaravalloti and McKnight were visible up and down Martin Luther King Drive on Sunday. But Mainor had a message from what he saw as a higher authority on what happened to be Palm Sunday.
"My pastor at Monumental Baptist Church on Lafayette Street told me this – the HCDO can pick the line. But the people will pick the winner," Mainor said.
Sources, hearing that Mainor was considering entering the race after he initially seemed to be standing down, told PolitickerNJ over the weekend that Mainor was making a big mistake.
"He told people one thing, and now he's going back on his word," one HCDO source. "Mainor is going to get what's coming to him."
"I am a very loyal person. But what comes with loyalty is honesty. If there's no honesty, there's no loyalty," countered Mainor, pointing out that while he had indeed had a conversation with state Assembly Speaker and HCDO Chair Vinny Prieto in which he almost backed out of running, he did not completely close the door to making a reelection bid. "You can run for the position, or you can run for the people, and I'm running for the people."
Mainor also questioned the idea of Fulop and Cunningham, who have at times been rivals in Hudson County politics, actually brokering a deal regarding the LD 31 situation.
"My understanding is that Fulop said that Cunningham didn't live up to her end of the bargain, so they were going to pick their own candidate," Mainor said. "So if the deal was broken, there is no deal. What did I do wrong?"
Mainor said he had about $35,000 in his campaign account to fight off what he expects to be an onslaught of the full financial power of the HCDO.
But then again, Mainor, knowing "that's not enough to win," said he has commitments for more money to come in.
And with the prism of 2017 Democratic gubernatorial politics automatically reflected in an Assembly race which involves Fulop, a potential gubernatorial candidate, Mainor played it cool as to whether he supported Fulop, state Senate President Steve Sweeney (D-3) or former U.S. Ambassador to Germany Phil Murphy in the pre-2017 scrum.
"They can outspend me, but they cannot outwork me. And for governor, I support no one," Mainor said, who said he expects to have a lot of support in the Jersey City neighborhoods of Greenville and Bergen-Lafayette, where there is a high concentration of African-Americans, and even in gentrified downtown Jersey City, where the Booker T. Washington and Lafayette Gardens housing developments, where Mainor grew up, remain. "I haven't had a conversation with anyone as of right now, but I am open to conversations. Do I want help? Sure, I want help. I'm hoping Steve Fulop will come over and help me, even if I don't see that happening. I believe in helping my friends. And I would love to make new friends, as long as they do right by my community. That's the key."
One reason Mainor, an Assemblyman since 2010, feels that he can win off the line is that Hudson County Freeholder Anthony "Stick" Romano did so last year.
"Stick was out there for the people, and the people remember that," Mainor said. "That's the same thing that's going to happen here. Stick Romano beat the line, and so can I."
Mainor served as the head of the personal security detail of the late former Jersey City Mayor Glenn Cunningham, the city's first African-American mayor, who died in 2004. He drove Cunningham to City Hall on the day he was sworn in. Mainor thought of Cunningham's widow on the day he crossed his person political Rubicon.
"Glenn was a very good man, and he loved his wife dearly. And if his wife is not happy, I don't know how Glenn feels right now. I've got to find out if Mrs. Cunningham is happy," said Manor. "That's what bothers me the most. That's tough."
At the same time, Mainor was ready for what promises to be the toughest fight of his political life.
"When I was walking down these streets in Friday, I realized that so many people have abandoned our district. And I didn't want to be a part of that," Mainor said. "On primary day on June 2, I'm not going to lose. I see victory."