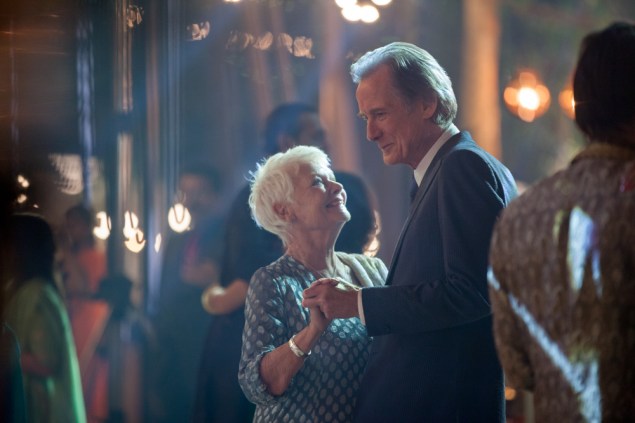 With all due respect to everyone who earned it, and they are legion, I can see no real reason for a sequel to the delicious 2011 hit The Best Exotic Marigold Hotel. It was perfect the first time around. But the second jog around the track passes the time pleasantly enough. The senior set deserves a few crumpets with their tea, and Part Two, which takes up where the original left off, aims to satisfy.
The British pensioners who ran out of retirement funds, relocated to affordable rents in India and refused go home have now taken over the run-down hotel—and business is booming. Somewhere between 75 and death, they conduct guided tours of Jaipur, submit to regular health checkups to make sure nobody has died during the night, and exchange enough nursing-home barbs to keep late night BBC in commercials for years.
---

THE SECOND BEST EXOTIC MARIGOLD HOTEL ★★★
(3/4 stars)

Written by: Ol Parker
Directed by: John Madden
Starring: Maggie Smith, Richard Gere and Dev Patel
Running time: 122 min.

---
The illustrious cast is back, in case there's someone out there who forgot there was such a thing as taste and talent alive in the world after this year's embalmed and catastrophic Oscar show. Evelyn Greenslade (Dame Judi Dench) finds her talent for fabrics put to good use in a paying job sourcing Indian textiles for export. Muriel Donnelly (Dame Maggie Smith) has become a co-manager with Sonny Kapoor (Dev Patel), and when the second installment opens, they are speeding down an American highway in an open convertible looking for investment money to start up a second hotel. The outcome will depend on an official report filed by an independent, anonymous inspector who will arrive unannounced to take notes that could make them or break them.
Meanwhile, Evelyn and Douglas Ainslie (Bill Nighy) are flirting with the possibility of an octogenarian romance now that his awful wife Jean (Penelope Wilton) has filed for divorce. Norman and Carol (Ronald Pickup and Diana Hardcastle) are lurking after others, Madge (Celia Imrie) juggles two rich and randy boyfriends old enough to buy life insurance, and Sonny is preparing the hotel and the city outside the gates for his wedding to hotel bookkeeper Sunaina (Tina Desai).
In the midst of the fireworks, an enigmatic American arrives in the form of Richard Gere, a newcomer whom everyone believes to be the dreaded hotel whistleblower. Mostly, he falls (unconvincingly) for Sonny's mother, Mrs. Kapoor (Lillete Dubey). A cast that big (there are more, too numerous to mention) needs room for character development, a necessary evil director John Madden quickly abandons in favor of plot twists and a storyline that consists primarily of vignettes. Curiously, although adding the length to more than two hours, The Second Best Exotic Marigold Hotel clumps around like a club foot and depends hugely on the charms of its already established characters, most of whom have now become such old friends that the audience will forgive them anything.
The follow-up movie doesn't have the same freshness, surprise or sense of discovery as the first one, but the characters are no less endearing. Judi Dench is warm and gentle and wise beyond her years. Maggie Smith helps enormously by padding out the meandering lack of excitement with her usual tart one-liners ("How was America?" "Makes death more tempting."). Mr. Gere is to be congratulated for taking his rightful place as a member of the ensemble instead of hogging the show, but in the wedding sequence he gets a chance to demonstrate his dancing skills in a solo spot that proves his tap Terpsichore in Chicago was not a flash in the old panorama.
If I have mistakenly given the false impression that I didn't like The Second Best Exotic Marigold Hotel, I apologize. It might lack the same thrill of discovery, but it's as lively in tone and spirit as its predecessor, and a happy reunion with some swell folks whom are a pleasure to be around. A fine time is had by all, and that's good enough for me.