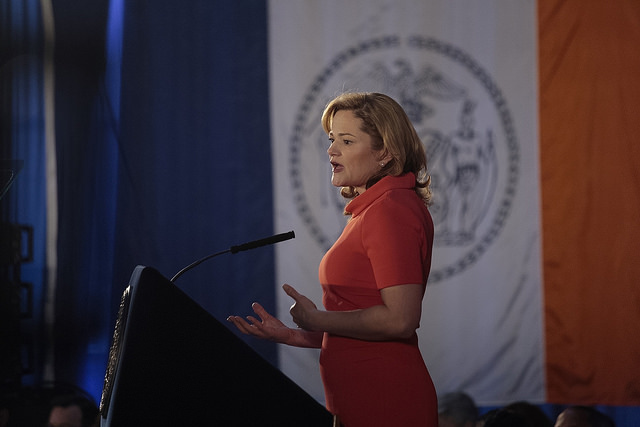 Council Speaker Melissa Mark-Viverito will introduce legislation tomorrow requiring the city to help make it easier for senior citizens to stay in their homes as they age, by providing landlords with a guide to making modifications friendly to older tenants.
"Seniors are the anchors of our communities, and we must ensure that our city's infrastructure allows older New Yorkers to age in place with dignity," Ms. Mark-Viverito said in a statement to the Observer. "This comprehensive housing guide is a key first step and will serve as a centralized source of information, recommendations, and best practices for building owners who smartly seek to meet the needs of New York's growing senior population."
The legislation calls for the city to work with the Department of Buildings and the Department of Housing Preservation and Development to create, hand out and publish online a "guide" for building owners on modifications they can make to help their properties be more friendly to aging tenants.
"Adapting properties to be more age-friendly—including the use of railings, wider doorways and entryways, and better lighting—will provide senior tenants invaluable peace of mind and allow them to age safely in their homes and neighborhoods," Ms. Mark-Viverito said.
The speaker outlined an agenda for helping the city's senior citizens last fall, calling then for ways to help seniors age in their homes and with dignity, as the population of New Yorkers over 60 continues to grow.
Councilwoman Margaret Chin, chair of the Committee on Aging, is a co-sponsor of the legislation.
"Seniors will likely represent at least 20 percent of our city's population by 2030, and our efforts to improve life for older New Yorkers must keep pace with this rapid growth," Ms. Chin said in a statement. "By providing building owners with the informational tools to make their properties more age-friendly, this housing guide would play an important role in keeping senior tenants safely and securely within the communities they call home. Helping seniors to age in place is one of the top priorities for my committee, and I'm planning to hold a hearing on this bill as soon as possible."
Ms. Mark-Viverito's bill will be introduced at the Council's stated meeting tomorrow morning.