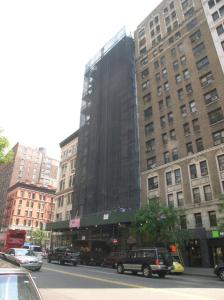 Like Russian oligarchs or Duane Reades, construction scaffolds are omnipresent features of the modern New York cityscape.
Unattractive but inoffensive enough in their spare, skeletal way—and who among us hasn't scampered gratefully beneath one to wait out a sudden rainstorm?—they're so commonplace as to be scarcely noticeable.
Unless, that is, it's your building that's being scaffolded. Then, as you watch your river views disappear behind a fog of green mesh, they can come to seem rather offensive indeed.
And if it happens that you'd like, or need, to sell your apartment while it sits thus enshrouded—well, just ask Ian Schrager about that.
Five years ago, the developer and hotelier put his four-bedroom, 3,630-square-foot penthouse at 285 Lafayette Street on the market for $12.5 million. The apartment took more than a year to sell and ultimately went for $11 million, 12 percent under the asking price.
Prime Manhattan Residential President Robert Dankner represented the buyer on the deal, and asked how his client was able to score such a bargain, he attributed it primarily to one thing—the construction scaffolding up around Mr. Schrager's property at the time.
"This was an extraordinary penthouse in Soho that towered over everything," he said, noting that this made the apartment's views a major selling point. But because it was surrounded by scaffolding at the time, people weren't able to actually take in these views.
This made potential buyers hesitant to pull the trigger, Mr. Dankner said. "I explained to my client that not only would this shield us from competition in terms of the buyer base, but that it should give us an opportunity to negotiate a much lower price as well."
Lower as in $1.5 million lower.
Scaffolding-afflicted sellers can take heart, though, in the fact that Mr. Schrager was unloading his apartment at a very different time, in a market just two years removed from the 2008 crash. Indeed, more recent sales suggest that the current real estate market is robust enough that a bit of scaffolding is barely a speed bump.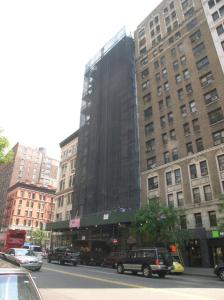 For instance, advertising creative director Ron Castillo closed last month on the sale of his two-bedroom co-op at 35 West 90th Street for well above his asking price, despite the fact that his second-floor views were completely obstructed by scaffolding at the time.
Mr. Castillo admitted that his initial instinct had been to postpone the sale after learning that scaffolding was going up. But, he said, his agent, Town Residential's David Gomez Pearlberg, convinced him to forge ahead.
The apartment, which went for $1.375 million, has "these beautiful casement windows just above street level with a very nice vantage point of these Upper West Side brownstones," Mr. Castillo said. "And the scaffolding, when they put it up, blocked the view, which I thought was a really nice selling point for the apartment. So I just said, 'I don't think I can do this.' But [Mr. Pearlberg] said, 'No, no, the market is really hot right now for an apartment like yours.'"
As a work-around, Mr. Castillo decided to show his potential buyers what they were missing: He printed out photos of the views without the scaffolding, and "when people came in at the open houses, the first thing I told them was that the scaffolding would be down in the winter and here were pictures of what it would look like," Mr. Pearlberg said.
---

'One lady came into the open house and the first thing she asked was, "How do I get out onto the terrace?" And I told her, "That's not a terrace. That's scaffolding.'—Town Residential's David Gomez Pearlberg


---
In fact, he noted, no one at any of the open houses even mentioned the scaffolding—with one exception.
"One lady came into the open house and the first thing she asked was, 'How do I get out onto the terrace?'" Mr. Pearlberg recalled. "And I told her, 'That's not a terrace. That's scaffolding.'"
Providing potential buyers with visuals of apartments and buildings in their non-scaffolded states is key when selling properties under construction, said Jeff Schleider, CEO of real estate firm Miron Properties.
"Often buyers' imaginations are limited, and if you can actually make it real for them, they will see it and it makes the transaction a lot easier," he said.
Mr. Dankner noted that if were he selling the Schrager penthouse today, he would likely use a drone to capture the unit's full 360-degree views. He suggested that sellers facing a scaffolding issue take inspiration from new developments, which are often marketed and sold both before and during construction.
"People are buying off of floor plans," Mr. Dankner said. "They aren't going up to see what they are buying. So developers and marketing teams are very clever in terms of creating aerial schemes and using drones for photography." He cited as an example Tribeca condo tower 56 Leonard Street, where he has represented several buyers.
Mirador Real Estate Managing Partner Karla Saladino, on the other hand, suggested a more straightforward financial appeal. A significant portion of scaffolding, she noted, goes up for work to be done under the city's Local Law 11, which mandates periodic checks and maintenance of building facades. And if that work is currently underway at a building, buyers can learn about any anticipated repairs and assessments before they put in an offer.
"People live in buildings where the time for [facade maintenance] arrives, and all of a sudden they owe $4 million because all of the copper is falling apart and it's a landmark building," Ms. Saladino said. "So to me [scaffolding being up] is actually a positive because it means [maintenance] is already underway. The inspections have been done, and you know if you are going to get hit with an assessment or not."
Last year she represented a couple who purchased at condo building 112 West 72nd Street while it was undergoing facade work. "They were excited that [the maintenance] was going to be over," she said. "They knew when the scaffolding was coming down. It was no big deal."
Another advantage to looking past the scaffolding, Mr. Schleider added, is that, "generally, buildings that have work done see a little bump in [value] once the work is complete."
"So while it's under construction, you're still paying the price for the building with the older lobby or older facade or whatever it might be," he said. "And as soon as the construction is done, the prices start to reflect the value of the new amenities."
He added one caveat: "When it comes to construction, you need to double the amount of time anyone represents to you."
And then there's the tack Halstead Property's Richard Grossman took with his own two-bedroom in the West Village's Brevoort East building: just stepping back and letting the apartment—scaffolding and all—sell itself.
When he put his place on the market two years ago, construction scaffolding blocked not only the apartment's vistas of the Empire State Building and Brooklyn, but access to its setback terrace as well.
"I had nice corner views in two directions, but if someone walked in, instead of being met by this bright apartment, it was kind of a darkish apartment with netting" outside the windows, Mr. Grossman recalled.
Nonetheless, he moved ahead with the sale, not even bothering to line up pictures of the apartment sans scaffolding to show potential buyers.
"I thought the apartment would speak for itself," he said, adding that given the hot market of the last few years, he was confident buyers would see beyond the construction work outside.
And they did. The apartment sold in a matter of days to the second person who looked at it, Mr. Grossman said.
Did he get his full ask? He doesn't recall, he said. But, he noted, "we were happy with the sale."
Even in this market, though, not every attempt meets with success. A year ago, Corcoran's Beth Benalloul had a second-floor listing at 1760 Second Avenue with scaffolding-obstructed views. After struggling for a time to sell the unit, her client changed course and decided to rent it instead.
No doubt the scaffolding didn't help, but, Ms. Benalloul said, in this case the real culprit was a different construction job—the Second Avenue subway burrowing by below.