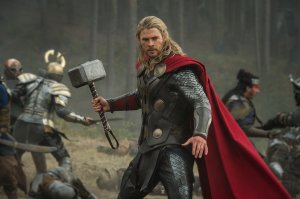 Could Thor or The Amazing Spiderman get the axe?
David Gabriel, Marvel's senior vice president of sales and marketing, told ComicBook.com Wednesday that fans can expect a downsizing of some of the publisher's beloved superheroes to make way for its new series Secret Wars.
"The entire Marvel Universe will be affected in some really shocking, really surprising ways," Mr. Gabriel vowed. "It's not just an event with a few tie-ins, it's an entirely new publishing line, an entirely new television network's fall line-up if you will."
Mr. Gabriel didn't give away any clues as to which comic book heroes will make a return post Secret Wars but said Marvel was "ending those stories and characters as you knew them – for now".
Elana Levin, co-host of Graphic Policy Radio, said it's most likely Marvel is just using the Secret Wars as a way to start anew with some older titles.
"They're just using this as a way to draw some stories to an end and then create a whole lot of issue number ones after [Secret Wars] ends," Ms. Levin told the Observer.
---

Marvel's comic books and its publishing platform will be ultimately changed in a way readers will never expect, according to Mr. Gabriel.

---
Sam Ferri, illustrator and cartoonist, who has contributed to the Observer, agrees with Ms. Levin about Marvel's decision to end some series, and said he's not worried about the future for some of the bigger Marvel heroes.
"They do this stuff every few years," Ms. Ferri explained. "They get to point where it's only so big, they get to start over from scratch. It's kind of gimmicky."
Mr. Gabriel said their new comic book universe Secret Wars "truly has been a creative-driven process" and will mean Marvel's comic books and its publishing platform will be ultimately changed in a way readers will never expect.
The Secret Wars, named after the 1985 miniseries, will see an end to the current Marvel Universe, and rising up out of the ashes will be Battleworld, Last Days, and War Zones – three projects that make up the greater Secret Wars platform.
The Secret Wars will see many new plot lines, including the Amazing Spiderman raising a family in the Warzones platform.
Ms. Levin said she is excited to see how this creative process will affect the comic book world but she does worry about some of the series that are important part of the comic book culture might not survive the Secret Wars.
"I really worry about what's going to happen to the Storm comics because I think it's incredibly important to have comics that feature women of color as the heroes," Ms. Levin said. "It's well written, it's well drawn and it's asking people important questions, but I don't know that its sales of that book are enough for it to be coming back."
Mr. Ferri added that even though the future is unclear for some titles, fans will always return to the series because peoples' fascination with mythology.
"Comic books have always been fascinating to me because they are some of the longest kind of narratives that humanity has," Mr. Ferri said. "It sort of abstracts our everyday experiences."