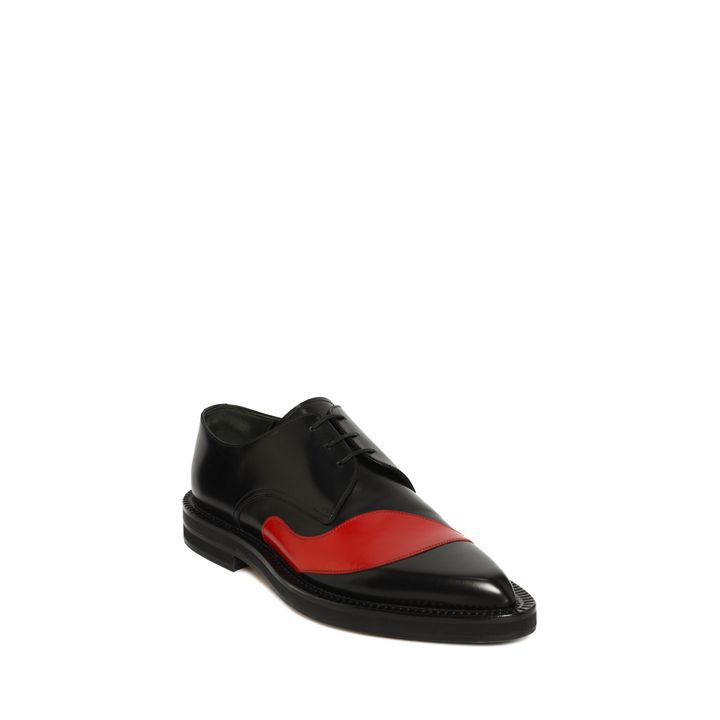 In the spirit of her mentor, creative director Sarah Burton, of Alexander McQueen, reimagined the building blocks of menswear for the spring 2015 collection. Coordinated suiting gave way to multicolored swirls; a smoking jacket became a blank, white canvas, with indigo and seafoam flourishes emanating from the side, instead of from a tie or pocket square.
The label's Exaggerated Welt Lace-Up shoes are a perfect example of this reworking using color. An invitation for men to add character to their suiting in a way that goes beyond a playful sock or a mischievous tie.
From afar the oxfords are typical two-toned lace-ups. Up close scrutiny reveals the brogues' pop-art-meets-punk-rock vibe. The red detail is not a saddle-shoe-style chunk of contrasting leather, but an elegant, red strip sewn into a black base.
On the runway, the shoes were paired with bright red socks, swirl-heavy shirts, black tights and black shorts. Such boldness is not mandatory, of course; the pointy-toed brogues can also function as a bumptious statement piece for an otherwise sensible suit. $890, AlexanderMcQueen.com ν