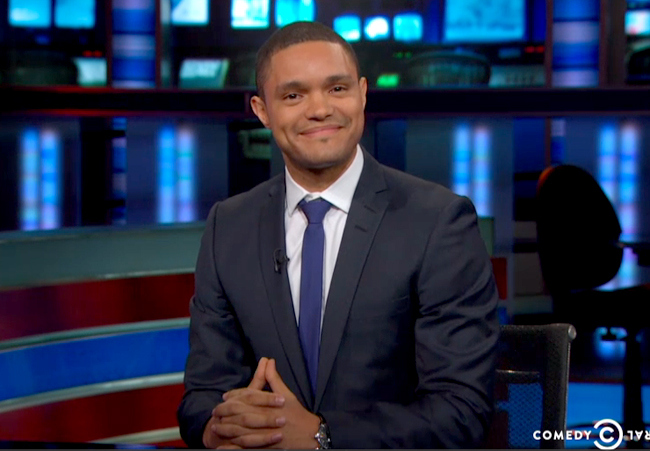 Just a little over two months after Jon Stewart announced his retirement from The Daily Show, the nightly satirical news program has named his official replacement: South-African comedian Trevor Noah. This news has been met with both positivity and negativity, but mostly with "buhh whaaa wait whaaa who?"
That's okay, though. Mr. Noah has only appeared on The Daily Show a handful of times, and is far better known in his native South Africa for his stand-up, which admittedly does touch on all the signature Daily Show themes and tropes, and touches on them quite well.
[youtube https://www.youtube.com/watch?v=2r-464KzH_k]
Probably his most memorable Daily Show appearance was when he played a game called Spot The Africa with Mr. Stewart "I never thought I'd be more afraid of the police in America than in South Africa," he joked, but not really.
[youtube https://www.youtube.com/watch?v=AHO1a1kvZGo]
"You don't believe it for the first few hours," Mr. Noah told The New York Times, which first reported the news, about his new gig. "You need a stiff drink, and then unfortunately you're in a place where you can't really get alcohol."
So, some thoughts. Or maybe some worries first. The best argument in Mr. Noah's favor is that Jon Stewart was in a similar situation to him when he himself took over The Daily Show from Craig Kilborn in 1999. Not one person could have predicted how well this young comedian from The Jon Stewart Show on MTV of all places would do, nor how culturally ingrained just his name would become more than two decades later. So, really, the same could be said for Mr. Noah. Who knows? But on the flip side, I don't think The Daily Show itself was the same Daily Show when Mr. Stewart took it over. People automatically add "with Jon Stewart" to the end of that title now. Jon Stewart is the Daily Show, for better or worse. No matter how funny and charming and smart Mr. Noah is, and he is all three, there's a chance that it just won't work, and that's the plain truth. Larry Wilmore is basically killing it on The Nightly Show, but it's just not The Colbert Report, and that matters for a lot of people.
HOWEVER, to be fair, there is literally not one person Comedy Central could have chosen that would have been universally, 100% celebrated as Jon Stewart's replacement. Because there is no replacing Jon Stewart. Comedy Central could have sent out an announcement saying they reanimated the corpse of Johnny Carson in a lightning storm, and he will be taking over the show with a reunited Led Zeppelin as house band, and people still would have been like "meh, we'll miss you Jon." So they did the right thing. They didn't even try to get a replacement, they went out into left field to get someone young, new, and with a way different perspective on things than Jon Stewart.
And new is important here. Some think they should have grabbed a big name like Tina Fey, so we can appropriately distance the show from Mr. Stewart after he leaves. First of all, in what backwards ass universe would Tina Fey say "screw this amazing career I have" to host a satirical news show, even one as relevant and intelligent as The Daily Show, every. single. night? And secondly, The Daily Show without Jon Stewart needs to be a lot of things, but most importantly it needs to be as different as possible. Forget it, maybe in two decades we'll be parading Mr. Noah through the streets, chanting "Jon Who?"
Like I said, who knows?