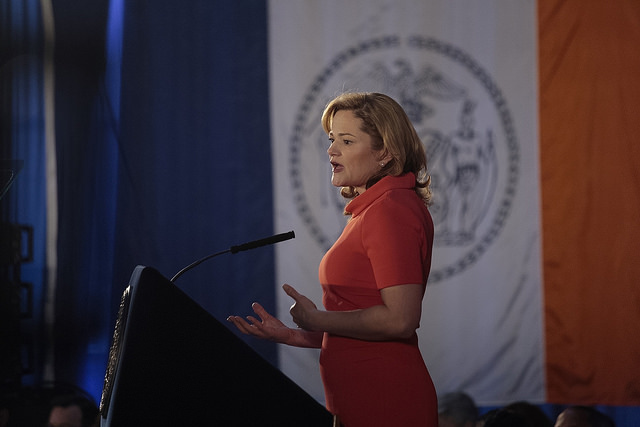 Council Speaker Melissa Mark-Viverito said today she isn't sure what she's going to do when her term ends in 2017—but she won't be done with politics.
On WNYC's Brian Lehrer Show this morning, guest host Juan Manuel Benitez took note of Ms. Mark-Viverito's frequent travel within and outside the United States—and her active fundraising. Though she's term-limited out of the council in 2017, Ms. Mark-Viverito has raised $152,408 to run for an undeclared office in 2017, according to the city's Campaign Finance Board, though some of the cash is aimed at paying down debt accrued in the race for speaker.
"You're not done with politics after you finish this term, are you?" Mr. Benitez asked.
"No, I'm not. Let me be clear—I think some comments I've made in the past have been misinterpreted," Ms. Mark-Viverito said. "But I think there's a lot of different ways that one can contribute to our city, and to moving us forward. So I don't know. The door is open. I don't know what options will present themselves. But you can never be over-ready, and I'm trying to be as ready as I can in terms of figuring out what paths open up for me after I leave the City Council."
At first, Ms. Mark-Viverito seemed to say she was open to running for office before the end of her term as speaker, though she added "at this moment, it doesn't really look like that would be an option."
But when Mr. Benitez followed up and asked if she'd be interested in leaving the council early—saying for a congressional race, she clarified that she will serve her full term.
"I will not consider a position that would have me leave the speakership early," she said. "I think that there's a lot to do. I believe in the vision that we laid out in the Council. l believe that I'm making a positive impact and that there's a lot more that I can do here in the City Council in fulfilling my term. I do not see myself at all leaving my term early."
Some have eyed Ms. Mark-Viverito as a potential candidate for the Congressional seat being vacated by former Congressman Charles Rangel, a House district that overlaps with her council turf and will be an open seat in 2016. But Ms. Mark-Viverito has said before she is not interested in that race.
"I continue to be flattered but that's not in my sights at the moment," she told NY1 in January.
Mr. Benitez took a moment to double-check Ms. Mark-Viverito's plans.
"So just to clarify, you'll be speaker of the City Council—" he began.
"Through the full term," she cut in.
It's unclear what other seats might open for Ms. Mark-Viverito to make use of her 2017 campaign account, with her ally Mayor Bill de Blasio will be up for re-election.