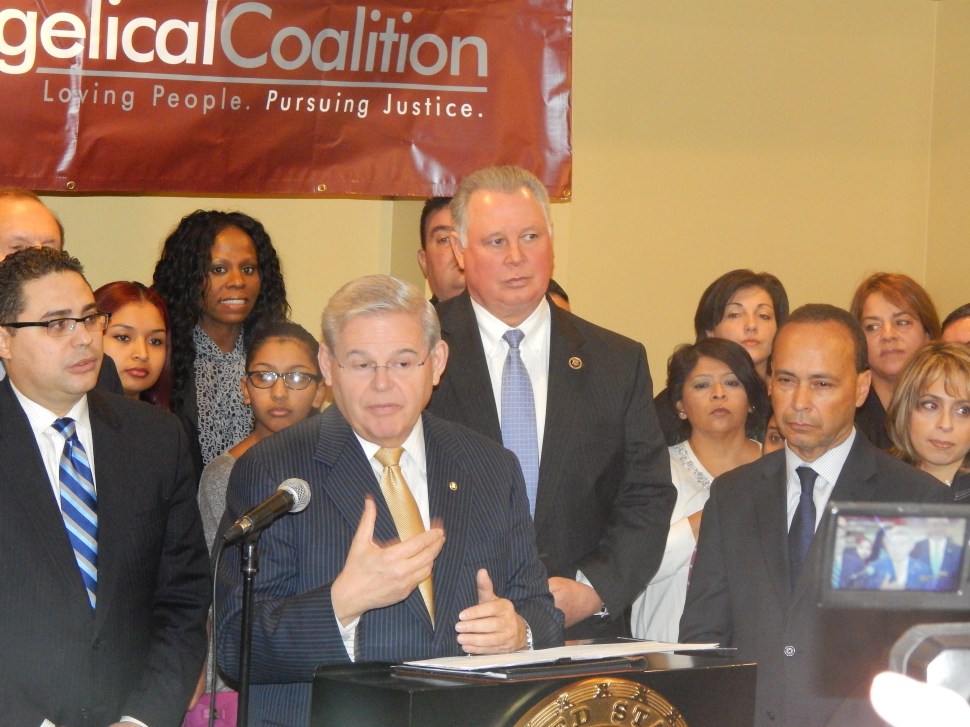 Bitter feeling from the beginning rankled the New Jersey camp of Hillary Clinton when it came to Barack Obama.
"The greatest hoax ever perpetrated on the American electorate," a Democratic source told PolitickerNJ, standing glumly amid 2008 confetti, bemoaning the election of Obama to the presidency as others in his party, with deep emotion, celebrated a moment in American political history.
A prickly contest between Clinton and Obama had spilled into New Jersey with a particular vengeance.
Clinton Democrats weren't supposed to lose.
They didn't, at least not in the New Jersey primary, where Clinton convincingly beat her rival by nine points.
But then they did, in the long game.
And it hurt.
In Denver, New Jersey power brokers had tried to prevail on Obama's people to land a speaking role for U.S. Sen. Bob Menendez (D–N.J.), who successfully led the campaign for Clinton in New Jersey only to get his heart broken by the long war of attrition that ended when his candidate lost.
The effort to land a microphone for Menendez likewise proved unsuccessful.
Sources for years in the aftermath writhed with the telling of a story about how Obama kept Menendez waiting for an interview, while others close to a pro-Clinton fundraising apparatus otherwise known as "the Group" said they found Obama's cool style off-putting and irritating. When Obama showed up at a fundraising event at Jon Bon Jovi's house during the general election season, he left several sources cold.
They tried to summon some goodwill for the new President when he installed Clinton as secretary of state and in subsequent conversations with PolitickerNJ acknowledged pride in the U.S. killing of Osama bin Laden.
But there was little naturalness in the relationship between that core of Clinton and Menendez diehards and Obama – and no joy.
Sources close to members of the delegation well into the first term routinely complained about the aloofness of the Obama White House and the President's inaccessibility. If Bill Clinton had partied in the 90s with this group and made New Jersey a political force to be reckoned with for the Democratic Party, Obama seemed unavailable in the bear hug department.
The lone person who backed his candidacy among those members of the New Jersey Congressional delegation – U.S. Rep. Steve Rothman (D-9) – lost a redistricting battle with ferocious Hillary Clinton advocate U.S. Rep. Bill Pascrell (D-9).
That campaign proved a fascinating testing ground of the old intra-party antagonisms going back to 2008, as Rothman tried to charm primary voters in part by burnishing his closeness to the President, while Pascrell countered with a barrage of unending Clintonisms. As the election intensified, it was difficult to find a street corner in Paterson unaccompanied by the strains of the former president's voice singing Pascrell's praises.
Behind the scenes as Pascrell mounted the stage of victory, old Clinton backers delighted in the optics of Rothman's implosion amid unmistakable strains of a politically impaired President wobbling toward his own reelection.
But for all the ill will and awkward lack of Menendez this time had an obvious interest in Obama's 2012 reelection victory. If Obama won, Kerry would likely vacant the chairmanship of the Senate Foreign Relations Committee to become Secretary of State, leaving the senator from New Jersey with an unimpeded path tot he chairmanship.
Obama won. Kerry won.
And then Menendez won.
But between the Middle East and Cuba and the old irritations over the President's failure to work Beltway politics the way someone like LBJ had on a matter as sensitive as Syria, for example, Menendez as chairman of the Senate Foreign Relations Committee found himself regularly back to where he began with Obama.
Sources close to the senator noted his political competence as chair, by way of contrast with the White House's foot-dragging on a 2013 war resolution.
His old friend and political ally summed up the bad feelings that same year when Obama shook the hand of Raul Castro.
"I'm very disappointed that the President would shake the hand of someone who stands for the opposite of everything Nelson Mandela stood for," said the Cuban American Congressman from Hudson County. "Castro stands for the abuse of human rights and lack of freedom. It was just very hyprocritical of the President to go and honor Mandela and then turn around and shake hands with Castro."
Sires said he doesn't expect an apology.
"This president doesn't apologize," he said.
Union City allies shrugged off the President. "A bunch of speeches, nothing more," a source told PolitickerNJ. They had watched Menendez over many years grow into a government animal, tested in political fights, an ex-bullet proof vest-wearing tough guy, whose whose savvy seemed of little value to Obama, an untested entity who had leap-frogged into the White House after just three years in Washington, D.C.
Hounded by a scandal into his acceptance of gifts from a wealthy doctor donor, which failed to slow his own cruise control reelection victory in 2012, Menendez gutted out a public presence over the last two years that inched with each passing headling away from Obama on critical foreign policy matters.
On the heels of his outrage over Obama's decision late last year to normalize relations with communist Cuba, the senator criticized the President's efforts to negotiate a nuclear arms cessation in Iran, then said he supported giving Obama more time to hammer out a deal.
It wasn't completely gloomy.
Menendez supported Obama's executive action on immigration, and used the opportunity to criticize Republicans otherwise his allies on the Middle East and Cuba.
But when the senior U.S. Senator appeared in the Capitol with Israeli Prime Minister Benjamin Netanyahu earlier this month and lent his presence to the cause of a leader openly hostile to the President's Middle east policy, the old divisions starkly reappeared.
That old group of backers in the lead up to that moment quietly applauded their champion, praising the senator's loyal support for Israel in the face of a President too willing to compromise, in their estimation. Their goodwill coincided with the political reemergence of Hillary Clinton, who is poised for a 2016 presidential kickoff next month.
If Obama was looking ahead to his own legacy, Menendez had an eye on the political mechanics the Democratic Party would need in advance of a national election, one in which the party could not find itself saddled by the perception of foreign policy weakness.
Then the leak at the Department of Justice revealed a coming indictment of Menendez on corruption charges.
Behind the scenes, in the backrooms of New Jersey politics, rage abided with roots in the 2008 election.
There was no proof. But in multiple off the record conversations with PolitickerNJ, the older generation of Democrats, gradually reawakening and newly thrilled with the prospect of another Hillary Clinton run and suddenly short-circuited by the optics of the Menendez story and then the Clinton email story, blamed the Obama adminsitration.
They blamed the President for the mess with Menendez.
A source, enraged in the last 72 hours and speaking on condition of anonymity, swore that the senator would have every financial resource at his disposal to fight an unjust leak and indictment.
Still others regarded the scene in disbelief, and dismissed the notion of political payback, returning to an argument they've relied on from the start when assessing the politics of this president.
Menendez could advance to high office and stay there, build relationships with Republicans and Democrats alike, exhibit loyalty like few other NJ pols and rail against international terrorism and communism. Critically – and here he was unlike anyone else – he could also continue to keep Hudson County in line and punish a local rival when it counted in a place like, say, West New York.
But Obama?
"Obama's White House isn't that good," insisted one federal source.