Senators Bob Menendez and Cory Booker as well as numerous members of the New Jersey delegation crowded into the joint session of Congress today to hear Benjamin Netanyahu, Prime Minister of Israel, denounce a nuclear weapons deal the Obama Administration wants with Iran.
Menendez has been especially vocal in his own opposition to the deal.
He doubled down in the moments after the speech.
"It was a very effective speech in outlining to the present framework of the deal that is attempting to be negotiated with Iran, and also the consequences if the deal is struck in a certain way," Menendez told reporters. "And while many of the elements of that speech I have said separately at different times, I think the effectiveness in addition to the presentation was that he had the whole Congress' attention riveted on the issue. And that is a very powerful opportunity to develop a different narrative than the one we have been hearing."
Menendez has routinely hit heads with Obama on foreign policy points, not only in the Middle East,but late last year when the President announced his executive decision to normalize relations with Cuba.
"I think it stinks," Menendez said at the time.
After accompanying Netanyahu into the joint session of Congress, the Democrats' ranking member of the Senate Foreign Relations Committee assumed a seat in the front row.
A longtime Obama ally, Booker avoided addressing the Netanyahu speech itself in a statement and emphasized the fact that no deal exists at present.
"Israel is one of our nation's most important allies," said the junior senator. "We have many common goals, and share a steadfast determination to prevent Iran from developing a nuclear weapon. The President has asked for the time necessary to pursue a good deal, and I have joined with many of my colleagues in granting him that space during the final stages of the ongoing talks. If a deal is not reached or if a deal doesn't adequately protect our national security and the security of our allies, I will join with what I am sure will be a bipartisan coalition to pursue significant additional sanctions on Iran."
Facing election later this month, Netanyahu said the deal Obama seeks will "guarantee" that Iran gets nuclear weapons because it allows the Islamic republic to keep much of its nuclear infrastructure in place. The administration called the address a breach of protocol.
U.S. Rep. Bill Pascrell (D-9) also sat in the chamber. So did U.S. Rep. Albio Sires (D-8).
U.S. Rep. Frank Pallone (D-6) was in the room.
While some GOP representatives regarded the Israeli prime minister's relationship to Obama on Iran as Winston Churchill stepping over the deflated legacy of Neville Chamberlain on the runway to WWII, Pascrell shrugged off the speech.
"I don't think it exacerbated the controversy," he told USA Today. "I still think it's partisan theater, but it is what it is."
Expressing pro-Israel views, freshman U.S. Rep. Bonnie Watson Coleman (D-12) nonetheless had the harshest words for Speaker John Boehner's (R-OH) invitation to Netanyahu.
"As a fierce supporter of Israel, I am disappointed in Speaker Boehner's efforts to drag Prime Minister Netanyahu into the GOP's endless efforts to undermine President Obama," Watson Coleman said in a statement. "His failure to consult with the White House ahead of inviting the Prime Minister, and his decision to move forward with the address despite the upcoming Israeli elections is inappropriate and disruptive to U.S. foreign policy.
She did not attend the speech.
U.S. Rep. Chris Smith (R-4) did, and applauded Netanyahu.
"We have to be realistic about Iranian President Rouhani because many in the media – and some in the administration – have been reluctant to do that. Rouhani has a long history of murderous anti-Semitism and anti-Americanism. The corpses are all over the globe," said Smith, a senior member of the House Foreign Affairs Committee. "This is the man that our government and Prime Minister Netanyahu are dealing with. For 16 years, Rouhani ran Iran's nuclear program. He has boasted openly of his success in using negotiations as a tool to buy time to advance his program. The question before us is whether the agreement President Obama is trying to close with Rouhani is yet another deal favorable to the Iranian government, allowing it to move the hand on the nuclear clock yet closer to midnight."
Obama, for his part, "said the prime minister offered no 'viable alternatives' to the current course of negotiations," according to this Reuters report.
Two other members of the New Jersey's delegation responded on opposite sides of the issue.
U.S. Rep. Leonard Lance (R-7) attended the speech. U.S. Rep. Donald Payne (D-10) did not attend.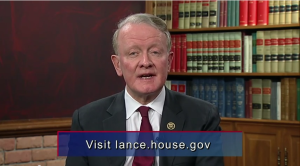 "Prime Minister Netanyahu delivered a strong and powerful speech before Congress and to the American People," said Lance. "Israel does not stand alone. The United States stands with Israel and the Israeli people in strong support of their right to defend themselves from terrorism and the threat of a nuclear Iran.  This Congress must cast aside partisan politics and work together to ensure the safety and security of Israel with tough economic sanctions and a vote to end Iran's nuclear program permanently.  America's commitment to Israel must always remain steadfast and our unique bond of friendship must never be broken."
Payne likewise issued a strong statement for Israel, but with a different result than Lance, Pascrell, Booker and Menendez.
"I strongly support Israel, and believe it's absolutely critical that we maintain the strong relationship between our two countries," said the Democratic congressman from Newark. "I also am in complete agreement with Israel that we must prevent Iran from getting a nuclear weapon. I welcome a visit from Prime Minister Benjamin Netanyahu, as well as the chance to greet him. But I believe that his visit should take place after the Israeli election and Iran sanctions deadline.
"Speaker Boehner's unilateral invitation to Prime Minister Netanyahu was a breach of protocol that I do not feel was in the best interest of either of our countries," Payne added. Israel is our closest ally in the region, and we should continuously strengthen our relationship, not undermine it by bringing partisan politics into the mix. After much consideration, I have decided, for these reasons, not to attend Prime Minister Netanyahu's speech."
U.S. Rep. Tom MacArthur (R-3) also attended the joint session and applauded Netanyahu on his Facebook page.
"Just finished listening to Prime Minister Benjamin Netanyahu's address to Congress,' MacArthur wrote. "It was an incredible experience, and one that reaffirms for me that we must stand strongly with our dear friend Israel."
Sires backed up Menendez in a statement.
"Prime Minister Netanyahu's speech presented a compelling argument; reminding us all of the grave threat we face as Iran continues its quest to acquire a nuclear bomb," said the Hudson-based congressman. "Iran's policies in the Middle East region, particularly towards groups that support violence and the prevention of an Israeli-Arab peace process, are perpetuating instability. Iran's financial and material support of various militant groups poses a clear threat to American interests abroad."