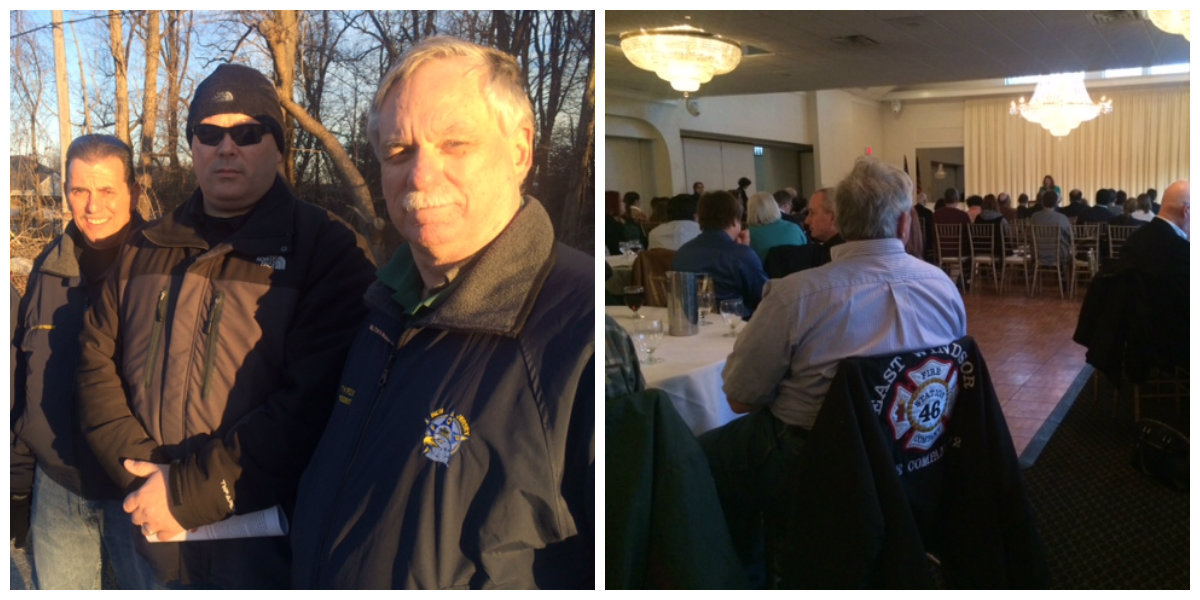 HAMILTON TOWNSHIP – The only surprise the members of the Mercer County Democratic Committee experienced on the night of their convention was from approximately 40 protesters from the state Fraternal Order of Police (FOP). Their concern was over one of the people inside.
"We're here tonight to tell the Democrats that [Mercer County Sheriff Jack Kemler] has to be reeled in," Robert Fox, president of the New Jersey State FOP, told PolitickerNJ on Wednesday outside of the Stone Terrace catering hall in Hamilton Township, flanked by his members, including those from FOP Lodge 140. "He's interfering with the PBA [Policemen's Benevolent Association] and FOP PERC [Public Employees Relations Commission] election which is going on right now. He's using intimidation to try to sway the election. We want the Democrats to know about it, and maybe they should look for a new candidate for sheriff in three years when [Kemler] comes up for reelection."
Fox handed PolitickerNJ a fact sheet composed by the FOP listing a series of allegations against Kemler, including disciplining those who were not his political allies while favoring those who are.
"If he doesn't get his way, he moves people around," said Fox, whose union is in the middle of contract negotiations with the Mercer County Sheriff's Office. "He's lost so many grievances, unfair labor practice (ULP) charges, he wants his people in there so he doesn't have to deal with it.
"The sheriff is leaning toward the PBA, because they're his guys," added Fox about the election, which includes the chance of changing to PBA union representation.
Inside the Stone Terrace, Kemler, reelected to a four-year term last year, shot back.
"I deny the allegations," Kemler said. "There is a PERC election scheduled for April 2, and whatever happens at the PERC election happens. Whoever wins the PERC election, I'll support that."
Kemler also handed PolitickerNJ a written statement.
"[I have] not tampered or attempted to influence any such union election. For anyone to do so would be unethical," wrote Kemler in his statement, calling the allegations against him "completely untrue and unfounded."
"This matter is a labor issue," Kemler added. "This is America, and FOP members are completely free to vote their own conscience and on their own accord."
The tone overall at the Mercer Dems' meeting was confident.
"We don't have competitive seats, and yet you come," said Mercer County Executive Brian Hughes to about 200 assembled committee members. "We are going to raise the funds that are necessary, and we are going to take a very positive message to the Republican Party."
Democrats are largely in control of Mercer, one of the reasons why the protesters camped out in front the party's committee meeting.
From the inside looking out, Democratic officials responded to the protesters.
"We have absolutely no jurisdiction over that PERC election. That's between the unions and the members," said Mercer County Democratic Chair Liz Muoio, who is also a state Assembly candidate in the 15th Legislative District. "The county will work with whatever union is representing the officers."
"I don't have any stance on it one way or another," said Hughes. "This is America. They have the right to protest, and Jack Kemler, or anyone else, has the right to run for sheriff."