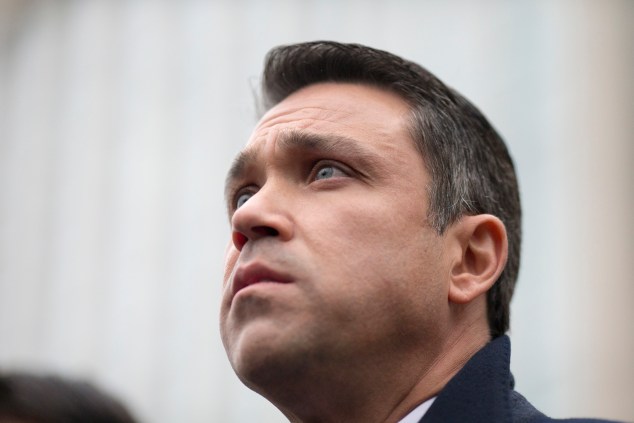 Some federal prosecutors and judges don't know what it's like to serve in combat–and that may doom Michael Grimm, his political mentor claimed today.
Guy Molinari, a former Staten Island borough president and congressman, raged against federal judges after Diana Durand, a woman who pleaded guilty to funneling illegal campaign contributions to Mr. Grimm, was sentenced to three months in prison yesterday. In an interview with the Observer, Mr. Molinari said that Mr. Grimm, a former Republican congressman who resigned in January following a guilty plea to a federal tax evasion charge, should receive a lighter sentence because he served as a marine in the Gulf War.
"Does military service mean anything to these judges? He volunteered for his country–a Humvee blew up near him and killed three marines. He willingly sacrificed himself for his country. Does that count for anything now?" Mr. Molinari, a Republican and Korean War veteran, asked.
"Where were these sons of bitches when it comes to combat? Have they ever served? Probably not," Mr. Molinari added, calling the Grimm and Durand indictments "political." "It's the furthest thing from their mind to serve in combat."
Mr. Molinari, 86, was a fierce backer of Mr. Grimm during his re-election campaign last year, even speaking at a rally from a wheelchair. Mr. Grimm claimed he was innocent of tax evasion charges but pleaded guilty to a single charge after he won re-election in November. Throughout the campaign, Mr. Grimm alleged Democrats, including President Obama, had unfairly targeted him through the legal process.
Mr. Grimm will be sentenced in June. Following Ms. Durand's sentence, Mr. Molinari is not optimistic that a federal judge will go easy on the former congressman.
"Absolutely I'm worried about him. This whole thing is hard to understand," he said. "You have to question what's going on here. It really blows your mind. What the hell are they doing?"