It's ironic that at a moment when precious, historically important or beautiful antiquities are being sledgehammered in politically unstable regions of the world, New York is playing host to hundreds of treasures spanning four millennia. 
One week every March, about 40 antiques dealers in Chinese, Japanese, Korean, Indian and Southeast Asian material mount their top exhibitions of the year. Cultural institutions like the Asia Society and the Rubin Museum of Art host special events, lectures and celebrations of this so-called "Asia Week." At the same time, auction houses host their biggest annual sales of Asian art and antiques. Items ranging from golden Buddhas to ancient scroll paintings to stone deities go on display, or on the block, from March 13-21.
If every picture tells a story, every object has a tale. Here, the background behind four of the items for sale, for a few thousand dollars up to $1.5 million, at auction:
Under Watchful Eyes
For years, this rare bronze figure of a seated yogi, thought to be at least eight centuries old, sat in a Fifth Avenue apartment above the bed of Robert Hatfield Ellsworth. Ellsworth was an early dealer and collector in Asian Art, so influential in the field The New York Times once dubbed him "The King of Ming."
---

As the trade routes opened up, those living along them developed notably exotic and luxurious tastes.

---
Now, Christie's is selling off his estate in six auctions, including their first-ever evening auciton of Asian art, with much of the Ellsworth material displayed in an unprecedented full recreation of his 22-room home.
Among the 1,400 or so pieces the scholar/devotee accumulated—he began collecting around the age of 17—were Chinese paintings, an extensive assortment of Ming furniture, and ancient bronzes, all of which were on view to be admired by the wealthy clients, actors, socialites and the odd Rockefeller or two (John D. Rockefeller III was a big client) who passed in and out of Ellsworth's apartment. There was even a rug that had once resided on the floor of the emperor's quarters in Beijing's Forbidden City.
The bronze, though, is one of the most treasured items and is estimated to sell for about $1.5 million at auction on March 17. According to Leiko Coyle, specialist in Indian and Southeast Asian Art at Christie's, the yogi is "one of the most iconic [pieces] associated with Ellsworth," most likely a figure of Padampa Sangye, an Indian mystic known for living out in the jungles or forests practicing esoteric meditation methods in the 11th or 12th century.
While Ellsworth sold off many of the works from his collections over the years—and in 1986 he donated 500 works to the Metropolitan Museum of Art—his bronze yogi always remained by his side. Ellsworth died in 2014 at the age of 85.
The item that immediately follows the bronze on the auction block is not there by coincidence. Lot nine, a bronze eight-pronged vajra from Tibet—a symbol of indestructibility and power similar to the tools Padampa Sangye would have used—was sent to Ellsworth after a friend learned the collector was ill. The iron object was accompanied by instructions to sleep with it under his pillow and, two weeks later, Ellsworth, as noted in the sales catalogue, is said to have made a full recovery. From then on the vajra rested on the collector's headboard, right below his prized yogi. The charm is being sold separately (estimate: $6,000-$8,000), but it's Ms. Coyle's hope they end up together.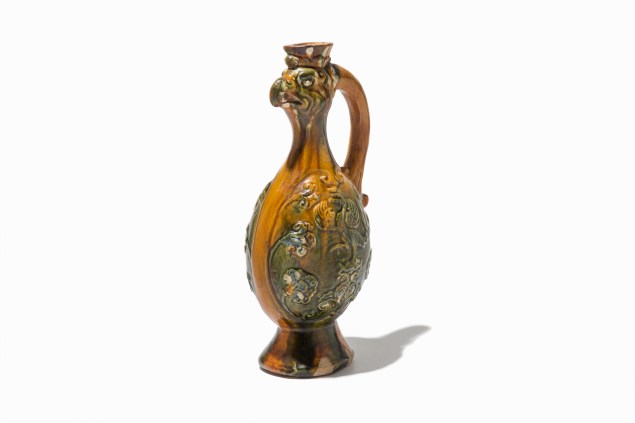 A Rising Phoenix
Before the Silk Road was a name associated with the Internet's black market, it was the historic trade route linking East to West. Merchants would trek Persian silverware or textiles to the Chinese nobility, while cloth and spices would be transported back. As the trade routes opened up, those living along them developed notably exotic and luxurious tastes (markets were soon filled with ivory and camels, for example), and for a few centuries the Tang Dynasty enjoyed what is often spoken as the golden age for Chinese art.
Among other things, the Tang era produced large quantities of ornate pottery. At online auctioneer Auctionata.com this Sunday, collectors can bid on a rare Phoenix-head ewer (a jug-like vase) 13 inches in height and covered in a vibrant mottled blue and green dripped glaze. 
Valued at an estimated $15,000 to $30,000, "the form of the ewer is borrowed from Central Asia," according to Phyllis Kao, Auctionata's specialist and head of sales of Asian Art in North America. The item illustrates the kind of cultural cross-pollination born directly out of the Silk Road. While one side of the object depicts a phoenix spreading its wings, the other shows an archer on horseback, firing arrows as he flees a battle. The archer's technique is known as the Parthian shot, which can be traced back to Iran, Ms. Kao noted.
A Sculptural Circus
Apparently, $90,000 can buy you a pair of six-foot-tall cloisonné elephants. Who knew?
Or at least that's what Doyle New York auction house hopes the creatures bring when the massive sculptures go on the block at the company's sale on March 16.
Thought to be early 20th century, these particularly gaudy-but-fabulous cloisonnés were made a little later than others of their kind—a typical Chinese piece in this style usually dates more than 100 years earlier. (The pairing of animals is typical for that period.) But it wasn't until the end of the second Opium War in 1860 that interest in these elaborately designed items sparked among Westerners.
Somehow, these elephants eventually wound up in a Palm Beach home, possibly one on each side of a door. Their rare gargantuan size, says the sale's consultant appraiser Marley Rabstenek, is what makes them particularly compelling  to collectors. 
In fact, the elephants could very well hit the six-figure mark. Cloisonné has a history of doing well at auction—just last year, a Ming cloisonné bowl, although a lot rarer than this particular lot, sold for $2.6 million. And this pair, because of sculpture and style cues, Doyle said, will likely appeal to both U.S. bidders and Chinese collectors.
Fetish Flasks
Snuff bottles: There's something vaguely illicit about them. Crafted in all sorts of shapes and materials—porcelain, jade, glass, bamboo, even precious stones like ruby or amethyst—they emerged out of China's imperial court in the 1600s. The tiny vessels were used for centuries to inhale a concoction of powdered tobacco and herbs through the nose, up until around the fall of the Qing Dynasty in 1911. Back then, there was a bottle design to suit the tastes of every noble and emperor's consort, much like a stylish monogrammed cigarette case.
While we may no longer indulge in snuff, there's still a cult-like passion for these elegant trinkets among collectors. In 2011, Bonhams sold a particularly rare one in Hong Kong for around $3.2 million, the most expensive ever, and just last year the Met displayed around 80 in its exhibition "Small Delights." Now, Bonhams is selling 100 bottles, all priced at around $6,000, March 16.
Part of a wider collection owned by Brooklyn (now Florida) couple Barbara and Marvin Dicker, the sale predominantly consists of agate bottles, as well as a selection of porcelain and enamel pieces. The collection is rich with surprises: Take the enamel and copper bottle emblazoned with a dragon breathing out a flaming pearl, for example, or the bottle featuring illustrations of frolicking Pekingese and doves. The pink glass cabbage one, according to Dessa Gorddard, Vice President and Director of Asian Art for Bonhams, "represents transparency, cleanliness and purity." 
So what compels so many people to collect these tiny objects? Ms. Goddard believes that it's the very size of them that makes them so appealing. "It's a portable art form that has so much involved in it in terms of symbolism, Chinese culture, beauty and iconography."
The Dickers are members of Baltimore's International Chinese Snuff Bottle Society, a group of private collectors who convene at annual meet-ups across the globe. However, when asked about that record-breaking 2011 sale, even Society treasurer John Ford, who inherited 600 bottles from its founder, told the Observer he thought it "almost absurd to spend that much money on one bottle."