Veteran Monroe Mayor Richard Pucci will not pursue reelection this year, an announcement that conceivably has district-wide consequences in the battleground 14th.
A Democrat, Pucci has reliably turned out the vote come election time for his allies.
His absence on the ballot could play havoc with ordinary expectations from the typically politically muscular mayor. Incumbent Assemblymen Wayne DeAngelo and Dan Benson, both of Hamilton, are on the ballot this year, and will run without the ticket presence of a longtime bankable ally.
"After seven incredibly fulfilling terms, I have decided not to seek reelection as mayor of Monroe Township," Pucci said in a statement. "From expanding community facilities like the senior center and library to preserving open space and making public safety a priority, I am so incredibly proud of all we have accomplished together over the last 28 years.   But now it is time for me to move on and allow others to lead this town that we all so deeply care about.
"Our neighbors require a mayor who is able to keep up a demanding schedule. Unfortunately, I continue to be sidelined by recovery from recent back surgeries and will not be able to devote the necessary time and energy to moving our town forward. Serving the people of Monroe has been the privilege of a lifetime and I look forward to working with our next mayor to find ways to make our town the best it can possibly be."
Middlesex County Republican Chairman Sam Thompson chuckled at the news.
"It will be interesting," Thompson told PolitickerNJ. "I'll leave it to the local folks to talk about our candidate."
Brian Hackett, Middlesex County GOP operative, told PolitickerNJ that the GOP plans to put up Marty Herrmann, a financial advisor who owns his own firm. His running mates are Joe Atanasio of the Greenbriar Adult Community and Harold Kane, who ran for Middlesex County Clerk in 2010.
It's a Democratic town, but Thompson considered the district-wide implications of the Democrat absent from the scrum this year.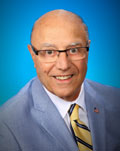 "That's a competitive district and I think we have some opportunities there," said the party chairman, who's supporting retired State Trooper David Jones of Robbinsville and Phil Kaufman, an attorney from Monroe, for the assembly seats.
Home to 10,500 registered Democrats (compared to 5,400 Republicans), Monroe contains the most Democratic votes on paper in the Middlesex portion of the 14th District, second only to Hamilton (16,400) district-wide.
A source close to Monroe said Council President Gerald Tamburro (left) will have the Democrats' support for mayor.
The news stunned insiders, who had hoped Pucci would gut through some health issues to put the town on his back. The township was Republican before Pucci, a Perth Amboy native, rearranged it into a South Middlesex Democratic Party stronghold.
In the words of one insider, "Rich built the town. He turned farmland into a high school, senior center, and parks."
For his part, DeAngelo, the 14th District's top legislative vote-getter, welcomed Tamburro to the ticket.
"i know the council president has been filling in on behalf of the mayor," DeAngelo said. "I wish the mayor well. The mayor worked with the council members to run the town as a team, and now they're well prepared to run. The administration Pucci set up will enable Monroe to continue to move in the right direction, and I'm happy to provide whatever assistance I can to help with the transition."
Middlesex County Democratic Chairman Kevin McCabe issued a statement in response to the news.
"Throughout his career, Mayor Pucci has been an outstanding leader and advocate for the people of Monroe Township. He leaves a legacy of public service that is a clear example for everyone throughout Middlesex County and the state of New Jersey," said the chairman. "In the coming months, we will focus on electing Mayor Pucci's successor but today is a day to celebrate his accomplished record of service over the course of three decades. Although his tenure as mayor is coming to a close, I look forward to continuing to work with the Mayor to improve the fabric of Monroe Township and all of Middlesex County. I wish him and his family all the best."
Gov. Chris Christie had another point of view based on a report of the Middlesex County Improvement Authority issued by the state comptroller's office.