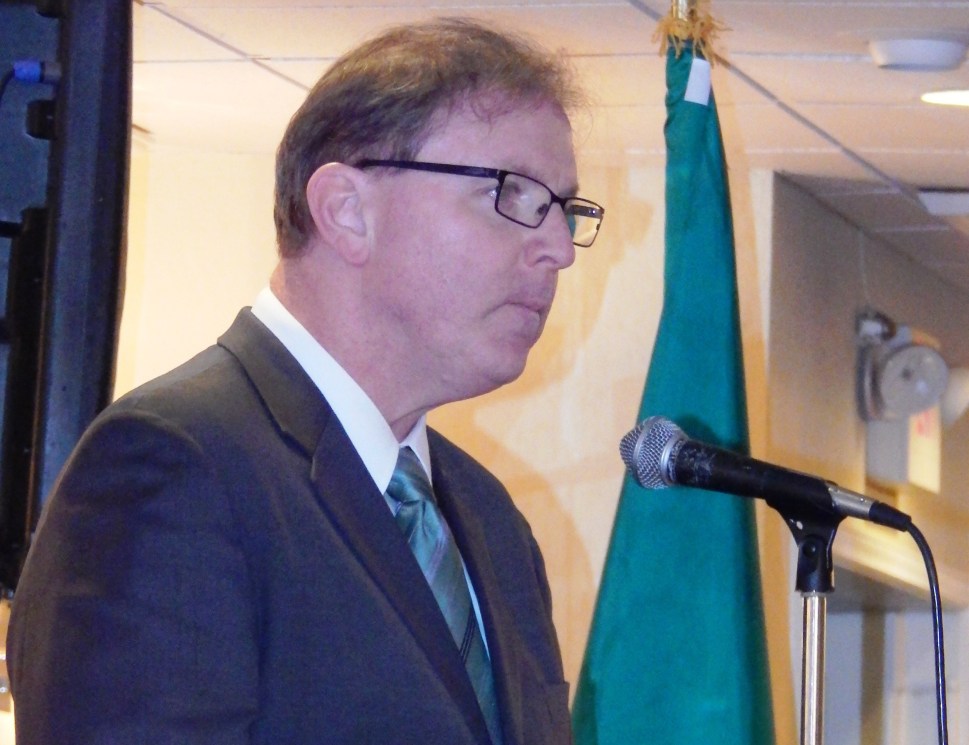 Mercer Dems convention: FOP protests against Sheriff outside, placidity reigns inside
HAMILTON TOWNSHIP – The only surprise the members of the Mercer County Democratic Committee experienced on the night of their convention was from approximately 40 protesters from the state Fraternal Order of Police (FOP). Their concern was over one of the people inside. (Bonamo/PolitickerNJ)
Mercer Dems convention: FOP protests against Sheriff outside, placidity reigns inside | New Jersey News, Politics, Opinion, and Analysis
Old Irish rivals Sweeney and Cryan embrace in New Jersey's Camelot
SPRING LAKE -They say the Irish and the Indians have at least one thing in common.
They both hate the colonizing tendencies of the English.
But hatred was not the operative public emotion as Monmouth County Democratic Party Chairman Vin Gopal donned an Irish cap and knit sweater presented by Belmar Mayor Matt Doherty.
Still, once properly attired as Jimmy Cagney, Gopal played along with the Irish tough guy act. (Pizarro/PolitickerNJ)
Old Irish rivals Sweeney and Cryan embrace in New Jersey's Camelot | New Jersey News, Politics, Opinion, and Analysis
O'Toole on GOP caucus disturbances: it's "par for the course"
NEWARK – There was a bit of friendly sparring between a Democrat and a Republican at the annual Essex County Irish Heritage Celebration on Wednesday.
"I sat down with Kevin O'Toole when I came into county government," said Phil Alagia, Essex County Executive Joe DiVincenzo's chief of staff, when state Senator O'Toole was honored as one of Essex County Irishmen of the Year along with his father, Cedar Grove Councilman Robert O'Toole. "Kevin said 'Keep a book of everyone you've ever helped, so if anyone does anything bad, you know exactly who to fire.' That's not the happy Irish side. That's not even the friendly Korean side." (Bonamo/PolitickerNJ)
O'Toole on GOP caucus disturbances: it's "par for the course" | New Jersey News, Politics, Opinion, and Analysis
Monroe Mayor Pucci not running for reelection
Veteran Monroe Mayor Richard Pucci will not pursue reelection this year, an announcement that conceivably has district-wide consequences in the battleground 14th.
A Democrat, Pucci has reliably turned out the vote come election time for his allies. (Pizarro/PolitickerNJ)
Monroe Mayor Pucci not running for reelection | New Jersey News, Politics, Opinion, and Analysis
Giffords pushes greater gun control in domestic abuse situations at statehouse visit
A message on gun violence and its effect on the lives of women in America: it's a threat.
"Dangerous people with guns are a threat to women," Giffords said, offering a few brief remarks during a roundtable discussion guns and domestic violence along with state Senator Loretta Weinberg (D-38), Assemblywoman Gabriel Mosquera (D-4), and other women advocates from across the state. (Brush/PolitickerNJ)
Giffords pushes gun control in domestic abuse at statehouse visit | New Jersey News, Politics, Opinion, and Analysis
Fulop: 'Who is Declan O'Scanlon?'
In a blistering exchange possibly presaging 2017 statewide politics, Jersey City Mayor Steven Fulop this morning shot back at Assemblyman Declan O'Scanlon (R-13) after the Republican from Monmouth County used the weekend DUI arrest of one of Fulop's council allies as a springboard to chastise the Hudson County Democrat. (Pizarro/PolitickerNJ)
Fulop: 'Who is Declan O'Scanlon?' | New Jersey News, Politics, Opinion, and Analysis
Christie discourages by PARCC opt-out movement
PARCC, said Tuesday he's discouraged that so many people are making what he called a shortsighted decision to opt students out of taking the new standardized tests.
Christie addressed the topic at a town-hall meeting at the National Guard Armory in response to a question from a student at Long Branch High School, who noted that "lots of kids are opting out of it."
Christie said it's important for schools to administer a common test and that people should give the Partnership for Assessment of Readiness for College and Careers (PARCC) tests a fair chance before determining whether they should be scrapped. (Symons/Asbury Park Press)
http://www.app.com/story/news/politics/new-jersey/chris-christie/2015/03/17/chris-christie-freehold-town-hall-parcc/24925193/
The Invisible Primary Means No TV Ads. For Now
There's a reason the early part of the presidential nomination contest is called the invisible primary: There are no television ads yet. Voters in key states should enjoy the lull while it lasts, which could be until summer or maybe even longer.
Four years ago, the first Republican presidential campaign ad appeared on July 5. That's when Tim Pawlenty, the former Minnesota governor, aired his first commercial for Iowa voters, according to broadcast advertising data tracked by Kantar Media and compiled by Deep Root Analytics, a Republican television advertising targeting company. (Wills/The New York Times)
http://www.nytimes.com/2015/03/19/upshot/the-invisible-primary-means-no-tv-ads-for-now.html?_r=0&abt=0002&abg=1
N.J. Gov. Chris Christie Cites State Court Appointments as Most Frustrating Political Battle
FREEHOLD, N.J.—Gov. Chris Christie said Tuesday his inability to appoint Republican justices to New Jersey's Supreme Court and its decisions on funding for poor public school districts have been his most frustrating battle since taking office in 2010.
The Republican governor said that state Democrats were holding up his efforts to fill a remaining open seat on the state's highest court.
National conservatives have criticized Mr. Christie—a possible 2016 candidate for president—for his judicial appointments to the court, arguing they have been too liberal. (Haddon/Wall Street Journal)
http://blogs.wsj.com/metropolis/2015/03/17/n-j-gov-chris-christie-cites-state-court-appointments-as-most-frustrating-political-battle/
N.J. Supreme Court to consider evidence in Palisades cliff plunge case
TRENTON  — New Jersey's Supreme Court will consider the case of a northern New Jersey man whose wife fell to her death from cliffs along the Palisades more than 20 years ago.
The court posted on its website this week that it will hear arguments on whether a lower court should have overturned Stephen Scharf's 2011 murder conviction because a judge allowed hearsay testimony from Jody Scharf's friends and associates that she feared her husband. (The Record)
http://www.northjersey.com/news/n-j-supreme-court-to-consider-evidence-in-palisades-cliff-plunge-case-1.1291307
New furor over N.J. tests as students privacy concerns raised
The security of the state's standardized tests is clashing with parents' privacy concerns in the latest battle over the new exams.
Critics accused Pearson testing company of "spying" after it alerted the state Department of Education that a student leaked a test question on Twitter. Pearson said it was protecting test integrity and fairness, and an assistant commissioner of the state Education Department wrote a letter to school officials Tuesday strongly defending the practice, saying that Pearson is tracking content of posts not the students' accounts. (Adely/The Record)
http://www.northjersey.com/news/new-furor-over-n-j-tests-as-student-privacy-concerns-raised-1.1290700
Assembly Budget Committee Hears Pleas for Funding
So little extra money, so many worthy causes.
The Assembly Budget Committee was beseeched today to spend a little more or rearrange priorities.
By the intellectually and developmentally disabled: "New Jersey has a rather long waiting list, priority list for services, and we would like to see that waiting list reduced by 330 this year and 1,000 over a three-year period," said Former President of The ARC of New Jersey Wally Bender. (Aron/NJTV)
http://www.njtvonline.org/news/video/assembly-budget-committee-hears-pleas-for-funding/
Rowan looks within to find new dean
GLASSBORO – Karen Magee-Sauer's favorite places on Rowan University's Glassboro campus are the Edelman Planetarium and any Science Hall classroom, which makes perfect sense if you know anything about the college's newest dean.
Magee-Sauer, who spent a chunk of her career studying comets and discovering the space matter contains ethane, has an asteroid named in her honor. (Romalino/Courier Post)
http://www.courierpostonline.com/story/news/local/south-jersey/2015/03/18/rowan-looks-within-find-new-dean/24994239/
DRPA names new chairman
The Delaware River Port Authority chose a Pennsylvania union leader as its new chairman Wednesday morning.
The new chairman of the bi-state authority is Ryan Boyer of Philadelphia. He is business manager of the Laborers' District Council of Metropolitan Area of Philadelphia and Vicinity. (Comengna/Courier Post)
http://www.courierpostonline.com/story/news/local/south-jersey/2015/03/18/drpa-names-new-chairman/24962511/
A.C. opens way for Stockton to move forward with city campus
Last year, Stockton purchased the former Showboat Atlantic City, along with two parcels of land bordered by Grammercy Place, Delaware Avenue, Pacific Avenue and Maryland Avenue, which it will retain primarily as parking facilities.
Elizabeth Terenik, the city's planning director, said the redevelopment plan is the first to officially permit an institution of higher learning to operate within the city. The plan also permits noneducational activities on Stockton's property, including restaurants, retail businesses and hotels. (Santore/Press of Atlantic City)
http://www.pressofatlanticcity.com/communities/atlantic-city_pleasantville_brigantine/a-c-opens-way-for-stockton-to-move-forward-with/article_3b620f02-cdd9-11e4-b7b2-5b676a2300c5.html
State emergency manager meets privately with A.C. Council
Atlantic City emergency manager Kevin Lavin will likely make his report on the city's finances public next week, Mayor Don Guardian said Wednesday.
In anticipation, all nine members of the Atlantic City Council met with Lavin during a set of closed-door sessions Wednesday. (Santore/Press of Atlantic City)
http://www.pressofatlanticcity.com/communities/atlantic-city_pleasantville_brigantine/state-emergency-manager-meets-privately-with-a-c-council/article_b038583e-cdd6-11e4-85c2-2f227afa4378.html
U.S. Sen. Rand Paul to announce run for 2016 presidential nomination
WASHINGTON — U.S. Senator Rand Paul will declare his candidacy for the 2016 Republican presidential nomination on April 7, MSNBC reported, citing multiple sources inside the Kentucky lawmaker's camp.
"This will be an official announcement, not an exploratory committee," MSNBC quoted an unnamed source close to Paul as saying. The network said the announcement would take place in Louisville, Kentucky.
Paul would be the first major candidate to formally jump into next year's White House race. Republican Jeb Bush, the former Florida governor, has set up a committee to explore a possible 2016 candidacy.
Other potential Republican candidates include U.S. Senator Marco Rubio of Florida, Wisconsin Governor Scott Walker and New Jersey Governor Chris Christie. (Las Vegas Review-Journal)
http://www.reviewjournal.com/politics/government/us-sen-rand-paul-announce-run-2016-presidential-nomination
Several students, staffers sickened at New Jersey school
PAULSBORO – More than a dozen students at a southern New Jersey high school and some staffers were taken to hospitals after they were overcome by fumes in the building. (Asbury Park Press)
http://www.app.com/story/news/crime/jersey-mayhem/2015/03/18/several-students-staffers-sickened-new-jersey-school/24988011/
Letting bygones be bygones, Kean comes to Christie's defense
TRENTON – Even as Gov. Christie cruised to a landslide 22-point reelection in November 2013, some in his party complained that he had failed to help the GOP make gains in the Democratic-controlled Legislature.
Christie, a Republican preparing to run for president in 2016, then tried to oust Senate Minority Leader Thomas H. Kean Jr. (R., Union), who led the Senate GOP's election efforts, from his leadership post and round up votes for a closer ally, Sen. Kevin O'Toole (R., Passaic).
The move failed and resulted in an embarrassing public rift between Christie and his mentor, Kean's father, former Gov. Thomas H. Kean Sr. (Seidman/Philadelphia Inquirer)
http://www.philly.com/philly/news/politics/20150318_Letting_bygones_be_bygones__Kean_comes_to_Christie_defense.html#rbzkQAUGQhjxCJt7.99
LD31 Hijinks: Ridley on the way out as Mainor appears ready to run again, says source
A Hudson source said the Hudson County Democratic Organization (HCDO) is ready to offload Denise Ridley in the 31st District amid rumors of incumbent Assemblyman Charles Mainor refusing to yield.
Last week, a source said Mainor was poised for a law enforcement landing pad, but those talks fell apart. (Pizarro/PolitickerNJ)
LD31 Hijinks: Ridley on the way out as Mainor appears ready to run again, says source | New Jersey News, Politics, Opinion, and Analysis
Lesniak plugs 6,000 signatures for petition of Exxon settlement
State Senator Ray Lesniak (D-20) says he's got over 6,000 signatures for a petition condemning the Christie administration's decision to settle with Exxon Mobil for $225 million of a sought after $8.9 billion over a series of environmental lawsuits earlier this month.
He's aiming for 10,000 by Thursday. (Brush/PolitickerNJ)
Lesniak plugs 6,000 signatures for petition of Exxon settlement | New Jersey News, Politics, Opinion, and Analysis
Christie ranks low in latest CNN poll
It's not the worst — or best – he's performed, but Gov. Chris Christie landed fifth among the pack of 2016 Republican presidential hopefuls in a CNN/ORC poll released today. (Brush/PolitickerNJ)
Christie ranks low in latest CNN poll | New Jersey News, Politics, Opinion, and Analysis
After Councilman DUI, O'Scanlon's jab at Fulop
Assemblyman Declan O'Scanlon (R-13) wants to ban the practice of municipalities and their local agencies and commissions from issuing city-owned take-home vehicles to council members and commissioners. (PolitickerNJ)
After Councilman DUI, O'Scanlon's jab at Fulop | New Jersey News, Politics, Opinion, and Analysis