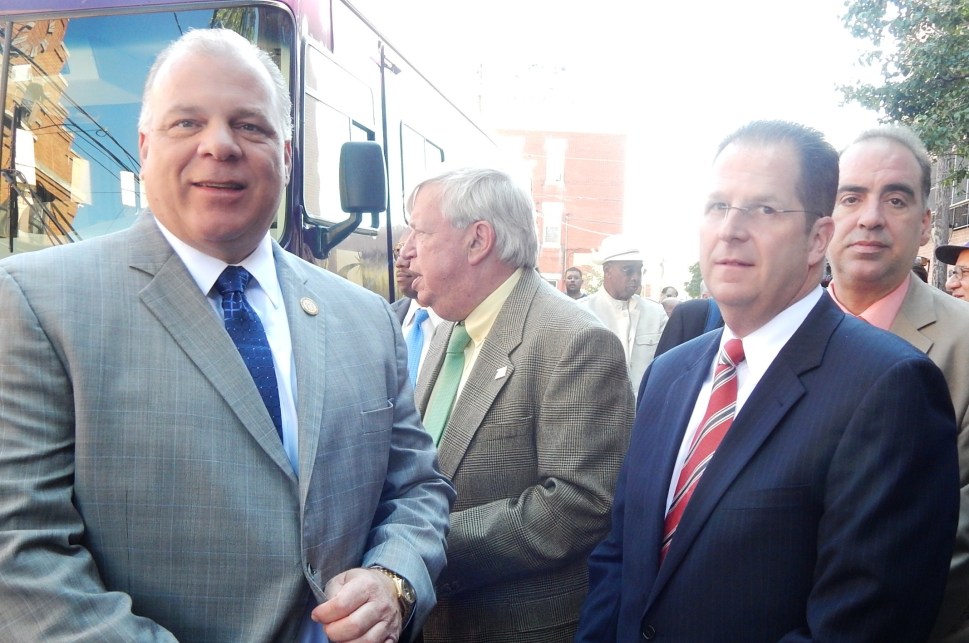 Winners and Losers: Week of March 23rd
WINNERS
Nancy Munoz
The Somerset County Federation of Republican Women (SCFRW) selected the Assembly Deputy Republican Leader as the recipient of its 23nd Annual Millicent Fenwick Award for Outstanding Public Service… (Pizarro/PolitickerNJ)
Read more at Winners and Losers: Week of March 23rd | New Jersey News, Politics, Opinion, and Analysis
Prosecutor rules Sheridan case a murder/suicide; sons slam 'bungled' investigation
The Somerset County Prosecutor's Office and other law enforcement officials today ruled the deaths of Cooper Hospital CEO John Sheridan and his wife Joyce a murder-suicide, but the couple's sons don't accept the findings of the case. (Pizarro/PolitickerNJ)
Prosecutor rules Sheridan case a murder/suicide; sons slam 'bungled' investigation | New Jersey News, Politics, Opinion, and Analysis
Mainor on LD 31: "I'm in"
JERSEY CITY – State Assemblyman Charles Mainor (D-31) killed any suspense on Sunday as to whether he will run for reelection this year. (Bonamo/PolitickerNJ)
Mainor on LD 31: "I'm in" | New Jersey News, Politics, Opinion, and Analysis
Message to Menendez at Franklin Lakes synagogue: "We will always have your back"
FRANKLIN LAKES – On a day that mixed spiritual and political themes, Josh Gottheimer, a congregant of Barnert Temple in Franklin Lakes, stood before his Jewish worship community on Sunday and introduced a politician they see as a friend: U.S. Senator Bob Menendez (D-N.J.). (Bonamo/PolitickerNJ)
Message to Menendez at Franklin Lakes synagogue: "We will always have your back" | New Jersey News, Politics, Opinion, and Analysis
New Jersey Governor and future Presidential GOP nominee Chris Christie stumps for votes of Macomb County Republicans
Shelby Township — New Jersey Gov. and potential GOP presidential candidate Chris Christie told Macomb County Republicans Friday night that he would use his "blunt, outspoken" nature to tell the American people the truth.
"I think the American people are afraid of the inaction, the pettiness and the smallness coming out of the (President's) office," Christie told a crowd of around 800 supporters at the Macomb GOP's Lincoln Day Dinner at Palazzo Grande in Shelby Township. "They want someone who can tell us the truth about our problems and chart a course on how to solve them." (Abdel-Razzaq/Detriot News)
http://www.detroitnews.com/story/news/politics/2015/03/27/chris-christie-macomb-county/70575628/
Chris Christie Says Marijuana Taxes Are Blood Money. Is He Right?
Government needs money, and there is no shortage of interest in generating tax revenues from marijuana. But not in New Jersey, not if Governor Chris Christie has anything to say about it. He said society should never legalize recreational marijuana even if that allows you to tax it liberally. He even said tax revenue from marijuana was blood money. (Wood/Forbes)
http://www.forbes.com/sites/robertwood/2015/03/27/chris-christie-says-marijuana-taxes-are-blood-money-is-he-right/
Chris Christie Tells Michigan Republicans Obama Is Failing at Leadership
(Bloomberg) — New Jersey Governor Chris Christie continued his attacks on President Barack Obama, telling Michigan Republicans that Obama lacks leadership and common sense on foreign policy, the minimum wage and government entitlements. (Christoff/Bloomberg)
http://www.bloomberg.com/politics/articles/2015-03-28/christie-tells-michigan-republicans-obama-failing-at-leadership
New Jersey National Guard unit to deploy to Cuba
CHERRY HILL, N.J. (AP) – Family and friends honored 127 New Jersey Army National Guard troops who are preparing to ship out to Cuba.
They gathered on Sunday in Cherry Hill.
The 328th Military Police Company will deploy for detainee operations at Guantanamo Bay. (Associated Press)
http://www.njherald.com/story/28645352/new-jersey-national-guard-unit-to-deploy-to-cuba
Another Company Seeks OK to Pipe Cheap Natural Gas through New Jersey
Another energy company wants to take advantage of cheap supplies of natural gas from the Marcellus Shale formations in Pennsylvania — this time to ship it from New Jersey to markets in the Southeast.
Transco is seeking approval from the Federal Energy Regulatory Commission (FERC) to expand its interstate natural gas pipeline, stretching from Mercer County in central Jersey to as far south as Holmesville, MS. Transco, owner of one of the nation's largest pipeline systems, is a subsidiary of William Partners L.C., based in Tulsa, OK. (Philly.com)
http://www.philly.com/philly/blogs/njspotlight/njspotlight_20150330_Another_Company_Seeks_OK_to_Pipe_Cheap_Natural_Gas_through_New_Jersey.html#yLwvzFGhpdYTOVDg.99
Dozens of ethnic mobs engaged in NJ crime, according to FBI
According to the FBI's Newark Division, crimes in New Jersey are being committed by organized crime groups that span the globe including: La Cosa Nostra, also known as the Sicilian Mafia, Asian groups, African criminal enterprise groups and the Russian and Eurasian mobs.  New Jersey is also seeing crime activity from Balkan organized crime groups, which includes people who emigrated from Albania, Macedonia and Yugoslavia.
In addition, the FBI is also monitoring more organized crime groups coming from the Middle East. (Matthau/NJ101.5)
Dozens of ethinic mobs engaged in NJ crime, according to FBI |
NJ/DC: Menendez backers stand by their man
Sen. Bob Menendez is vowing to stay in office if he is hit with criminal charges, and the only way he can be forced to leave before his term ends in January 2019 — even if he were convicted — is if his fellow senators expel him.
But Menendez's political survival depends on the continued support of state and national Democrats, and the voters in New Jersey. And the statewide networks of support that constituent-focused senators like Menendez have worked to build add another layer to the constitutional shield that members of Congress have from prosecutors and judges. (Jackson/The Record)
http://www.northjersey.com/news/nj-dc-menendez-backers-stand-by-their-man-1.1298704
Michelle Obama declares 'Black Girls Rock' in N.J. visit
NEWARK — First Lady Michelle Obama celebrated the beauty, power and tenacity of black women while spreading her own message of education for girls at Black Girls Rock!, an annual event honoring trailblazing women of color from all walks of life.
"No matter who you are, no matter where you come from, you are beautiful," Obama told the crowd, which included many young black girls. (Moody/The Record)
http://www.northjersey.com/news/michelle-obama-declares-black-girls-rock-in-n-j-visit-1.1298543
Prescription Co-Pays to Revert Back to 2012 Rates for Retired Public Workers
"Hallelujah!" laughs retired state worker Thelma Napoleon-Smith.
She's thrilled. Napoleon-Smith just found out co-pays for her prescriptions will get rolled back come July after a judge ruled that the Christie administration had illegally raised those rates — driving up the cost of medication for thousands of seniors. We found her outside a pharmacy. (Flanagan/NJTV)
http://www.njtvonline.org/news/video/prescription-co-pays-to-revert-back-to-2012-rates-for-retired-public-workers/
Job Figures Show State Expanding, Jersey City Booming
While you couldn't describe New Jersey's economy as booming — it lags behind the region and much of the nation in growth — the Garden State is, still, like much of the rest of the country, seeing a consistent uptick in job creation.
New figures out this week from the Department of Labor show job gains in trade, transportation and utilities, leisure and hospitality, as well as construction. The financial sector lost jobs, though, as did the professional and business services sector. (Cruz/NJTV)
http://www.njtvonline.org/news/video/job-figures-show-state-expanding-jersey-city-booming/
Seen in the streets: Garcia and Mainor not going away
Dumped by the Hudson County Democratic Organization (HCDO), two incumbent assemblymen spent Saturday afternoon pounding pavement and looking very much like candidates as the state heads toward a filing deadline next week.
Assemblyman Carmelo Garcia (D-33) could be seen harvesting petition signatures in pursuit of a reelection bid off the line. (Pizarro/PolitickerNJ)
Seen in the streets: Garcia and Mainor not going away | New Jersey News, Politics, Opinion, and Analysis
Welcome Willow Spencer, from PolitickerNJ

PolitickerNJ extends congratulations and a joyous welcome to New Jersey's youngest politico, Willow Mallory Louvenia Spencer of Essex County.
Willow and her mother, veteran Assemblywoman L. Grace Spencer (D-29), Newark, are resting tonight after the newborn came into the world at 7:15 p.m. on this spring day, 3/27, in 2015 AD. (PolitickerNJ)
Welcome, Willow Spencer, from PolitickerNJ | New Jersey News, Politics, Opinion, and Analysis